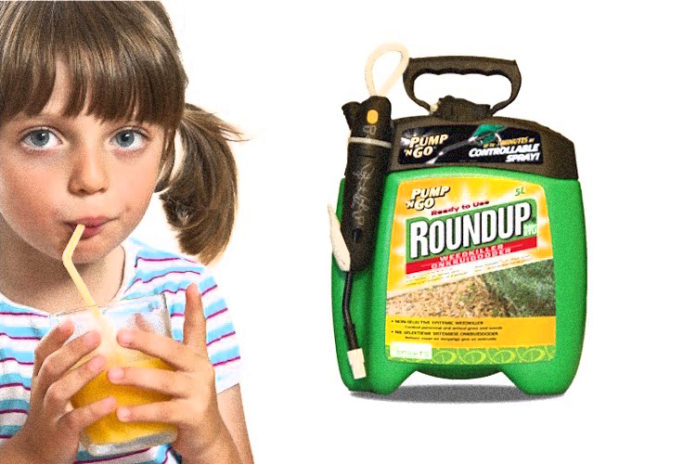 (Waking Times) Two samples of five major U.S. brands of orange juice including Tropicana and Minute Maid tested positive in lab results for contamination with Monsanto's cancer-causing chemical, glyphosate, Moms Across America reported.
The average American consumes about 2.7 gallons of orange juice per year since 2015 according to the USDA food statistics. OJ is rich in vitamin C, fiber, and contains antioxidants that help protect and nourish the skin among many other benefits but according to grassroots non-profit Moms Across America, that may also be a toxic cocktail that is slowly killing Americans every morning.
The study was conducted using two samples from the five major juice producers –  Tropicana, Minute Maid, Stater Bros, Signature Farms, Signature Farms and Kirkland.
The chemical was deemed a "probable human carcinogen" by the World Health Organization's International Agency for Research on Cancer in March 2015, was found in amounts ranging from 4.43 parts per billion to 26.05 ppb by the group's tests. The controversial chemical is the active ingredient in Monsanto's Roundup product used to selectively kill weeds by farmers manufactured by Monsanto, and 750 other brands of glyphosate-based herbicides.
Moms Across America's stated that as little as 0.1 ppb of glyphosate is capable of destroying beneficial bacteria in the stomach. Further, repeated exposure to glyphosate is capable of weakening the immune system and potentially leading to a host of health problems down the road.
"The discovery of glyphosate residue in orange juice is unacceptable, especially since a branch of the World Health Organization designated glyphosate a probable carcinogen, two years ago, back in the spring of 2015. The EPA has had ample time to revoke the license of this chemical and restrict its use in our food and beverage crops. As confirmed by the American Academy of Pediatrics, our children (who frequently drink orange juice for breakfast) are especially vulnerable to pesticides and measures should be taken immediately to protect them," Moms Across America founder Zen Honeycutt stated.
The post also included research that the toxic chemical glyphosate may stimulate breast cancer at such small amounts that it should scare everyone at as little as 1 part per trillion. Just think about how that, in turn, would affect kids whose anatomic structure is smaller than adults as the body is just starting to develop.
This comes as Monsanto's other chemical product Dicamba has been banned in Arkansas which the company has disputed suing the Plant Board in response.
A Canadian Food Inspection Agency Health Canada has previously documented that glyphosate was found in 1.percent of food samples including 4 percent of grain samples of more than 3,000 samples, Producer reported.
Glyphosate was also listed as a carcinogen on California EPA's Prop 65 list in July of 2017, while a study published earlier in the year in January of 2017 proved chronic consumption of low levels of Roundup (which contains glyphosate) caused fatty liver disease in animals.
Moms Across America is urging concerned citizens to contact each of the five companies listed below to request that they switch to organic oranges for their products.
The five major brands that tested positive in Moms Across America's test according to the lab results are:
1. Tropicana, with amounts of 26.05 ppb and 25.12 ppb in glyphosate residues. Both samples were purchased from Target stores.  (Tropicana- Pepsi-Co – (914) 253-2000 – CEO – Indra Nooyi)
2. Minute Maid, with amounts of 13.54 and 12.65 ppb, purchased from Jack in the Box stores. (Minute Maid – Coca-Cola – (800)-438-2653 – Alexander Douglas Jr. President)
3. Stater Bros., with amounts of 4.93 and 4.43 ppb, purchased at the stores of the same name. (Stater Bros -(855)-782-8377 – CEO Peter Van Helden)
4. Signature Farms, with amounts of 6.33 and 5.78 ppb, purchased at Vons stores. (Vons – (877)-723-3929 -CEO Willam Davilla)
5. Kirkland, with amounts of 5.96 and 4.33 ppb, purchased at Costco stores. (Costco – (425)- 313- 8100- CEO Craig Jelinik)
The full report can be seen here. The testing methodology was "Glyphosate and AMPA Detection by UPLC-MS/MS."