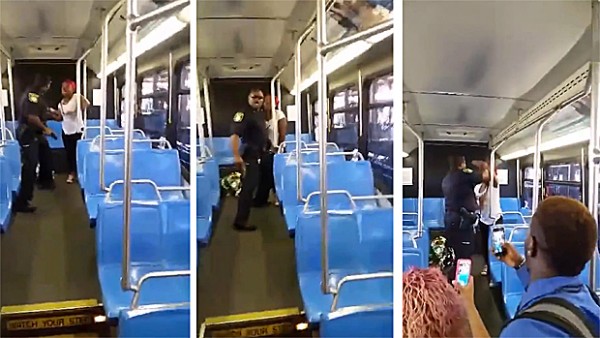 A video has gone viral on many social media platforms in which a police officer is seen beating an unarmed black woman on a public bus, with many witnesses begging and pleading with the officer to stop the assault.
The incident is said to have taken place at the commercial center of the Roxbury neighborhood, in Dudley Square, in Boston, Massachusetts. The cop who carried out the beating also appears to be black.
According to witnesses who recorded and posted the incident online, the police officer accused the woman of stealing, however the witnesses failed to say what the woman has stolen.
The caption of the video, uploaded on some social media platforms, read, "TODAY! In Boston, at Dudley square a Black woman was beaten by a police officer and he pulled his gun out on her on a crowded bus full of people. In front of the whole Black community, this officer was willing to shoot this woman and possibly kill her over an alleged petty theft." The incident occurred on September 19th, 2015.
The video starts as the officer is already striking the woman, while she is heard shouting for help. Witnesses are seen rushing to rescue the woman but the officer pulls his service weapon out and points it at them. Fearing for their lives, they retreat.
Witnesses then continue to urge the officer to drop his weapon, but he does not listen. "Drop the gun! Drop the gun!" witnesses are heard shouting.
Many witnesses are also seen recording the incident with their phones and other devices. The woman being beaten is also seen trying to put up a weak fight against the officer. Witnesses then shift their attention to the woman, begging her to calm down and relax as she risked being shot by the reckless officer.
Two minutes into the video, more officers storm on to the bus and demand that the witnesses who are filming the incident leave the bus. However, some witnesses remain and continue to urge the officer to put his gun down. The other officers then handcuff the woman and escort her off into their waiting patrol car.
Many people in the area questioned some of the officers standing by about the conduct of the officer and demanded that the officer be punished for his unprofessional conduct.
Both the woman and the officer are yet to be identified; the police department has not also commented on the issue. An impromptu protest was held on the same day the incident occurred, in the area where it occurred, demanding the woman's release.
---
You want to support Anonymous Independent & Investigative News? Please, follow us on Twitter: Follow @AnonymousNewsHQ
---
This Article (Cop Beats An Unarmed Black Woman In A Bus, Pulls His Gun On Her [Video]) is free and open source. You have permission to republish this article under a Creative Commons license with attribution to the author and AnonHQ.com.