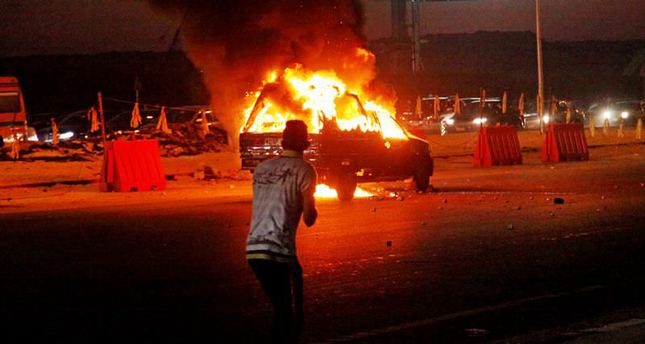 A football match turned into a violent incident as security forces clashed with football fans who attempted to enter the army-owned stadium without buying tickets. While some media outlets reported that 19 died, government-controlled Al Ahram newspaper reported at least 30.
As always,Egyptians are left to figure out what exactly happened as both fans and security forces blame each other over the death toll. According to eye witnesses, fans could only get into the stadium through one small gate covered with barbed wire and once the numbers of people trying to get in swelled, the security forces attempted to disperse the crowd with tear gas that resulted in a deadly stampede. Security forces on site claim that the problem was that too many people showed up without a ticket expecting to push their way through. Only 10,000 supporters were allowed to attend the match against ENPPI, with 5,000 tickets up for public sale and as many distributed by the club itself.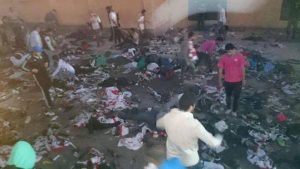 See the video of police personnel firing tear gas here.
According to an eyewitness, the police officers on duty were of no help. When he informed about the possibility of the iron fences falling down, an officer reportedly told the him, "Whatever. Burn in hell." The eyewitness also said that he had to jump over a 3 meter fence to escape. The scene was chaotic and people were seen violently pushing each other to get to safety.
Despite the chaos and mayhem taking place outside the stadium, somehow it was decided that the game must go on adding insult to tragedy. Refusing to play was none other than Zamalek's Omar Gaber, a fan favorite among Ultras. He was immediately suspended from the team.
One fan, who spoke to the Associated Press on condition of anonymity out of fear of being targeted by police, said the stampede was caused by the police who fired tear gas into the tightly packed crowd. "Those who fell down could not get back up again," the man said.
The Egyptian football federation has postponed football activities at all leagues , indefinitely.
---
Sources:
http://revolution-news.com/egypt-at-least-30-ultras-dead-after-police-fire-on-football-fans/
http://www.dailysabah.com/mideast/2015/02/09/egypt-suspends-football-league-after-deadly-clashes
Photos:
Ultra Knights' Facebook page