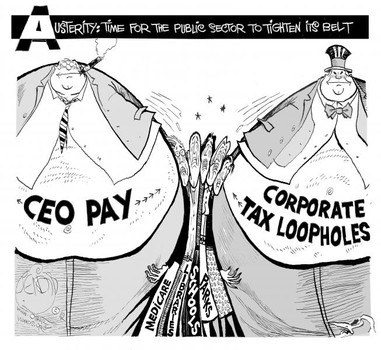 Tax loopholes that had been a boon for multinational corporations have been ruled illegal by the European Commission.
This means that corporations can no longer claim to be based in a country with lower tax rates, thus skipping out on paying higher taxes in European countries where their income was originally earned.
This change seems to have been brought about thanks to the campaigning of UK Uncut, an anti-austerity movement which had linked corporate tax avoidance with cuts in public service; austerity for the people, tax avoidance for the corporates.
The commission has also ruled that Starbucks and Fiat in particular must pay back some 34 million USD they had "saved" by abusing tax loopholes in Luxembourg and the Netherlands, with more potential implications for the companies incoming.
"The Commission continues to pursue its inquiry into tax rulings practices in all EU Member States," the commission statement read. "Its existing formal investigations into tax rulings in Belgium, Ireland and Luxembourg are ongoing."
Corporations have long been able to avoid paying the full sum of taxes due to their host nations by simply booking profits earned in high-tax nations like the US as profits earned in bank accounts located in low-tax nations such as Ireland.
The commission explains the process in relation to Fiat and Starbucks:
 The two tax rulings under investigation endorsed artificial and complex methods to establish taxable profits for the companies. They do not reflect economic reality. This is done, in particular, by setting prices for goods and services sold between companies of the Fiat and Starbucks groups (so-called "transfer prices") that do not correspond to market conditions. As a result, most of the profits of Starbucks' coffee roasting company are shifted abroad, where they are also not taxed, and Fiat's financing company only paid taxes on underestimated profits.
"Tax rulings that artificially reduce a company's tax burden are not in line with EU state aid rules. They are illegal," said Margrethe Vestager, the EU Competition Commissioner.
Although the scope of the investigation is restricted to only Europe at this time, American corporations may soon be called to account for the taxes that they owe the US.
Apple and Amazon  are notorious for having skimped on their American taxes by using Ireland's and Luxembourg's tax laws respectively.
Sources: US Uncut
---
This Article (European Commission: Corporate Tax Loopholes Are Illegal) is free and open source. You have permission to republish this article under a Creative Commons license with attribution to the author(CoNN) and AnonHQ.com.