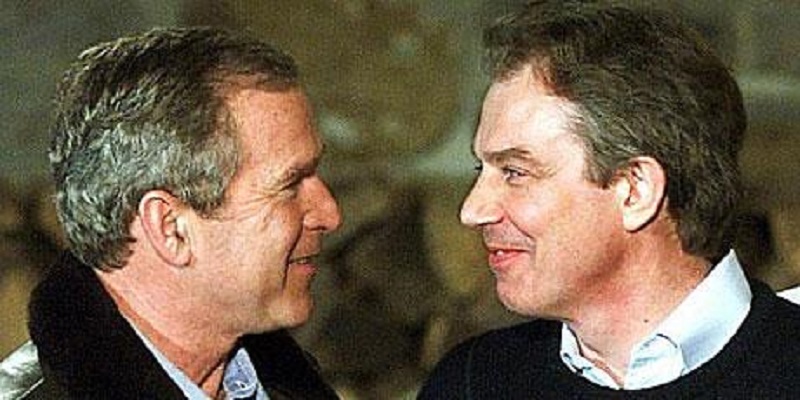 It seems George W Bush might not have been entirely truthful when it came to the Iraq war.
But who cares, let's just give him another museum for that; the one he got for causing a million Iraqi deaths was getting lonely.
Declassified emails have revealed just how often the Bush government and its henchmen have lied in the period before the war. US courts had mandated that they be released.
These emails were "inherited" by none other than Hillary Clinton while she was secretary of state under Obama and stored on her private email server. Well done Hillary; even though it was a complete accident that anyone ever found out, at least your paranoid need to hoard secrets has done SOME good.
Former Secretary of State Colin Powell was the author of one of these, written on March 28, 2002, a week before Bush's famous summit with Blair at his Crawford ranch in Texas on the 5th to 7th April 2002. The meeting between old chums was known as the Crawford Summit. Although conspiracy theorists have stated that the intention of the meeting was to discuss the invasion of Iraq, this email proved it beyond doubt.
Secretary Powell: Blair continues to stand by you and the U.S. as we move forward on the war on terrorism and on Iraq. He will present to you the strategic, tactical and public affairs lines that he believes will strengthen global support for our common cause…He is convinced on two points….

success against Saddam will lead to more regional success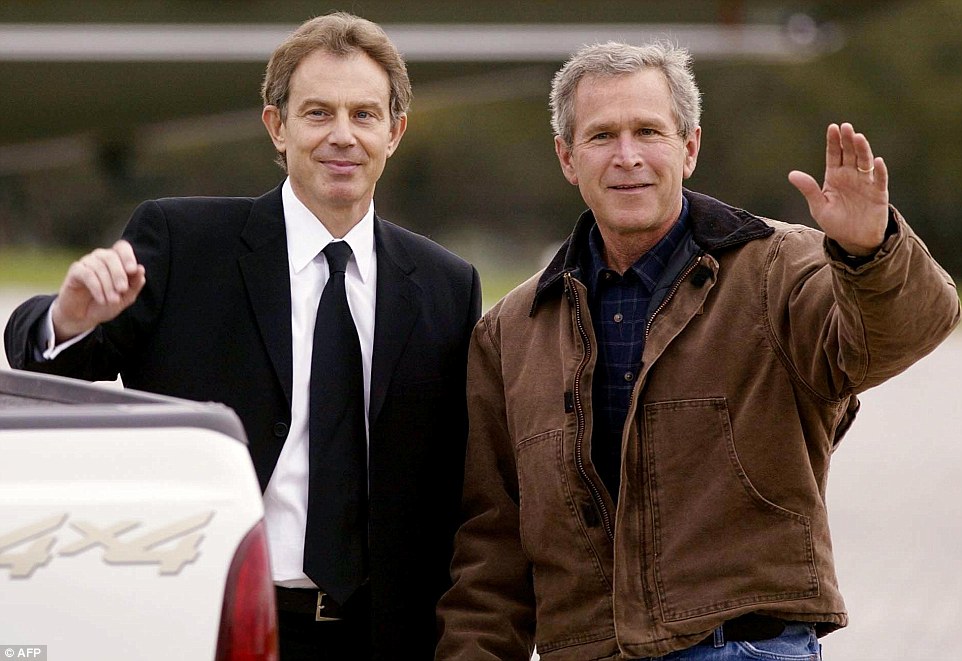 In a statement made at the Crawford "summit" itself, Blair had said that "This is a matter for considering all the options. We're not proposing military action at this point in time" and that he was seeking a diplomatic solution… Bullsh**. "The position was not a covert position, it was an open position. This isn't about a lie or a conspiracy or a deceit or a deception. It's a decision. What I was saying… was "We are going to be with you in confronting and dealing with this threat." " Note to self: whenever politicians call something "conspiracy", it's a sign that they are desperately trying to cover up the truth.
In his memoirs, Blair again said it was 'a myth' he had signed a promise 'in blood' to go to war, insisting: 'I made no such commitment'.
He lied about Iraq with every step that he took- every breath he made- every word he wrote… and the two of them were planning  conflict and conquest using Iraq as a base, or "regional success" as Powell puts it.
The People had actually believed that Blair was simply following Bush's orders like a lapdog, and had no idea what he was getting the UK into, while this clearly shows that Blair had been there right next to Bush helping him with the master plan all along… If anything, it was Bush who was the clueless fool who depended on Blair to come up with a lie big enough to fool the People.
Another memo written by the US embassy in London showed that Blair, or some of his cronies, was spying for Bush and helped provide information that Bush would use to mold British public opinion into supporting his needless war. Politicians manipulating us into murdering innocent people?? Say it isn't so!
PM Tony Blair has made publicly clear his commitment to a more proactive Iraq policy. Reflecting the polled sentiments of voters, however, a sizable number of his labor party MP's remains at present opposed to military action against Iraq. A majority indicate they would change their minds if they had proof of Iraqi involvement in September 11 or another terrorist atrocity. Some would favor shifting from a policy of containment of Iraq if they had recent (and publicly usable) proof that Iraq is WMD/missiles or that Iraq's WMD status has changed for the worse.
And as expected, soon after the summit the actors on the mainstream media started to play their roles. They started playing up the threat of terrorism, insinuating that Saddam was aiding Al Qaeda and that he had nuclear WMDs… They changed the opinions of the People and their MPs completely- just by lying continuously.
This revelation was by no means surprising to those of us who had already put two and two together, though perhaps it will be sufficient proof for the rest of us to  start questioning the mainstream media and our politicians when they start marching our children to needless war.
You may read the declassified emails below:
Sources: The Free Thought Project, Daily News Bin, CNN
---
This Article (Hillary's Emails Prove That Bush And Blair Lied About Iraq, Made"Promise In Blood" To Force The Iraq War On The People) is free and open source. You have permission to republish this article under a Creative Commons license with attribution to the author(CoNN) and AnonHQ.com.