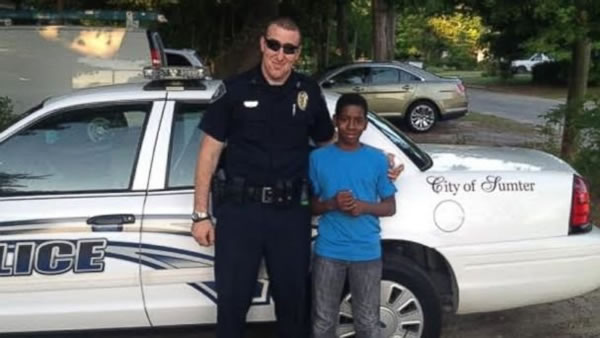 As a 13-year-old, what did you do when you had an argument with your mother? A South Carolina teen made a distress call to the Sumter Police Department, threatening to run away from home since he was done living with his family.
Officer Gaetano Acerra, who received Cameron Simmons' call, went above and beyond the call of duty to commit a touching act of kindness, least expected from men in uniform.
When Acerra reached Simmons' home, he told him that his mother was yelling at him for using his elder brother's gaming system. Acerra recalls:
"He was so upset. I asked him questions about why he didn't want to live there, and I was complimenting him on his clothes. He had nice clothes and shoes on. I said, 'You have it good, you have a roof over your head'. He took me to his room and it was four walls, two windows and hardwood floor. It was just empty. He had his clothes on the ground in a black garbage bag. I asked him where he sleeps and he said, 'Sometime on the couch and sometimes on a blow-up mattress'."
Shocked at Simmons' reason for wanting to run away and shaken by the way he lived, Acerra gave him his cell phone number, offering to help his new friend out. A few weeks later, Acerra returned to Simmons' home with a truck full of gifts.
"My heart went out for him. I thought the little things that he needed I could give him, to make him a happier kid. Brand new bed, TV, desk, chair, comforter, and a Nintendo Wii game system that somebody donated to me because of the story I told them. I didn't do this for publicity or to get people to notice me. I did it because I could. It was the right thing to do and I think people should do things like this. The kid was in tears. He was just in shock, so happy. He still is."
Subsequently, Acerra gifted Simmons a bicycle and an air hockey table so that the brothers don't fight, but rather, play together. After Acerra and Simmons' story went viral, people from across the world came forward to help the family. He also set up a GoFundMe page so well-wishers could donate money to supplement the Simmons' household needs such as a washer and dryer, dinner table and blinds.
"I've got a three-piece furniture set, an end table, a dresser with a mirror and another little armoire from a furniture company that just donated this to us. It's all brand new out of the box. And now he has a new backboard for the bed I already gave him."
Simmons' mother fell on hard times after having to make an unexpected move from Texas to South Carolina to care for a sick relative. When she saw a police officer's unbelievable act of kindness, she was in complete disbelief.
"We got Simmons' brother a queen-sized bed, a backboard and frame. His brother has a complete room now, too. [Their mother] is very, very, very grateful. She said she's been praying for her boys and she can't be happier. She's so thankful."
---
This article (ICYMI: South Carolina Police Officer Surprises Distraught Teen with Bed, TV and Gaming Console) is a free and open source. You have permission to republish this article under a Creative Commons license with attribution to the author and AnonHQ.com.