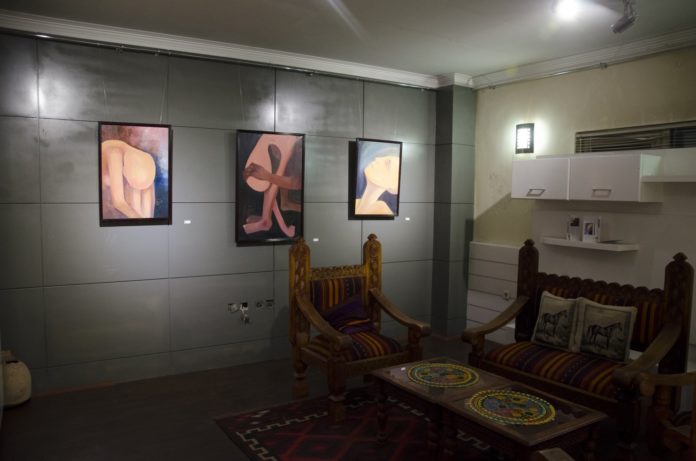 Despite the fall of Taliban in 2001, women in Afghanistan struggle to gain freedom in a male dominant society. Activists and other champions of women's rights are not only harassed by the Taliban and tribal warlords, but also by government officials. A 2011 Thomson Reuters Foundation poll found the country as the most dangerous place in the world for women.
Yet, paintings of fully exposed female bodies are on display in Kabul at the Shamama Contemporary Arts Gallery, a woman-owned invitation-only space that opened last year to celebrate Afghan women artists. Shamama is the first gallery in Afghanistan to exhibit nude paintings, which some observers see as reckless.
The nudes are the work of one of the artists, Farah, a 21-year-old art student. She told The Washington Post, her paintings are a celebration of the female form. Colored black, but surrounded by bright greens and blues, the nudes she has created are shapely and explicit. They are based on photographs she snapped of a local sex worker.
"In Afghanistan, men don't care about the personality of the women, and they're judging a woman based on her body. I wanted to reclaim the female body, because it is something extraordinary and beautiful," Farah said.
Islamic extremists insist women and girls stay at home and can only leave if they are fully covered and accompanied by a male relative. In a country where there are limitations on women's freedom of movement and opportunities for equal social and political participation, women artists are accused of being anti-Islam, of being anti-nationalist. Their work is termed a 'stunt' which will get them a visa to go to Europe. The artists who are exhibiting their risqué work at Shamama are similarly being accused of painting nudes as a stunt created by attention-obsessed asylum seekers – women intent on escaping the country's deteriorating economic and security situation with a provocative ploy.
Hamid Kabuli, a member of the fine arts faculty at Kabul University, feels that artists should exercise restraint. "I think it's too early to introduce such ideas into this country. It will create a big problem for the artist, their work will be discredited, and people will assume they are an American instrument," he said.
Afghanistan is a traditional society, and male artists feel Afghan artists must consider the Islamic values and the cultural values of the people before creating their art. Instead of attempting to make a name for themselves, the artists must produce art in the service of Afghan society. But by curbing freedom of expression, accusing the female artists of using their art to seek asylum in Europe, and by suppressing their voice, isn't the country moving towards a redefined Taliban culture in Afghanistan?
---
This Article (In Afghanistan, 'Anti-Nationalist' Artists Fight For Women's Rights With Nude Paintings) is free and open source. You have permission to republish this article under a Creative Commons license with attribution to the author and AnonHQ.com.