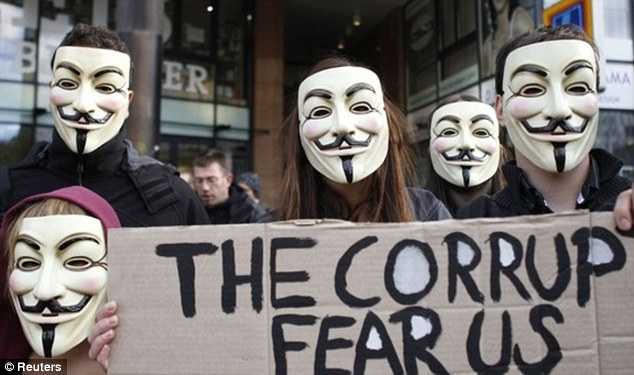 Throughout 2014, Anonymous supporters could be found rallying in protests, donning their Guy Fawkes mask as a matter of safety and representation of what the collective stands for: a right to speak freely without the concern of segregation. It is a symbol of rebellion against those who wish to squash freedom; if your identity is unknown, how can 'they' stop you?
The movement has become worldwide and the mask has become a globally recognized emblem. The mask, in itself, is said to be financially lucrative over at Amazon.com, since the concept of identity protection in the name of freedom has stretched across the world.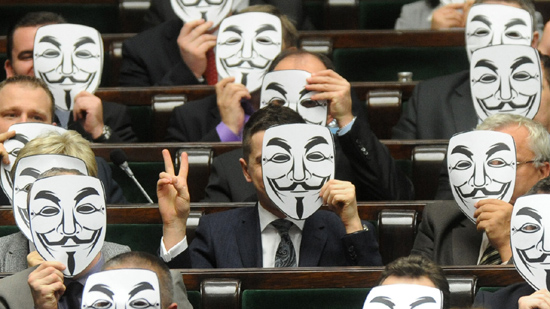 Polish politicians using the Guy Fawkes mask
It is with this in mind, that the proposed bill by Oklahoma lawmakers will see wearing masks and hooded sweatshirts banned in public spaces. According to Senator Don Barrington, he stated that the law would make it, "unlawful to wear a mask, hood or covering during the commission of a crime or to intentionally conceal a person's identity in a public place." It wouldn't, however, apply to anyone wearing a mask for medical purposes, or coverings for religious beliefs.
It's understandable that a government wants to unveil the thief walking into a station preparing for an armed holdup, but how many criminals walk along the street prior to the crime, wearing a mask? The question arises, and the context of this proposal that is still yet to be determined. With more and more students, blue-collar workers, professionals, doctors, lawyers, you or I – anyone who wants to rally their opinion without the worry of ramifications, from say, their employer, while wearing the Guy Fawkes mask or other forms of disguise during a protest; who is it possibly aimed at?
The misdemeanor charge can carry a fine between $50 and $500. A term of imprisonment for up to 12 months is possible if the courts rule in that favor.