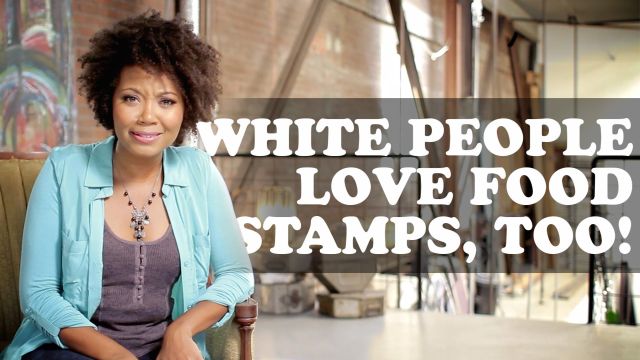 According to US Department of Agriculture data, 23 million households and 47 million Americans in 2013 received benefits on an average month under SNAP (Supplemental Nutrition Assistance Program). thee quarters of those households included a child, an elderly individual or a disabled person. The average monthly benefit per household was $274. 40.2 % of SNAP recipients were white, 25.7 % black, 10.3 % Hispanic, 2.1 % Asian and 1.2 % were Native Americans. Some 63% of Americans are non-Hispanic White, however, which would explain some of this ironic statistic. However, the claim that the welfare system has not benefited Whites and has mostly benefited Blacks or any other minority group has finally been turned on its head.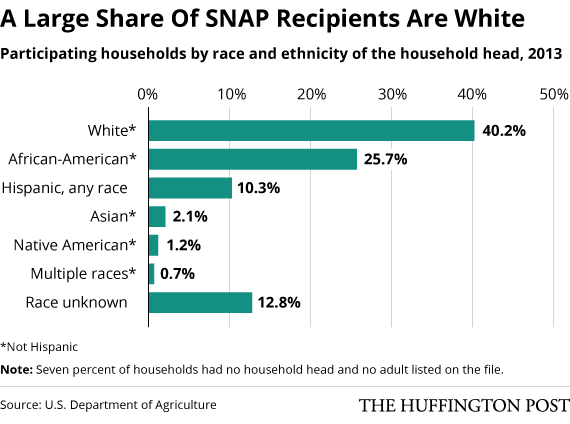 The 2013 data shows, white people are nearly three times less likely than African-Americans to live in poverty; yet, white people claim more food stamps.  According to the data, not only do white people benefit from food stamps, they also benefit from not having politicians and cops target and malign them as lazy, unproductive welfare queens who take advantage of a social safety net. As the chart indicates, racist ideas about welfare have come to overshadow statistical facts that reveal that the face of food stamps is in fact white.
Republican member of the Mississippi state legislature, Gene Alday in February had told a reporter for The Clarion-Ledger, a Mississippi newspaper, "I come from a town where all the blacks are getting food stamps and what I call welfare crazy checks. They don't work". He also said that when he went to the emergency room one time, "I laid in there for hours because they (blacks) were in there being treated for gunshots". He later had to take back his words and give an apology. The USDA data shows who is getting the 'welfare check' after all.