13-year-old Autumn Allen, an American singer living in Cambodia, last saw her US-based mother when she was 6. Allen has been living in Phnom Penh, with her father since 2008.
Allen was invited to appear on a Mother's Day edition of the MYTV variety show Like It or Not, and was told that her "dream to meet her mother would come true". "My mother last held and kissed me and told me that she would always love me," a tearful Allen told the audience after hearing the news.
However, to her and everyone's horror, the surprise turned out to be a cruel prank staged by the TV channel – the producers brought on a cross-dressing comedian, Chuop Rolin, to pretend to be her mother.
Allen told The Phnom Penh Post, while she was initially disappointed, the comedian made her laugh. "On that day I was very excited because I thought [my mother] was actually coming. At the moment I was sad that I could not see my real mother, but I had fun doing the show. My dad was very proud of how I handled myself in the situation. He took me to a nice restaurant afterward," she said.
"I tried to contact my mother several times when we moved to Cambodia but she kept changing her phone numbers… Yes, I miss her and do want to meet her," she added.
Though Allen took the prank in her stride and maintained her composure as the producers broke her heart on national TV, the whole incident sparked international outrage on social media.
That prank on Cambodian TV was shocking. What idiot allows this to happen? http://t.co/HH6RmRIxIz #AutumnAllen #Cambodia

— Lee (@Nelson_Muntz23) May 14, 2015
The terrible prank that a Cambodian TV show played on this girl is making us upset http://t.co/agcKN2nrJN pic.twitter.com/QEHW228l9C — People magazine (@people) May 13, 2015
Child cruelty for ratings? This is not funny and not okay. I hope she is getting the love and support she needs: http://t.co/EEvnNQ3cPO

— Tara Moss (@Tara_Moss) May 13, 2015
I don't understand how they thought this would be funny. Cruel & appalling #AutumnAllen https://t.co/wfd5ZI62my — Frank (@YeahThisIsHess) May 12, 2015
Unfathomable. Some minds are beyond sick. Cambodian TV apologises after Mother's Day prank backfires – #c4news http://t.co/ofhFREjvQC

— Brendan May (@bmay) May 12, 2015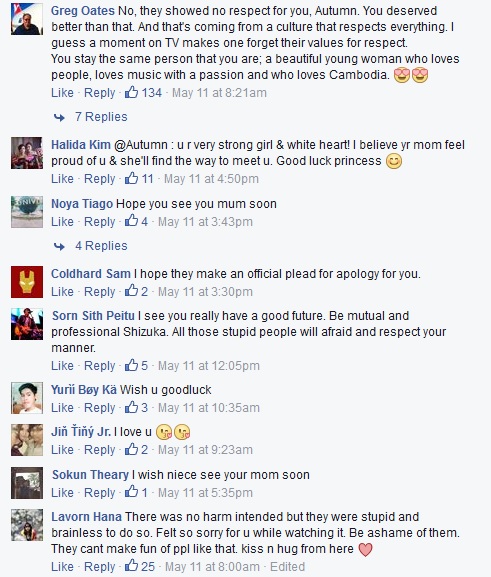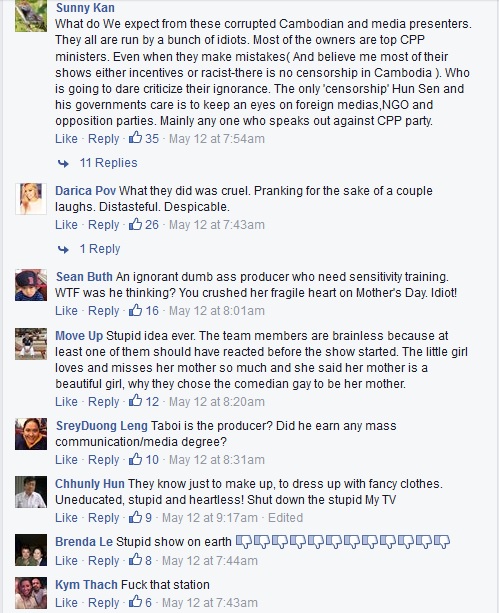 I watched the clip of this MyTV show. The producer was stupid and brainless and heartless by playing around with the…

Posted by Virak OU on Sunday, May 10, 2015
After the backlash, the makers of the show apologized for the rotten stunt, calling it a 'mistake'. "We produced that program to make Allen and other people happy. We wanted to send Allen a message that although she has no mother, our team loves her as family so that we play with her to make her smile. It was a surprise for her and I just told her to sing one song on that day. She didn't know about it at all because she just knew that she came to sing. I know it is wrong and we will have special program for her on Oh La La program," Taboi, Penh Chet Ort producer, told The Phnom Penh Post.
I have met with MyTV and accepted their sincere apologies. The two hosts, Rolin and Taboi (the producer) have apologized…
---
You want to support Anonymous Independent & Investigative News? Please, follow us on Twitter: Follow @AnonymousNewsHQ
---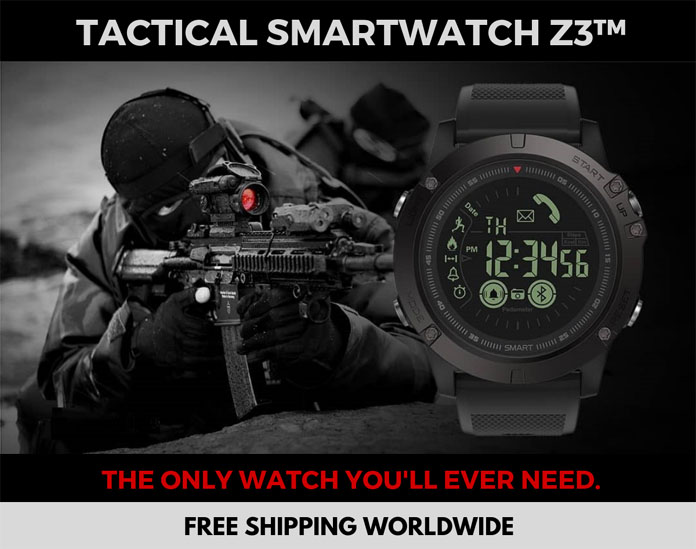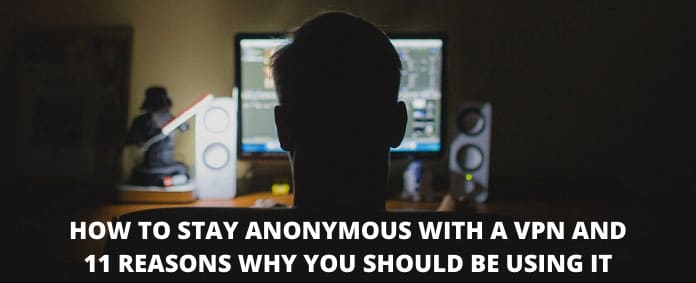 Get Your Anonymous T-Shirt / Sweatshirt / Hoodie / Tanktop, Smartphone or Tablet Cover or Mug In Our
Spreadshirt Shop
!
Click Here
Remove all ads by clicking here