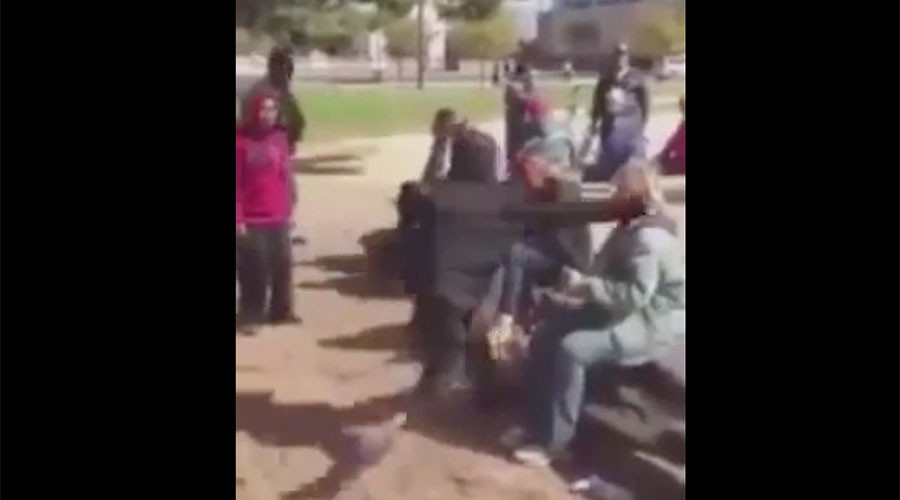 Two black men and their "cameraman" woke up one day and decided that it was a good day to attack defenseless middle-aged ladies. Their target was a white homeless woman- and they even recorded their malicious rampage. The two seen in the video were wearing matching hoodies.
This sort of attack on the downtrodden of society is reminiscent of other similar incidents where the innocent poor have been attacked and even killed by laughing youths (race is not the common denominator by the way) who filmed their evil in what they seem to think of as a sport- or a "bloody video game". Sociopaths.
Justice would be having them chained to a wall while the homeless get to kick em around.
This incident occurred on October the 17th, in Browns Park in Atlantic City New Jersey. A 14-15 year-old kid and a 20-year-old man suddenly gang up on the 40-year-old woman who was sitting on a bench minding her own business.
One of them starts bullying the woman- after subjecting the woman to abuse, she is knocked out cold in a single powerful hit.
The two did not try to flee the scene, and were posing with the unconscious woman, filming closeups of her face… boasting and laughing about how they had nearly killed an innocent, defenseless woman.
The truly sad part is that many are seen in the video sitting nearby- on the same bench even. They had witnessed this act and chose to ignore it. One person sitting right next to the woman only decided to move her drink out of the way. How inconvenient for you. Did they even wonder if the woman was dead?
Not ONE stood up against these monsters. Nobody even called the cops, and the two were allowed to leave without any problems. They then uploaded their "masterpiece" on the internet.
The lady was taken to a hospital in Atlantic City, where she remains in serious condition with brain trauma.
The sheer insolence of the criminals would prove to be ultimate downfall of at least one of them- police were able to detain the man who punched the woman, 25-year-old Ibn Hunter was charged with aggravated assault. He also faces additional charges for assaulting an officer– this too was caught on tape, ironically.
Sources: RT, NJ, CNN, NY Post, The Grio, ABC
---
This Article (Two Black Men Recorded Knocking White Homeless Woman Out Cold) is free and open source. You have permission to republish this article under a Creative Commons license with attribution to the author(CoNN) and AnonHQ.com.