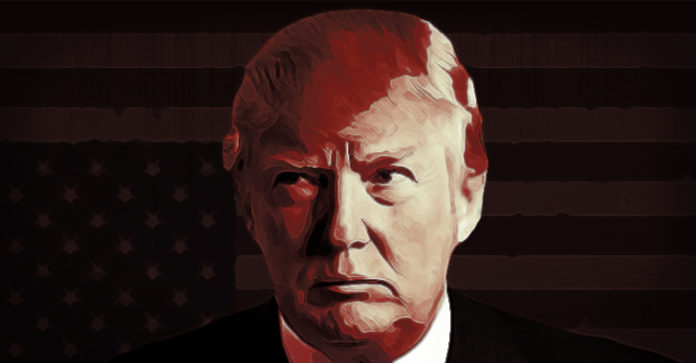 Infowars uploaded an interview with Trump recently. The interview highlights the duality of Trump's rhetoric, where he simultaneously advocates non-intervention… AND the strengthening of the military; the looting of a country's oil and natural resources upon invasion, AND the blaming of China for said looting:
While Jones has had some relatively… unconventional views on subject matters, he at least seemed to be an alternative source of information that spoke against "tyranny".
However, the entire interview had Jones backtracking on previously held convictions.
First up was Trump's claim that thousands of Muslims celebrated as the World Trade Center buildings fell.
"I knew it happened and I held my line. People wanted me to apologize, and we can't do that. People like you and me can't do that so easily," Trump said.
However, it should be noted that Alex Jones himself had referenced a group of men celebrating September 11th;  here's an Infowars article that states that, not Muslims, but Israelis were celebrating the aftermath of Sept 11th.
Indeed, an ABC News piece details the Israeli connection. Jones's story has evolved in order to back Trump's. The report that Trump cites as evidence of thousands of Muslims celebrating Sept. 11th does not even imply that one Muslim was celebrating.
They then spoke of Trump's desire for more mass surveillance against Muslims. Again Jones bends  over backwards to accommodate Trump. His own prior stance on mass surveillance was quite different.
Trump also believes that China has benefited from the American invasions of Afghanistan and Iraq:
"We go into Afghanistan. We're fighting — you know, tremendous mountains and ridges — we're fighting on one side. And you know who's got their excavators on the other side? China, taking out all of the materials. Afghanistan — nobody knew this — Afghanistan is rich with minerals."
"China is taking out the minerals," he said. "They're the buyers, the big buyers, at very, very low prices of — as you know — of the oil in Iraq and probably in Syria."
"If we're gonna leave, take the oil."
"What do we get out of it Alex, we have nothing".
If nothing else, the interview seems to explain Trump's worldview.
Sources: Business Insider, ABC News
---
This Article (Trump InfoWars Interview) is free and open source. You have permission to republish this article under a Creative Commons license with attribution to the author(CoNN) and AnonHQ.com.