As we are exposing the lies, corruption and injustices all around the world, especially the big ones that involve governments, secret agencies, corporations and banks, our enemies are growing day by day.
We do not have any sponsors, but many enemies. We are only using ads to pay our team.
But since Google has deleted our YouTube account and Facebook has capped our reach, we are not able to pay our team members anymore. Our team members are also people like you and some of them work full time to deliver our unbiased content about topics that the mainstream media won't even touch, and they spend countless hours on research, writing and editing in order to expose injustice, corruption and lies. We are in need of some help from you to continue our work.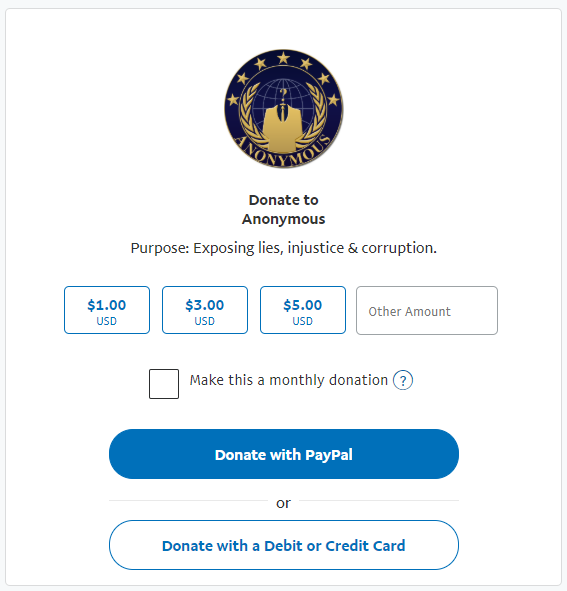 Every donation, no matter how small, is kindly appreciated. Thank you very much.
If you want to support us anonymous, you can also donate us cryptocurrencies.
Here are our wallet addresses you can donate to (we are checking them daily):
Bitcoin: 17keMxjCg47YwZtrXbcvgPfrotPwWB9GBT
Dogecoin: DUCxWVRpvRCVEJ5cMznfhTyY7h4bMDU9ET
Ethereum: 0x248f1f8bd04831f42b939050383312272ee7b586
Litecoin: LXRpRGyiTAHGfqkzfSENuwddNBTMCErgpB
DASH: XxQJWjNdPd2QTjZRnFJivUSDbgp4dTNXfg
Namecoin: NHRczqv5FRz2kexeFhqrGew552gTUmL4DD
Peercoin: PLjQ9v3yKENTbSbKU1CiG8fdpHpy9aaw7N
Vertcoin: VjU8Tec32GPSUW3BuWa7xyK4fyj3s2Fokv
The DAO: 0xa2d8e97653f1d25ec46cf9781f29716e4da01400
Monero:456EEsoT2gmVaG6j1syt6ZRcC4Ef8PfioMf5ywoKbSrLSiGcJHMc6PVNFhvx3iZPSoK9VxgGhuMXYg2kkHhLkgfu83GKsTg
Thank you.