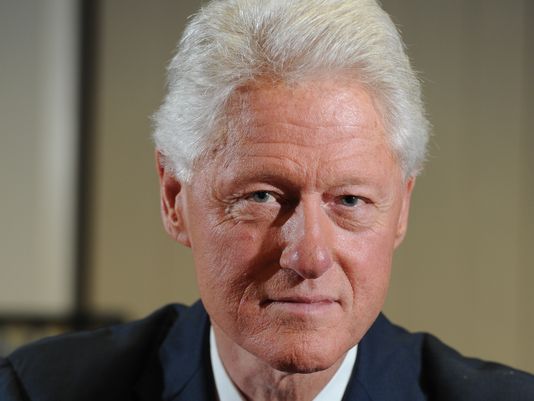 As Bernie Sanders' campaign surges forward, the Clintons are perhaps getting nervous. Which is why Bill Clinton decided to pull out the big guns while speaking to supporters at a junior high school in New Hampshire on Sunday.
"When you're making a revolution you can't be too careful with the facts," he said, implying that Sanders' campaign was not based on rational discourse. 170 economists would disagree.
" 'Anybody that doesn't agree with me is a tool of the establishment,' " Clinton added.
Clinton went on to allege that Sanders' campaign was somehow appealing to the misogynistic, referring to an unnamed female blogger.
"She and other people who have gone online to defend Hillary, to explain why they supported her, have been subject to vicious trolling and attacks that are literally too profane often, not to mention sexist, to repeat."
Journalist Joan Walsh apparently also faced fierce persecution and "unbelievable personal attacks" for giving Hillary a good review. Her article indicates that much of the criticism seemed to have been levied because her daughter is working for Hillary Clinton's campaign and that this had affected her judgement, or that her position as a Clinton supporter had landed her daughter the job. She characterized the attacks as sexist.  It is unknown how the actions of a few internet trolls should be relevant to a political campaign; surely Hillary's supporters are not themselves completely immune to such behavior. Examples of the allegedly sexist posts were not provided for reference, and she was critical of Sanders' policy of… speaking using "him" when referring to groups of people, as opposed to "him or her".
Bill Clinton was also critical of Sanders' campaign's handling of the Democratic National Committee data breach.
"It was your campaign that made 25 separate inquiries in the mere space of 30 minutes trying to breach information out of computers…. In private [the Sanders campaign] sent an email complaining [about the Democratic National Committee] leaving the keys in the car, and said, 'All I did was drive off.'"
"It's unfortunate that President Clinton is choosing to engage in the kind of negative attacks that he is on the eve of the New Hampshire primary," Jeff Weaver, Sanders's campaign manager said to Bloomberg Politics. "Clearly this is a sign that the Clinton campaign is very concerned about the state of the race and the fact that recent national polls have shown that this is really a race that is down to one or two percentage points difference."
Sanders has publicly stated that he would not resort to personal attacks against Hillary Clinton, and has instead opposed her based on policy differences.
Sanders is leading in New Hampshire polls, at 54% to Clinton's 40%.
Sources: NY Times (which openly endorsed Hillary), Washington Post, CNN
---
This Article (Bill Clinton Launches Scathing Attack Against Bernie Sanders) is free and open source. You have permission to republish this article under a Creative Commons license with attribution to the author(CoNN) and AnonHQ.com.
Get Your Anonymous T-Shirt / Sweatshirt / Hoodie / Tanktop, Smartphone or Tablet Cover or Mug In Our 
Spreadshirt Shop
! 
Click Here