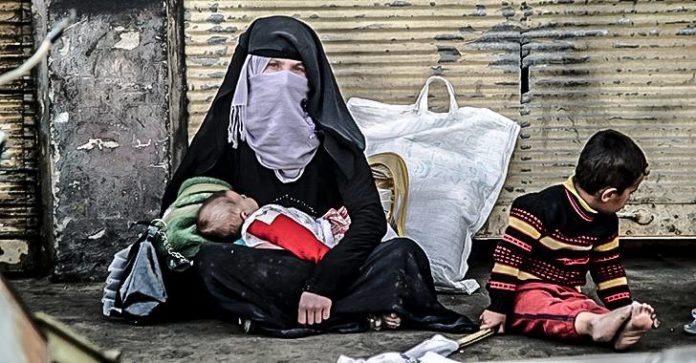 By Darius Shahtahmasebi at theantimedia.org
Iraqi forces, backed by American airpower, are set to launch a long-awaited offensive to retake West Mosul. There are reportedly 3,000 ISIS fighters left defending their last major stronghold in Iraq, and an estimated 650,000 civilians are trapped in the western-held area of the city. The U.N. has warned that these civilians are at "extreme risk," with food, fuel, water, and electricity supplies extremely scarce. Mosul, the third largest city in Iraq, has been under siege by U.S.-backed forces in a months-long offensive to retake the city from ISIS.
Given a captured ISIS fighter admitted that he raped over 200 women in Iraq, it makes sense to want to liberate a city of civilians currently held hostage by the terror group. However, the forces the Americans are backing to retake the Iraqi city are reportedly no better. There have been numerous accounts of documented revenge acts committed by the Shia-led militias against the local Sunni population.
Despite this, the mainstream media presents the siege Mosul as a legitimate military operation without question, especially when compared to the media's coverage of the battle for Aleppo in late 2016. As noted by Patrick Cockburn in the Independent:
"But look at how differently the international media is treating a similar situation in Mosul, 300 miles east of Aleppo, where one million people and an estimated 5,000 Isis fighters are being encircled by the Iraqi army fighting alongside Kurdish Peshmerga and Shia and Sunni paramilitaries and with massive support from a US-led air campaign. In the case of Mosul, unlike Aleppo, the defenders are to blame for endangering civilians by using them as human shields and preventing them leaving. In East Aleppo, fortunately, there are no human shields – though the UN says that half the civilian population wants to depart – but simply innocent victims of Russian savagery."
Cockburn notes that the media completely hyped up Russia's destruction of Aleppo yet stayed almost silent on the Iraqi city of Ramadi, which was "80 per cent destroyed by US-led air strikes in 2015."
Still, even these much-needed criticisms published in the mainstream media do not counteract the corporate media's almost wholehearted support for American military might in the Middle East and its complete distaste for Russia. Mainstream outlets hammered home the narrative that Russia was pounding at least 250,000 civilians trapped in Eastern Aleppo at the end of 2016. However, the media failed to mention three crucial facts regarding this assessment: 1) The majority of Aleppo's population lived in government-controlled areas of Aleppo, which were subject to regular shelling by rebel groups; 2) The rebel groups that held Eastern Aleppo were all affiliated with al-Qaeda and shared ISIS' core belief system; and 3) The New York Times admitted the figure of 250,000 civilians was a fabrication, as "some groups say the population of eastern Aleppo is much lower, in the tens of thousands."
Following the Aleppo offensive, the Syrian peace deal brokered without the assistance of the United States has been said to hold "more than previous ones," according to the U.N. envoy to Syria, Staffan de Mistura.
"And in my modest opinion, has – if we all look at it carefully and support it – more chances to actually succeed than others," de Mistura also said.
No one doubts that Russia and Syria are responsible for some of the most egregious violations of humanitarian law and crimes against humanity. But the media's presentation of these two battles can hardly be called 'balanced.'
ISIS only exists in Iraq in the first place because when the U.S. invaded in 2003, one of the first things the top U.S. civilian administrator in Iraq, Paul Bremer, chose to do was fire an estimated 350,000 to 400,000 soldiers simply because they were part of Saddam Hussein's Baathist party. These soldiers went from being classified as secularist to fighting alongside fanatical and radical ISIS members, including holding high-ranking positions within ISIS' ranks.
Not only that, but when ISIS was taking over Mosul in 2014, the U.S. air force was nowhere to be seen, even as they captured massive amounts of American military equipment and brandished it on social media. ISIS' rise to power was facilitated by the Obama administration, as leaked audio of former Secretary of State John Kerry addressing Syrian opposition members revealed:
"And we know that this was growing, we were watching, we saw that DAESH [ISIS] was growing in strength, and we thought Assad was threatened. (We) thought, however…We could probably manage that Assad might then negotiate, but instead of negotiating he got Putin to support him."
In short, U.S. policies put ISIS in Iraq to begin with. Then, when it suited their warped foreign policy, they decided not to target ISIS so its momentum could grow throughout the region. Even recently, as ISIS fought to retake Deir ez-Zor in Syria, putting another 250,000 Syrian civilians at risk, the American military and mainstream media stayed mostly silent. This was an area in which the U.S. military did strike in 2016, only to target Syrian military forces embroiled in a battle with ISIS.
As Iraq is set to retake Mosul from ISIS with American assistance, it is not clear whether the Iraqi people will receive the much-needed break that they deserve.
Thankfully, Iraq's prime minister, Haidar al-Abadi, asked the Iraqi armed forces to respect human rights during the battle and to take care of those displaced by the fighting. It is unlikely such a request would have any effect on rogue militias given that in the past, the Shia-led militias have been barred from entering certain cities due to the havoc they are known to unleash.
Fortunately for the Iraqi forces, they are fighting alongside the U.S. military, so their crimes are likely to be swept under the rug by the mainstream media (for now, anyway).
Creative Commons / Anti-Media / Report a typo