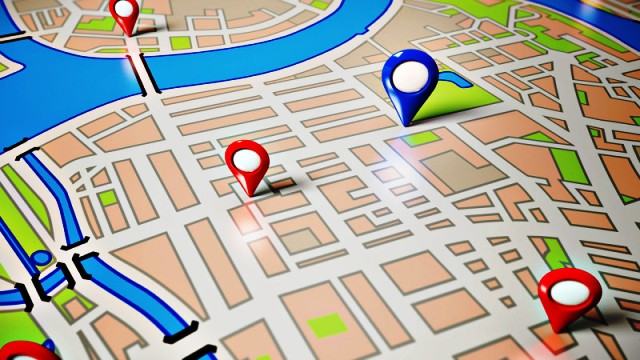 It has been eleven years since the launch of Google Maps. Two years after its successful launch, Google Maps gifted its users with Street View, which offered people a wide-range view of pretty much every street in America. In later developments, Google then expanded this feature and gave us a few other countries to explore virtually. Not only does Maps enable people to take a walk through the streets of the world, but you can also use it to search for local businesses, uncover actual traffic conditions, and you can even discover regional bicycle tracks.
If you take a minute to consider it, this technology is definitely WILD! The amazing fact that this system is present – which is there for free – we should be thankful for such things and use them for bettering our conditions around the world. Instead, we simply take such things for granted.
However, Google Maps and the enhanced & downloadable version of Google Earth continue to be effective resources. However, the majority of us are merely scratching the surface of what both of those programs have to offer. With this fact in mind, below are some sweet Google Map features that you probably did not know about:-
Google Maps Is A Time Travelling Machine
Street View has built a wide variety of neighborhood images. Since Google Maps' development, the company has presented a method for people to see Street View as it transformed through time – just like a time machine. The truth is, the corporation labeled this function as 'Time Travel'. You can get this 3D feel in Street View by hitting the tiny chronograph image on the maps. Once selected, Google Maps will create a sliding-scale, which will enable you to leap through time. Note: This feature is not available in every region.
Put Together Your Own Personalized Google Maps
You've got the capability to construct your own customized Google Map, which is also known as 'My Maps', and you also have the power to pack it with details that may be essential to you. For anyone who is signed in to their Google accounts, you can head over to 'My Places' by using the small gear at the base of Google Maps. From there, click 'Create Map'. Once you have created them, you can add an important pin(s) to the locations with important notes, highlight whole areas and even build personalized hiking or traveling guidelines.
To get a good understanding of all the tools offered, go to the gear on the top right-hand side of the page and select 'Take a Tour' from the drop down menu. To promote your brand-new map, or if you want to edit your newly created map, you can select the Share option on the top right-hand side of the page – people who are familiar with Google Drive or share Google Documents a lot will have no difficulty sharing it, as the sharing interface is very similar to Google Docs.
You Can Also Edit Information On Google Maps
Google Maps is a collective endeavor, in reality, it is dependent on the natives to fill out the correct information. In this sense, it is pretty much exactly like Wikipedia, but more visual and interactive. To do this, go to the right-hand side of the page and select the 'Send Feedback' link. This will permit you to provide or improve information. Having said that, if you want to be a part of the collective work managing your regional spot, feel free to offer your work by clicking Google Map Maker.
This enjoyable community gives you the ability to include, deduct, or fix details. And obviously, because this is the world wide web, Map Maker was eventually penetrated by individuals who used the software tools to draw soiled visuals and racist comments on the open Maps, pushing Google to temporarily suspend the program. The map editor is coming back online in bits and pieces, and by bits and pieces, I mean that it might by available in some countries and not others.
The Almighty View Using Google Maps
The differences that separated Google Maps from Google Earth have faded over the years. It is easy to switch between formats by clicking on the Earth that is available in the left-hand corner of the screen. You can also check out the 'Tilt View' option by pressing the symbol available on the right-hand side. This enables you to soar all over the world.
If you love art and are a fan of Van Gogh, then you are going to love this feature. Hold the CTRL Key for Windows, or the COMMAND Key for OS, to rotate the Earth around on any kind of axis. You can also use your mouse to zoom in and see recognizable features that are similar to a Van Gogh landscape painting. Plus, you can also click on any structure or area to identify it, pin it or use an information card.
The Street View Key Commands
Although you are able to navigate around the Street View imagery utilizing your mouse, if you are not that much of a mouse person and prefer using a keyboard, listed below are some commands that you will find useful:-
a) + or – for zooming in and out.
For Right-Handed Individuals
a) Left and Right pointer keys for switching direction.
b) Up and Down pointer keys for moving forward and backward.
For Left-Handed Individuals
a) A and D for turning left and right.
b) W and S for moving forward and backward.
Calculate Any Route
You can do this by using the right-click option, which will give you the ability to gauge the travel time, length and distance of any two areas across the planet. To use this feature, simply select 'Measure Distance' and let the Maps take care of the rest. Once that is done, Google Maps will create a white dot with a black line, enabling you to find the distance to any location by simply selecting it on the map. With that said, users that are located outside of the United States also have the option to select the 'Metric Measuring System,' by hitting the scale on the bottom of the page.
Indoor Directions
The interior map transformation has not truly arrived yet, however, it has already been included in the wider Google Maps environment. Formerly, these details were only available on the cell phone version of the map – where they are truly more beneficial – however, don't feel bad, they are available on your desktop version as well. If you are interested in finding out more, you should click here.
However, for the locations listed in the above link – you can enter them by finding the entrance gate first. After that, an icon will appear with a forward arrow, which means that you can enter that place, and if you want to change floors then you can do that by working with the window that will appear at the bottom of your maps.
Google Maps Is Not Only About Cities
When people think of Street View they usually think of cities, or somewhat heavily populated areas. However, even though people can publish scenic images, and many other pictures of places away from the actual path, it was not a satisfying or breathtaking experience.
However, the internet giant has started to test shooting off-road Street Views by using a variety of unique tactics, such as a venture referred to as Treks. The venture currently consists of immersive trekking and climbing locations, and one such location is the Grand Canyon in the United States. You can walk through Mont Blanc in France, or visit the historical site of Petra in Jordan, and even sail across Venice in Italy. If you would like to find out more about these exotic locations, you can check out the list by clicking here. However, if you want to take this one step further and want to help the Google team expand its reach, then you can volunteer by filling out this form.
The Easter Eggs
Needless to say, there are Easter Eggs. For instance, if you take the yellowish-orange man and drop him on Area 51 in Nevada, it will turn into a spaceship. Likewise, for our Doctor Who fans, you can find the Tardis on a London road; head inside and you will find a rather big interior. However—this one is my favorite—if you use the time travelling option, you will see the little yellowish-orange guy transform into Doctor Brown from the movie Back to The Future.
---
You want to support Anonymous Independent & Investigative News? Please, follow us on Twitter: Follow @AnonymousNewsHQ
---
This Article (9 Google Map Tricks That Will Make You Stand Out) is free and open source. You have permission to republish this article under a Creative Commons license with attribution to the author and AnonHQ.com.