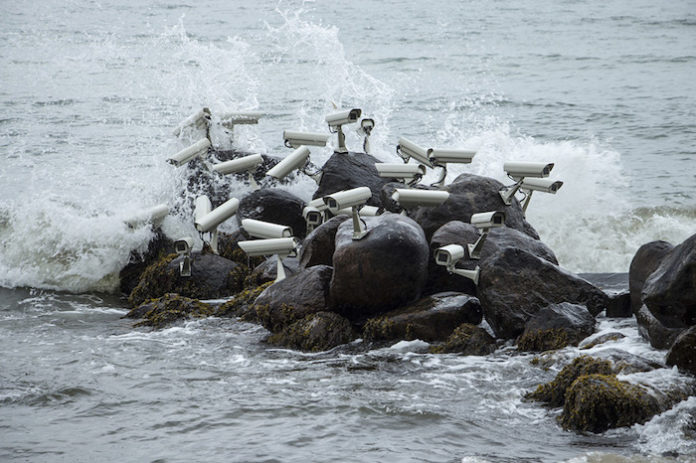 Your privacy is not synonymous with the 21st century. Jakub Geltner, a Prague-based artist, has created a fascinating and eerie art series called Nests, a four year long project which prompts viewers to decide whether or not the presence of stray cameras or state surveillance is desirable in our everyday life.
By placing satellite dishes and surveillance cameras conspicuously in both natural and urban landscapes in the most unusual public places – on seaside rocks, by a riverside, on the facade of a church, inside an apartment, on a disused Communist Party building, and on the side of an elementary school – Jakub tries to reflect the "infections" of items added to buildings and structures.
"My project is simply called "Nests" and mimics the random human activity in the urban landscape. I was inspired by the characteristics of several cities on my travels around the world where I often found different unplanned, almost organically placed, elements that interfere with the typical facades of the buildings in specific cities. Through this project I wanted to point out the extent of these "infections" to show how disruptively absurd as well as interesting the urban space can become," he explains.
Jakub has been working on these nests since 2011, when he set up the first 'Nest 01' in the city center of Prague. He installed it directly on the waterfront of the Vltava River while he was still studying at the Academy of Fine Arts in Prague. He installs all the Nests himself from a ladder or sometimes from a crane. All the Nests go by numbers and they usually occur on hot spots of contemporary public spaces.
"Cities are also nature; the urban landscape is our modern landscape (nature). Enliven architecture with unnecessary objects that man created only for his pleasure, it is as tempting as stain the nature with those products. Besides, the nature in our environment is no longer the untouched virgin environment. Cameras imported into the woods or on the reef act as a ridiculous reminder of our foolishness," he adds.
The swarms of cameras in unexpected locations do raise questions about the necessity of surveillance equipment in our society. What do you think – Should they serve or should they spy?
---
This Article (A Hilarious Yet Uncomfortable Jab At State Surveillance [Images]) is free and open source. You have permission to republish this article under a Creative Commons license with attribution to the author and AnonHQ.com.