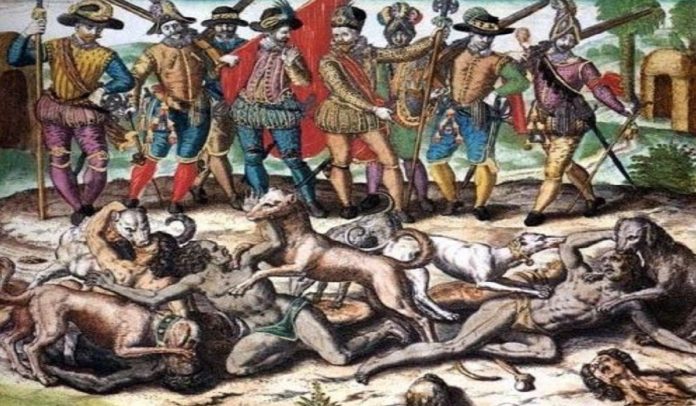 Every year on the second Monday of October, Americans celebrate Columbus Day. This "holiday" is actually celebrated in quite a few countries throughout the world, and is observed as a positive affair.
Vince Schilling of Indian Country Today Media Network has decided to set the record straight by detailing the contradictions of Columbus' "noble" legacy. The fact is, were Columbus still alive today, he would be put on trial for crimes against humanity.
Columbus Was a Cheapskate
Columbus stole a sailor's reward on the way to the New World. After receiving funding for his trip from King Ferdinand and Queen Isabella, Columbus offered a reward of 10,000 maravedis (a year's salary for a sailor, about $540) to the first person to discover land. Even though it was a sailor by the name of Rodrigo de Triana that spotted land in October, 1492, Columbus retracted the deal claiming he was the one who spotted it first because he was pretty sure he saw a dim light the night before (though even by his own admission, he could not affirm that it was land). This information comes from Columbus's log of October 11-12, 1492 as reproduced by Robert Fuson in The Log of Christopher Columbus, pp. 73-74.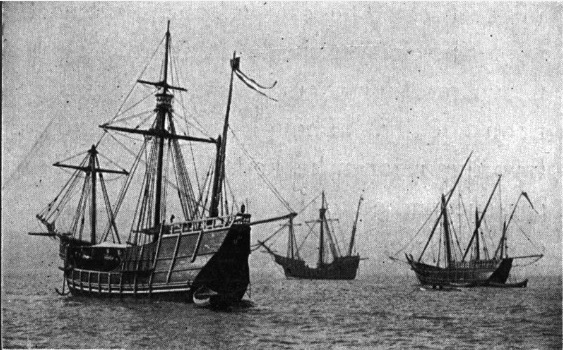 Columbus Never Actually Landed on American Soil
While Columbus returned to the Americas three more times, he never initially set foot on any part of America, and we know now that other travelers most likely made it there before him. His first landing was on an island in the Bahamas where he met the Arawaks, Tainos, and Lucayans, all of which were friendly to Columbus and his men. Impressed with their friendliness, he did what any European would do, and took some of the natives against their will. In his journal he wrote:
"As soon as I arrived in the Indies [Columbus mistakenly believed he had reached Asia], on the first Island which I found, I took some of the natives by force in order that they might learn and might give me information of whatever there is in these parts."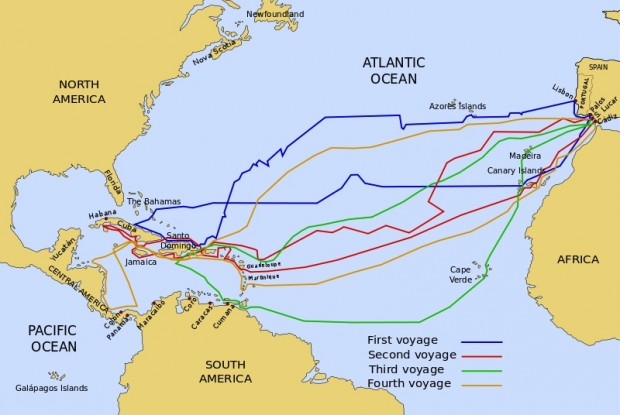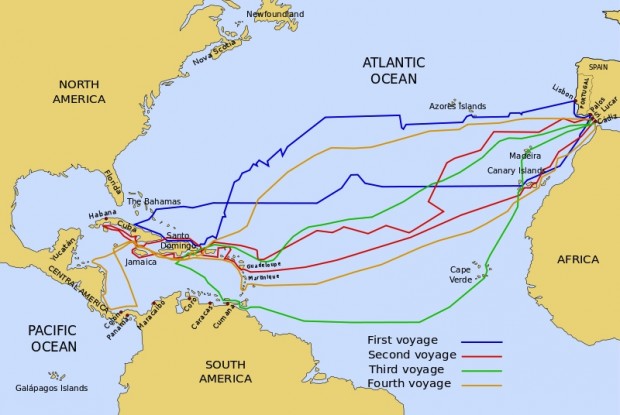 Columbus Talked a Lot of Crap
When Columbus first met the Native Arawaks, he wrote in his journal:
"They… brought us parrots and balls of cotton and spears and many other things… They willingly traded everything they owned… They were well-built, with good bodies and handsome features… They do not bear arms, and do not know them, for I showed them a sword, they took it by the edge and cut themselves out of ignorance. They have no iron. Their spears are made of cane… They would make fine servants… With fifty men we could subjugate them all and make them do whatever we want."
After several months in the Caribbean, Columbus had a change of tone. After two Natives had been murdered during trading, Columbus wrote:
"..[They are] evil and I believe they are from the island of Caribe, and that they eat men." He continues that they are "savage cannibals, with dog-like noses that drink the blood of their victims."
Thanks to Columbus, the "cannibal story" is still taught as fact in some of today's schools. See kids? This is why you shouldn't talk shit about people.
Columbus' Men Were a Bunch of Rapists and Murders
After Columbus's first trip to the New World, he left 39 men behind when he returned to Spain. The men decided they would help themselves to the local Native women, and upon Columbus's return, he found all of his men dead. Violence ensued, and with an additional 1,200 soldiers at his disposal, Columbus's new army raped, pillaged, and tortured without discretion.
Here is the disturbing account of Michele de Cuneo, a close friend of Columbus:
"While I was in the boat I captured a very beautiful Carib woman, whom the said Lord Admiral gave to me, and with whom, having taken her into my cabin, she being naked according to their custom, I conceived desire to take pleasure. I wanted to put my desire into execution but she did not want it and treated me with her finger nails in such a manner that I wished I had never begun. But seeing that (to tell you the end of it all), I took a rope and thrashed her well, for which she raised such unheard of screams that you would not have believed your ears. Finally we came to an agreement in such manner that I can tell you that she seemed to have been brought up in a school of harlots."
The Spaniards committed many other heinous acts towards the Natives, such as "testing the sharpness of blades on Native people by cutting them in half, beheading them in contests and throwing Natives into vats of boiling soap. There are also accounts of suckling infants being lifted from their mother's breasts by Spaniards, only to be dashed headfirst into large rocks," (Schilling, 2013).
In related news: More cities celebrating 'Indigenous Peoples Day' amid effort to abolish Columbus Day
According to Bartolome De Las Casas, a former slave owner who became a Bishop:
"Such inhumanities and barbarisms were committed in my sight as no age can parallel," he wrote. "My eyes have seen these acts so foreign to human nature that now I tremble as I write."
Columbus Was All About the Bling
"Gold is the most precious of all commodities; gold constitutes treasure, and he who possesses it has all he needs in the world, as also the means of rescuing souls from purgatory, and restoring them to the enjoyment of paradise." – Christopher Columbus
Columbus reported there were "rivers of gold" in the New World, as well as an abundance of Native slaves, to Queen Isabella and King Ferdinand, and in return, he was given his additional 17 ships and 1,200 men. Needless to say, he was desperate to produce what he had promised.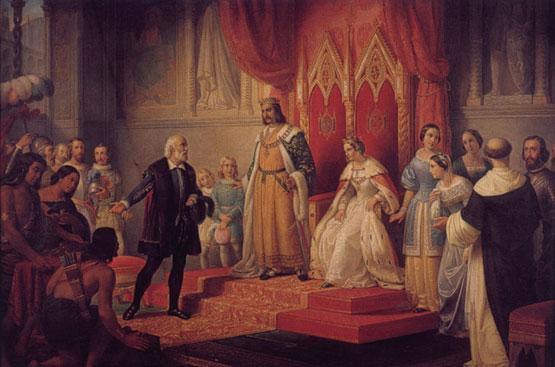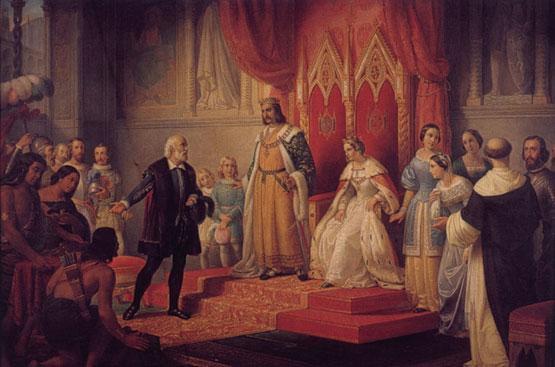 The Natives were forced to work in gold mines until exhaustion, and if they refused, they were either beheaded or had their ears cut off. Those who did not supply at least a thimble of gold dust every three months had their hands cut off. The hands were then tied around their necks, and they were left to bleed to death. Around 10,000 Natives died this way.
Sex Slaves for Everyone!
As well as using the Natives for slave-labor, Columbus sold females as young as 9-years-old to his men as sex slaves. In the year 1500, Columbus wrote:
"A hundred castellanoes are as easily obtained for a woman as for a farm, and it is very general and there are plenty of dealers who go about looking for girls; those from nine to ten are now in demand."
Columbus Used Natives as Dog Food
Apparently, Columbus allowed his men to use the Natives as dog food. It's reported there were butcher shops throughout the Caribbean that sold Indian flesh, and periodically, a practice known as the montería infernal (infernal chase) was conducted in which Indians were hunted down, killed, and eaten by the Spaniard's war-dogs. In an even more horrifying act, live babies were ripped from their mother's arms and fed to the dogs as sport.
Columbus Was Arrested for His Crimes, and Later Pardoned
Numerous complaints were filed against Columbus in regards to his blatant mismanagement, and in 1500, he was arrested by a royal commissioner who took him back to Spain in chains. He was stripped of his title as governor, however King Ferdinand pardoned him, and then subsidized a forth voyage.
Thanks to Bartolome De Las Casas writings, the treatment of the natives in South America exposed Spain's barbarism, contributing to the Black Legend—Spain's reputation as a "uniquely brutal and exploitative colonizer," (Foner, 2014, p. 28).
We might want to reconsider even acknowledging this so-called "holiday," and with Columbus' reputation being falsified to our children in school, the least we can do is set the record straight for them.
---
This Article (A list of Atrocities Committed by Christopher Columbus) is a free and open source. You have permission to republish this article under a Creative Commons license with attribution to the author and AnonHQ.com.
---
Sources:
Foner, Eric (2014). Give Me Liberty: An American History. New York, NY: W.W. Norton & Company, Inc.
Hartmann, Thom. Common Dreams. Oct 11, 2004. (http://www.commondreams.org/views04/1011-27.htm)
Schilling, Vincent. Indian Country. Oct 14, 2013. (http://indiancountrytodaymedianetwork.com/2013/10/14/8-myths-and-atrocities-about-christopher-columbus-and-columbus-day-151653)