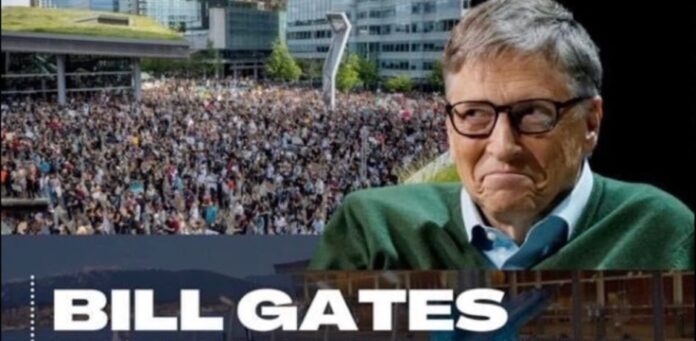 Bill Gates has played a leading role in formulating governments' responses to the Covid-19 pandemic and has been one of the leading proponents of the Covid-19 vaccine.
While Gates claims to be benevolent, his wealth rapidly expanded during the Covid-19 pandemic, during which he made $10 Billion, according to Forbes estimates.
Canada has been ground zero for authoritarian vaccine mandates.  When people attempted to protest the mandates, they were brutally beaten by police officers, financial backers had their bank accounts frozen, and their own government dismissed them as fringe racists rather than address their demands.
Gates gave a TED Talk speech yesterday in Vancouver about how to prevent the next pandemic and was met by thousands of Canadians fed up with the medical tyranny that Gates has helped to facilitate.
https://www.youtube.com/watch?v=PKa0-bW8l2Y
The Gateway Pundit Reports:
"Thousands of outraged freedom activists surrounded the Vancouver Trade & Convention Center in Canada on Sunday demanding the arrest of Bill Gates ahead of the globalist billionaire's keynote appearance at TED Talk where he has previously outlined plans for depopulation through the vaccines.
https://twitter.com/DNSWilson/status/1513333637206339586?r
Opponents of COVID-19 mandates have been mobilizing for weeks to publicly shame the billionaire magnate who has religiously promoted experimental gene modification injections that have taken millions of lives around the globe and left others critically injured.
Gates is hellbent on "modifying our DNA," a demonstrator cautioned during a speech at the "Super Protest," but, "He is not our God. He is not a doctor. It's not a pandemic, it's a pandemic. He's not elected but he thinks he is more important than the government itself."
"Bill Gates, you're not welcome here." A protest against globalism has gathered near the Vancouver Convention Centre were Bill Gates is scheduled to speak at the 2022 TED Conference. https://t.co/AxdZaUWh3V

— Hungry for Truth with Drea Humphrey (@DreaHumphrey) April 10, 2022
Medical professionals also spoke out against Gates.
Doctors from Doctors on Tour take the stage outside of the 2022 Ted Conference for the"Bill Gates you're not welcome here" protest in Vancouver.

Full report coming soon on Rebel News https://t.co/uHTK2Lj24P

— Hungry for Truth with Drea Humphrey (@DreaHumphrey) April 10, 2022
"Any doctors who start to speak up against the mandates, who start to speak up about the media narrative, are paying a price," Dr. Sofia Bayfield declared. "We are paying a price professionally. Psychologists are going after us. We are losing our hospital privileges.
"Many of our colleagues who are surgeons and radiologists — who work in hospitals have not worked since October. Shame. As we know, science is never settled. Even Albert Einstein said we have to debate. Science is always an ongoing debate. This is very important. The risk that we are taking in standing up is worth it. It is our moral obligation."
Various activist groups, such as unions and NGO's played a leading role in facilitating the authoritarian Covid lockdowns and keeping them in place far longer than they should have been.  Last week, it was revealed that teachers unions were given a say in the CDC's reopening guidelines for schools.