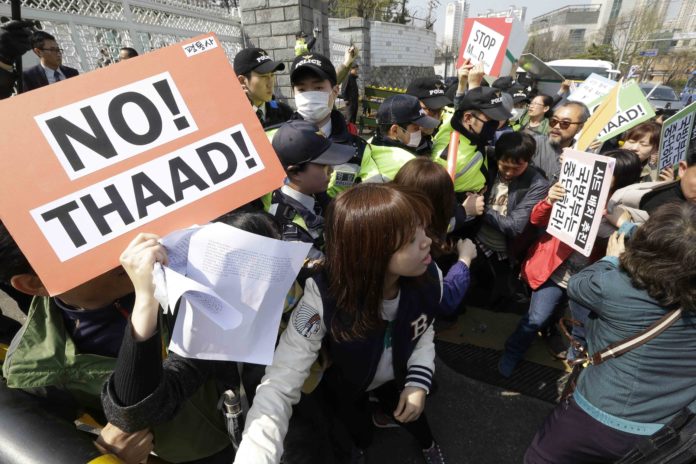 The US is all set to move the Terminal High Altitude Area Defense (THAAD) anti-missile defense system to South Korea, where it will serve to counter Chinese… err, North Korean nuclear weapons.
US Defense Secretary Ash Carter said that the deployment "is going to happen," noting that China should have done more to prevent North Korean missile development. The move comes despite China's backing of UN sanctions against its unpredictable Korean ally.
China opposes the deployment of THAAD, as it would be able to serve as a counter to its own nuclear capabilities, reducing the risk of Mutually Assured Destruction or MAD – for the United States at least. The move parallels NATO measures to set up missile defense systems in countries near Russia, with Iran as the boogeyman in that case.
Carter spoke to the Council on Foreign Relations, answering a question on whether the deployment of the missile defense system would carry on as planned:
"Oh, it's going to happen. It's a necessary thing. It's between us and the South Koreans; it's part of protecting our own forces on the Korean peninsula, and protecting South Korea.
"(It) Has nothing to do with the Chinese, and I do wish the Chinese would work with us, or really work bilaterally with North Korea more effectively, although it's easy to say that – dealing with North Korea for anybody is a challenge – at heading off their missile challenge in the first place.
"But we need to defend our own people, we need to defend our own allies, and we are going to do that."
Early last year, the National Interest Magazine predicted the current scenario quite presciently, explaining why China's fears are based on reality:
Back in November, I spoke to Dan Sauter of Business Development for Terminal High Altitude Area Defense at Lockheed Martin to get a better understanding of the system and its capabilities. Sauter explained that THAAD is "a key element of the U.S. Ballistic Missile Defense System (BMDS) and is designed to defend U.S. troops, allied forces, population centers and critical infrastructure against short-thru-medium-range ballistic missiles." He went on to explain that THAAD "has a unique capability to destroy threats in both the endo- and exo-atmosphere using proven hit-to-kill (kinetic energy) lethality. THAAD is effective against all types of ballistic-missile warheads, especially including Weapons of Mass Destruction (chemical, nuclear or biological) payloads. THAAD was specifically designed to counter mass raids with its high firepower (up to 72 Interceptors per battery), capable organic radar and powerful battle manager/fire control capability."
Sauter told The National Interest that THAAD is "interoperable with other BMDS elements, working in concert with Patriot/PAC-3, Aegis Ballistic Missile Defense, forward based sensors, and C2BMC (Command and Control, Battle Management, and Communications System) to maximize integrated air and missile defense capabilities. THAAD is mobile and rapidly deployable, which provides warfighters with greater flexibility to adapt to changing threat situations around the globe."
Indeed, THAAD is more than capable of defending against a few North Korean nuclear warheads.
The Diplomat further explains that the deployment of THAAD literally has far-reaching consequences:
THAAD's range will extend beyond the Korean Peninsula. The coverage provided by the existing sea-based Aegis system will be greatly extended by the planned deployment of AN/TRY-2 radars. These track inbound short- and medium-range ballistic missiles (SRBMs and MRBMs) with a high-resolution X-band (8-12.4 GHz) phased-array sensor system providing a 120-degree azimuth field out to 1,000∼3,000km, effectively covering the whole of mainland China…THAAD's capability to engage all classes of ballistic missiles and in all phases of their trajectories.
Sources: Reuters, Defense News, The National Interest, The Diplomat 
---
This article (Ash Carter Antagonizes China: South Korea Anti-Missile Defense Deployment "Going To Happen") is a free and open source. You have permission to republish this article under a Creative Commons license with attribution to the author(CoNN) and AnonHQ.com.