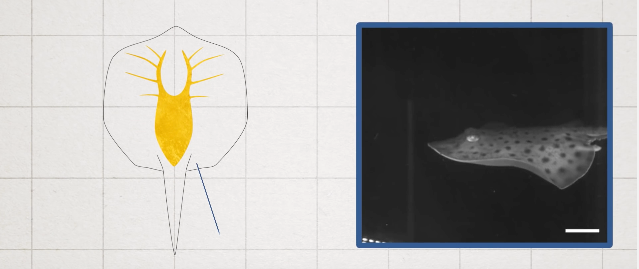 The field of robotics is advancing at a great rate of knots. Hanson Robotics have created a robot, "Sophia," which is capable of carrying out a conversation and can make more than 60 different facial expressions (and said in an interview captured by CNBC last year that she wants to "destroy humans").
Perhaps one of the most interesting developments in robotics, though, is the creation of biohybrids: robots that are part machine and part living tissue.
In July this year, a group of researchers from Harvard published a paper in Science, detailing a soft-robotic ray powered by rat heart muscle cells, which swims and is capable of following a light cue.
The biohybrid ray is made up of a microfabricated gold skeleton, a rubber (elastomeric) body enclosing the skeleton, and rat heart muscle cells (cardiomyocytes) over the rubber body. The cardiomyocytes are 'patterened' over the rubber body, which means they are set down in a particular direction so they contract in a predictable manner, just like muscle cells in the body.
The abstract of the paper says: "By patterning dissociated rat cardiomyocytes on an elastomeric body enclosing a microfabricated gold skeleton, we replicated fish morphology at 1/10 scale and captured basic fin deflection patterns of batoid fish."
The cardiomyocytes used are genetically engineered to be light sensitive and through optical stimulation, sequential muscle activation can be achieved, which allows the robotic ray to move "leading to coordinated undulatory swimming."
The speed and direction in which the robotic ray swims are controlled by changing the light frequency used to elicit movement, and by independently moving the left and right fins. This enables a relatively complex movement pattern and allows the robot to navigate through an obstacle course.
This biohybrid ray may pave the way for a robotic human heart.
---
This article (Biohybrid Stingray-Inspired Robot: Part Animal, Part Machine) is a free and open source. You have permission to republish this article under a Creative Commons license with attribution to the author Bullseye and AnonHQ.