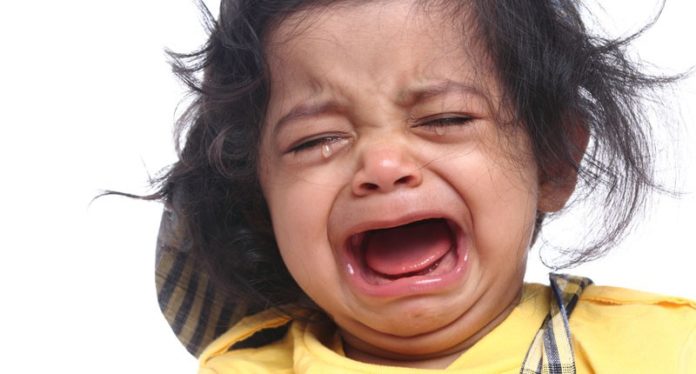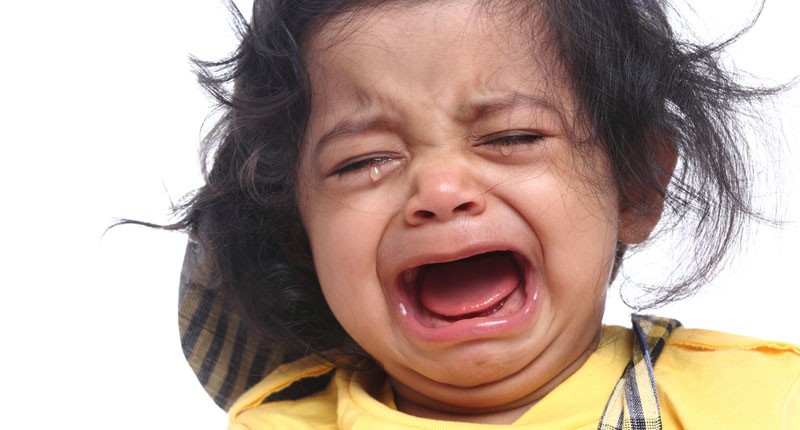 Image: Unhappy child (Shutterstock)
Written By: Jaymack
I am part of a group campaigning to raise awareness of a barbaric practice being inflicted upon vulnerable children and adults. I am not a physician or researcher, but am nonetheless mortified that the disabled have become prey to a particular faction of pseudo-scientists and I hope to achieve intervention before this practice results in death. In fact, as said practice goes further underground and has been promoted worldwide, it's not possible to determine with certainty whether deaths have already occurred.
I share this with you now to enrage you. I share it to generate nothing short of fury on behalf of the victims, many of whom are unable to speak, let alone to advocate for themselves. I share it to gain your support and assistance.
For a few years now, a product called CD MMS (or Chlorine Dioxide Miracle Mineral Solution) has been marketed in alternative medicine circles as a cure for everything from cancer to AIDS. Lately, the solution is being pushed as a 'cure' for autism. The solution itself contains what is essentially industrial disinfectant. The so-called protocol for treating ASD children involves ingestion of the product, as well as baths and repeated enemas, in order to cleanse them of nonexistent 'parasites' claimed to be responsible for a host of different illnesses and conditions.
I was shocked to learn that, although the FDA has contraindicated MMS and posted serious warnings on its website, no United States government entity seems to be pursuing this dangerous practice. Very few European governments have officially taken notice. The substance itself is prohibited in Canada, yet the practice persists.
The use of MMS is a worldwide phenomenon which crosses all socioeconomic classes, political leanings, and the religious and nonreligious alike. The horror stories about struggling children, bleeding from their bowels, crying while the parent continues to administer the enema — these stories are coming from all corners of the developed world. This is only what we see; the creator of the MMS protocol founded his own church to gain protection, as he administered his chemical concoction to vulnerable populations in third-world nations as well. In fact, Jim Humble, founder of the Genesis II Church of Health and Healing, claims that the CD MMS protocol has cured the Ebola virus, among others. Mr. Humble's primary co-conspirator is Kerri Rivera, D.Hom (Homeopath). Together, these individuals are pushing chlorine dioxide as well as the promise for a cure, contributing to the injury of the disabled.
The pages following are a cursory presentation of information found at websites devoted to the practice of CD MMS treatment. More information exists than I could ever present here, but it is my hope and the hope of my colleagues that this will motivate you to support our cause and play a part in ending this abuse.
The following is a compilation of screenshots obtained from the Facebook group, 'CD Autism', the Kerri Rivera website, cdautism.org, and the James Humble website, jimhumble.is.
(PLEASE NOTE: Many of the photographs are graphic in nature, in that they feature human tissue, excreta and blood.  Discretion is advised.)
To begin, I offer a quote from the 'Archbishop' of the Genesis II Church, Jim Humble, as reported by The Guardian:

I have included this excerpt to illustrate the ultimate mentality of the creator of Chlorine Dioxide Miracle Mineral Solution, and the proponents of his methods. Kerri Rivera's layman's description of CD MMS (copied from cdautism.org) is intended to assure parents that the protocol is harmless…

…and the US Environmental Protection Agency accurately describes it as a 'powerful disinfectant': http://www.epa.gov/safewater/mdbp/pdf/alter/chapt_4.pdf. This is not about health care, nor is it about government interference in our private lives. This is about money and about controlling a flock, no matter the collateral damage.
Despite the fact that individuals — namely autistic children, many nonverbal — experience pain, bleeding, chronic effects and acute illness when administered the 'protocol' of CD MMS enemas, baths and oral doses; parents and caretakers are encouraged to continue dosing. Additionally, they are advised to do so under the radar of law enforcement, which is a subject approached later in this article.
Please consider the items below, copied from member forums on cdautism.org (Kerri Rivera):
1. Hair falling out due to 'detoxing':
2. Daily doses and 'salt baths'; many of the practitioners report using water softener salt: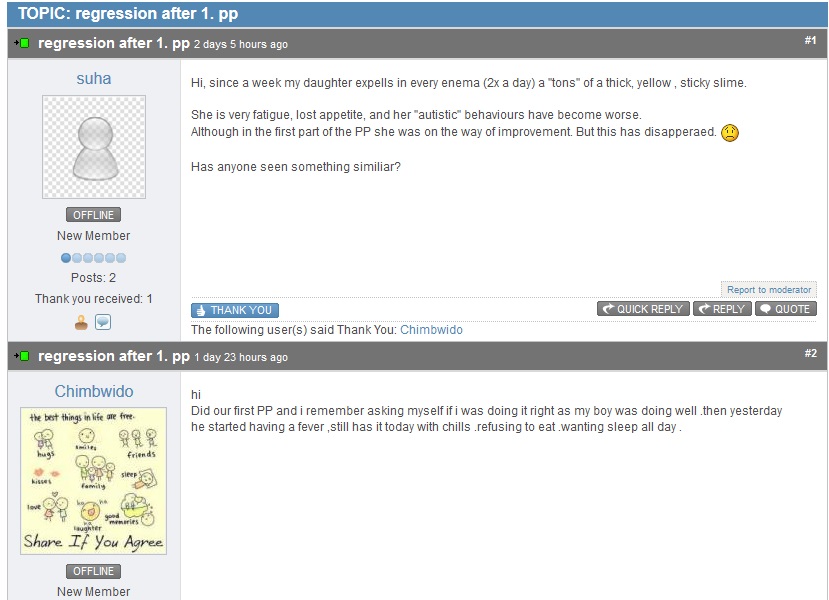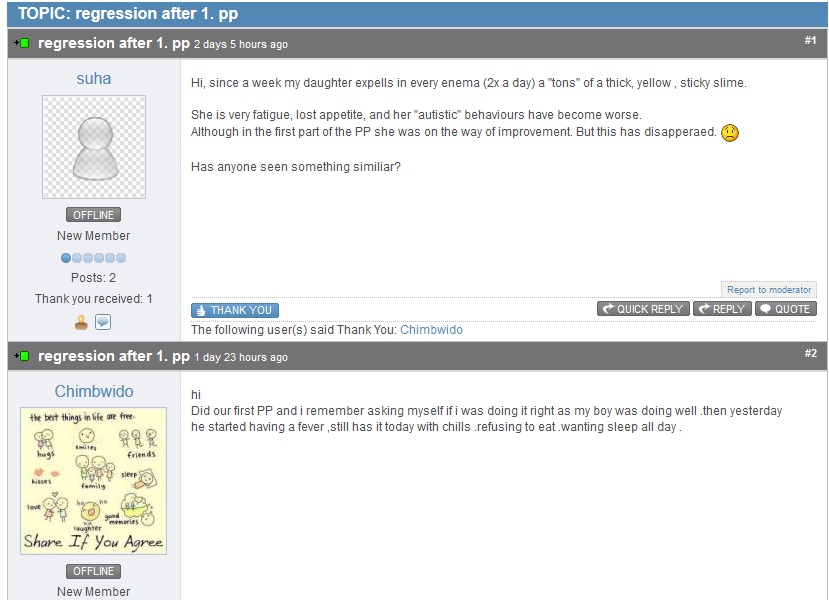 4. Cholesterol at 299 in a toddler… and it's not necessarily dangerous?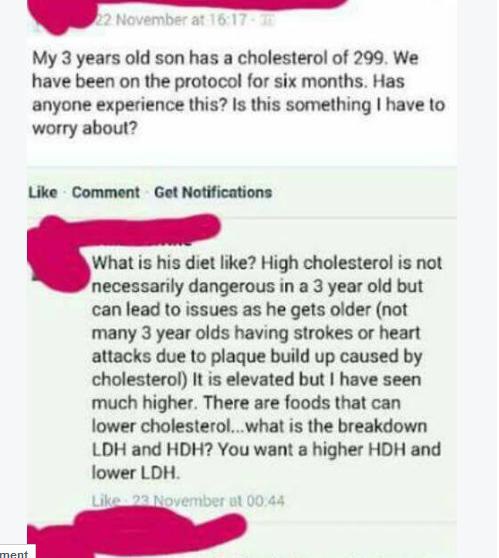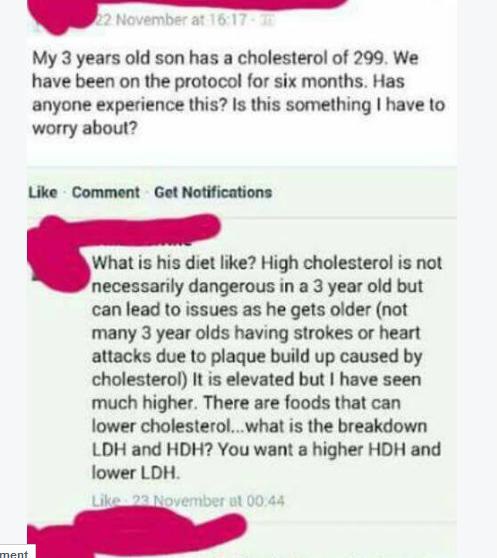 5. Symptoms increasing in severity? Kerri Rivera's advice (yes, she advises bleaching the child's ear canals and entire head):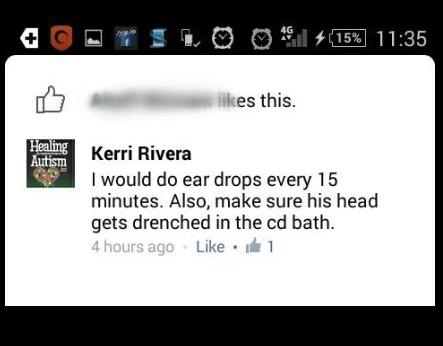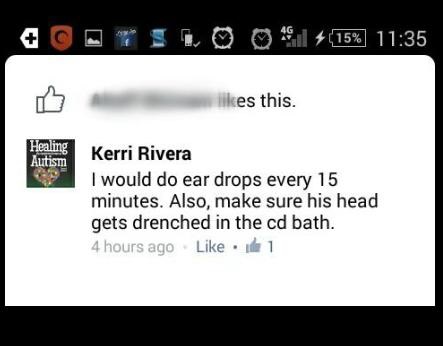 As mentioned in the introductory letter, it is the belief of the MMS creators and their followers that autism and many other conditions and diseases are the result of a parasite referred to as a 'ropeworm'. The ropeworm is entirely fictional, fabricated by Volinsky, Gubarev et al, as a means of frightening desperate patients into an extreme medical protocol. Not surprisingly, Gubarev is the patent-holder of a homeopathic enema designed to eliminate these parasites.
Please refer to the Volinsky/ Gubarev 'studies' at:
–http://arxiv.org/ftp/arxiv/papers/1301/1301.2845.pdf 
–http://arxiv.org/ftp/arxiv/papers/1301/1301.0953.pdf
For a more in-depth description of so-called ropeworms and the perpetuation of the parasite hoax, please see: http://www.sciencebasedmedicine.org/rope-worms-cest-la-merde/. The article is a bit tongue-in-cheek in parts but gives more information than I can efficiently provide.
This leads us to the actual appearance of the 'parasite'. Of course, the introduction of a corrosive material to the interior of the body (or the exterior, for that matter) is expected to result in tissue damage by way of chemical burns. The practitioners of the MMS protocol frequently post photographs of those objects expelled from victims after enemas, and are assured that the same are ejected ropeworms/eggs/egg sacs. Indeed, these objects are portions of intestinal lining.
Below are photographs captured from both cdautism.org and the 'CD Autism' Facebook group. (As previously stated, these photographs are graphic due to content.)
6. 'Intestinal parasites':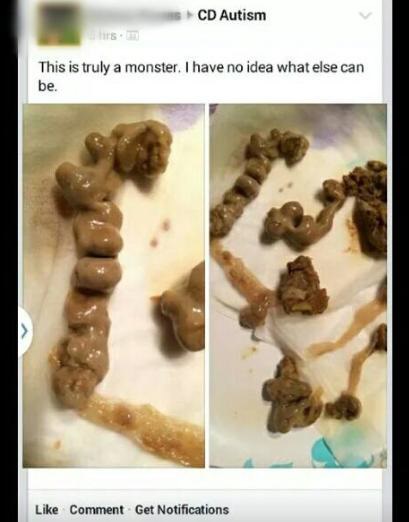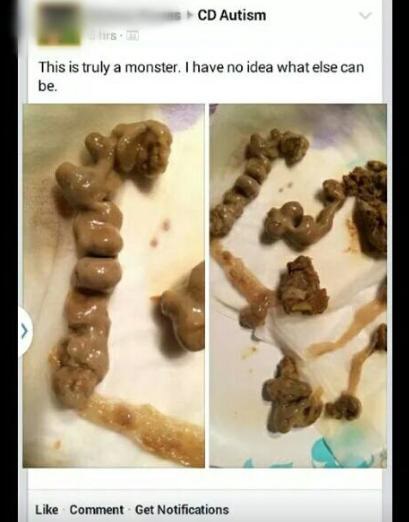 7. A child's post-enema excreta: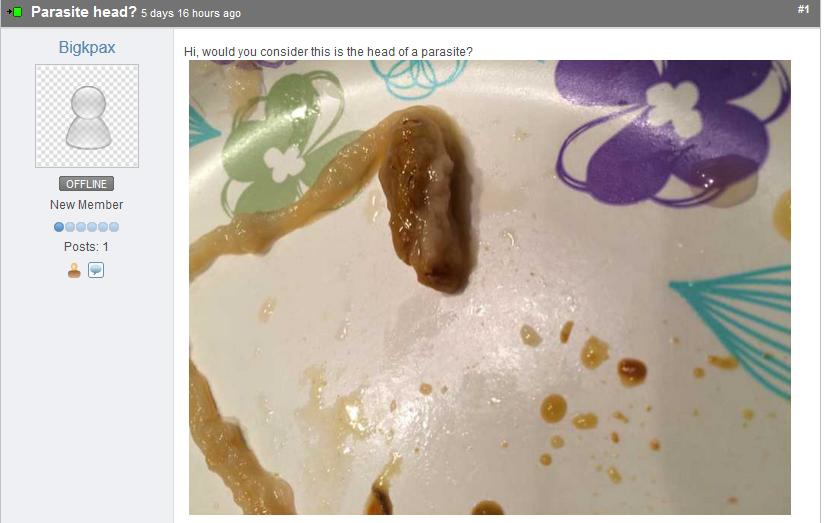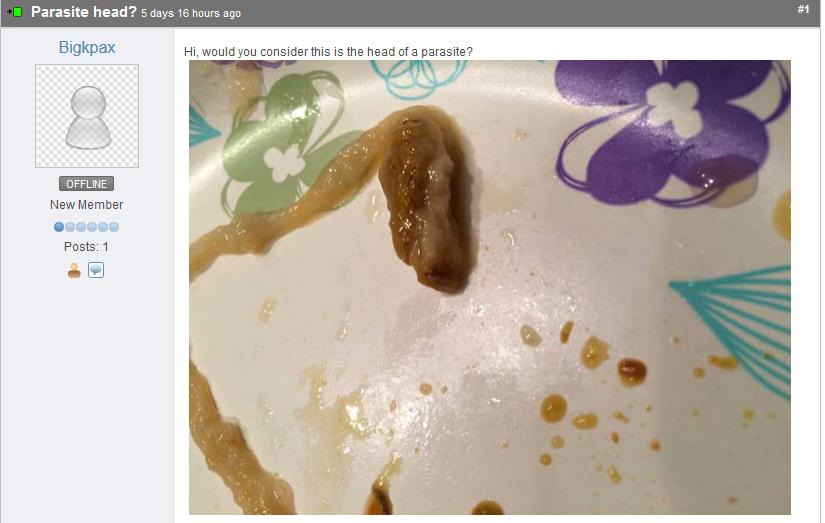 8. Notice that this object has a striated/fibrous texture… very unlike a worm-type parasite; very like tissue: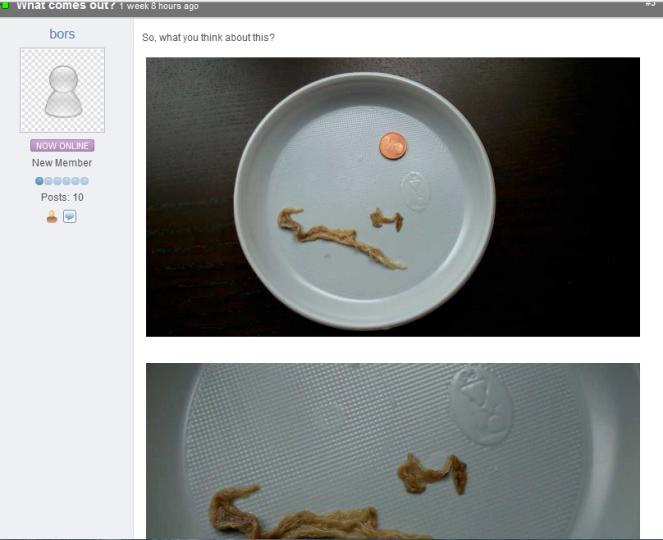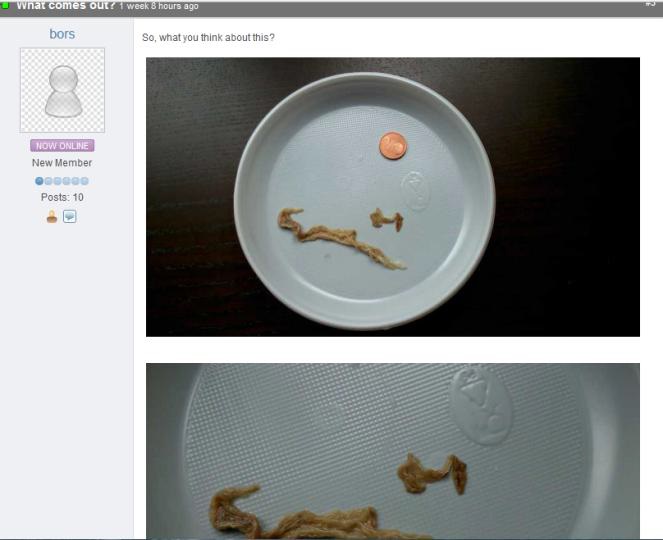 9. A post and its associated photo attachment. Lots of 'parasites':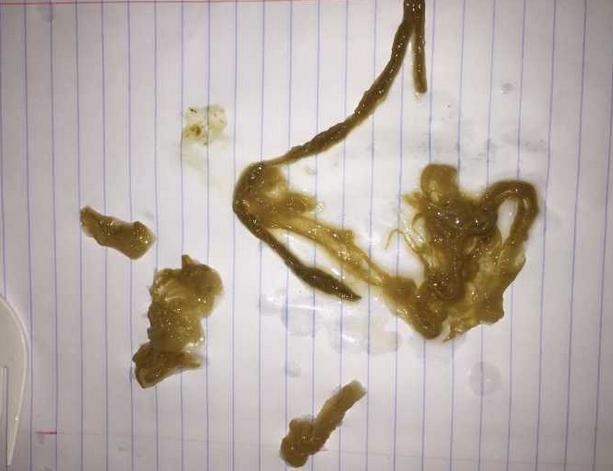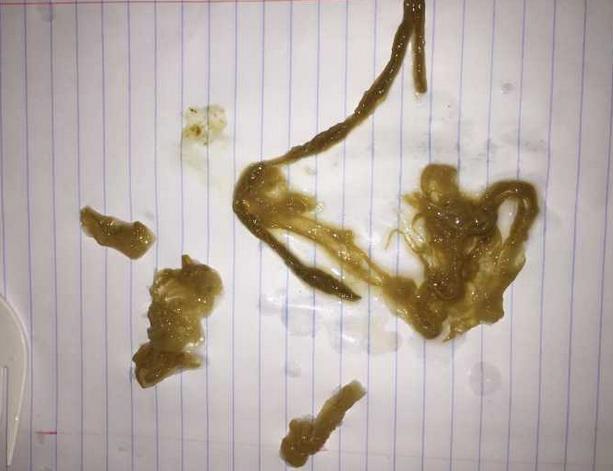 10. Suggestion of parasite eggs in a child who, despite his abnormal liver function, is administered the solution: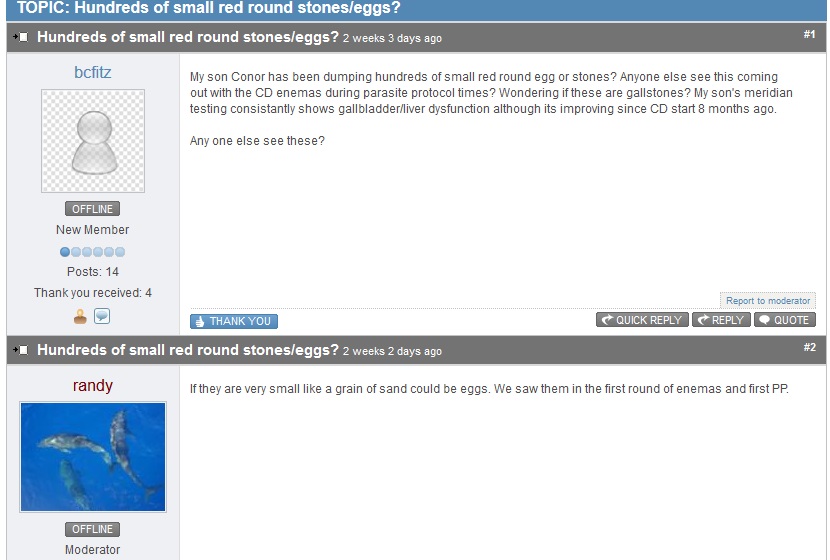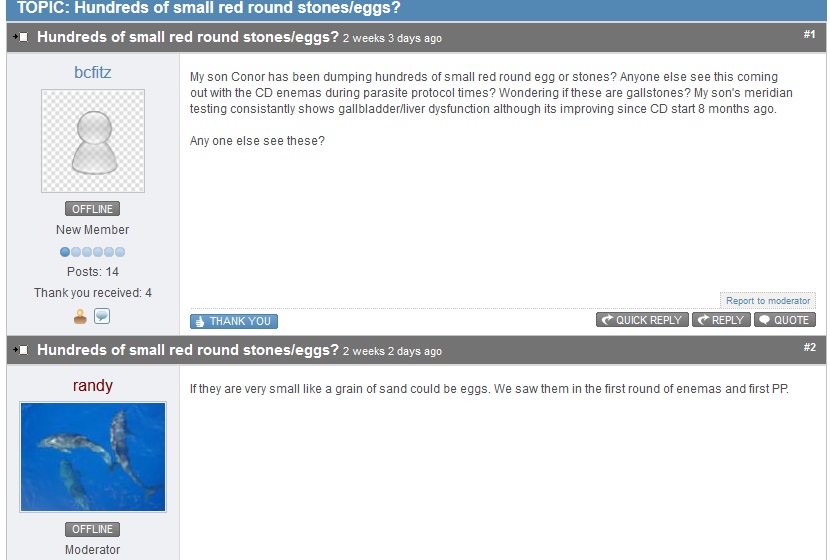 11. A post and appearance of 2-foot 'parasite' from a ten-year-old: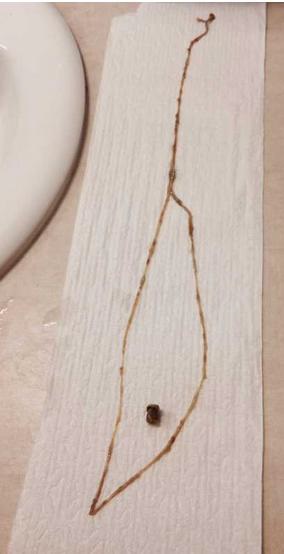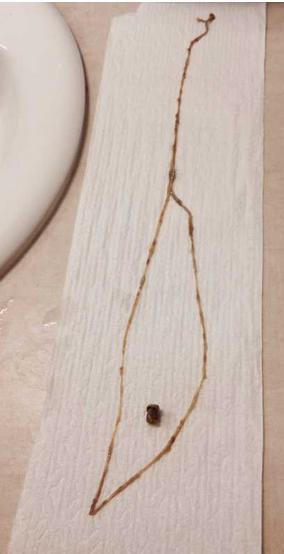 12. Also attributing pica to parasite infestation. Pica, the ingestion of non-food materials, is widely accepted to be a compulsive behavior possibly due to deficiency of a particular nutrient: http://www.nlm.nih.gov/medlineplus/ency/article/001538.htm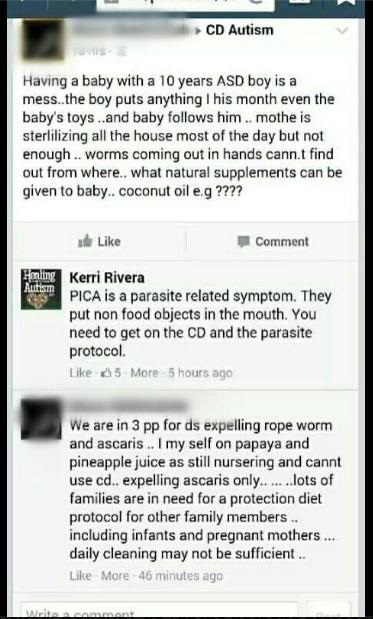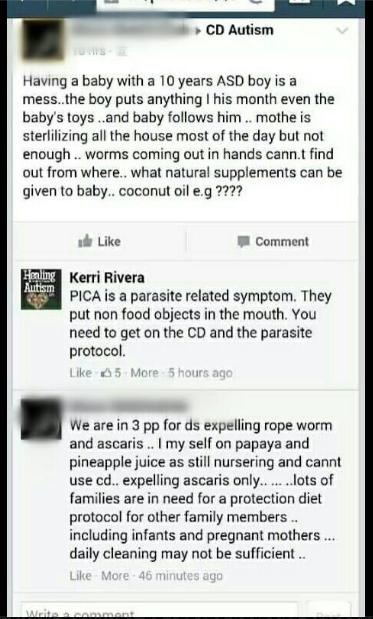 Image – Ms. Rivera's answer, never having seen the child — CD MMS protocol rather than assessment by a physician.
13. 'Egg sacs' (photo below post). Please note how the poster describes the victim's enema-related pain: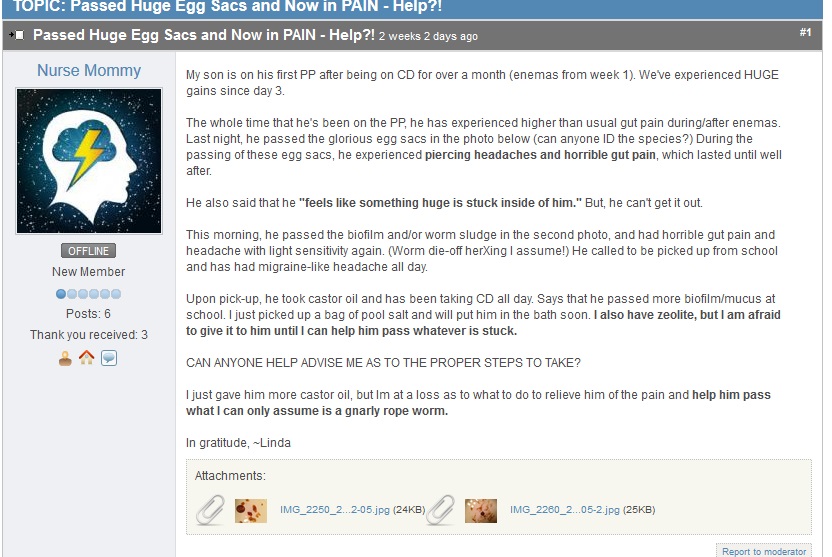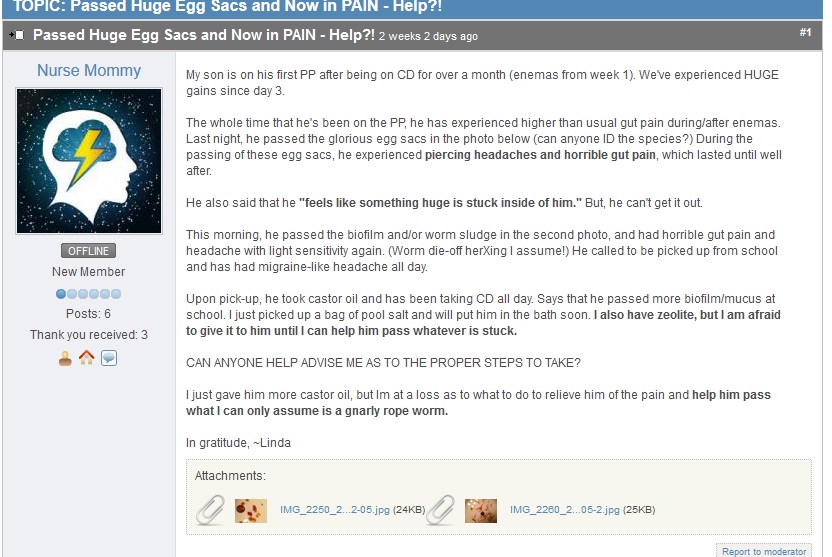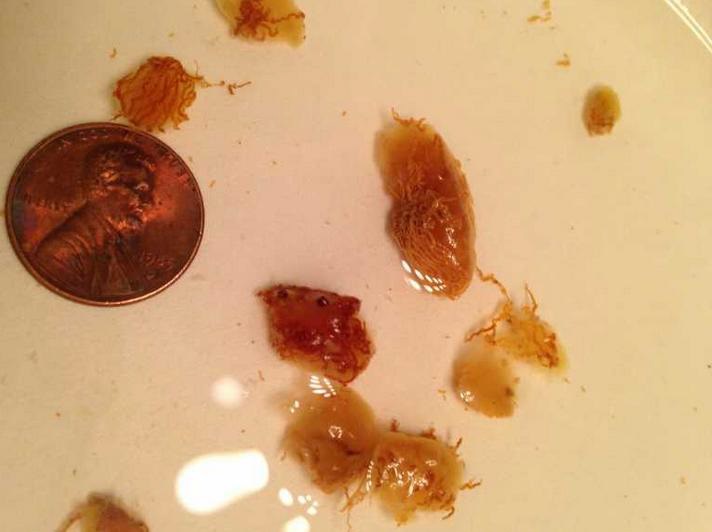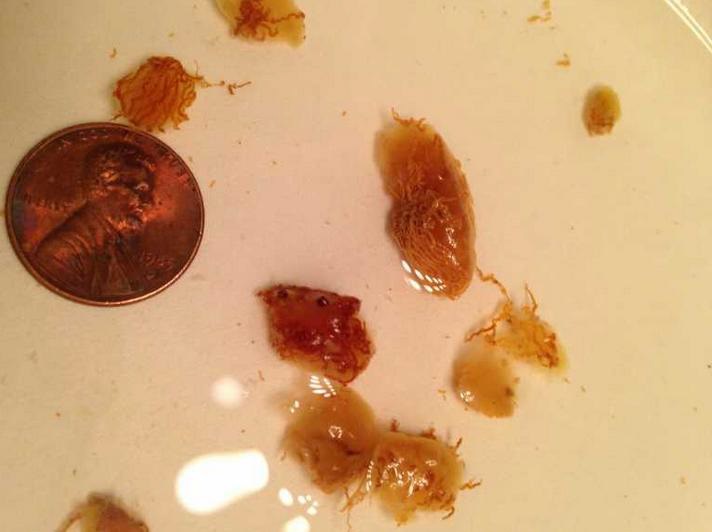 14. This practitioner demonstrates her knowledge of anatomy: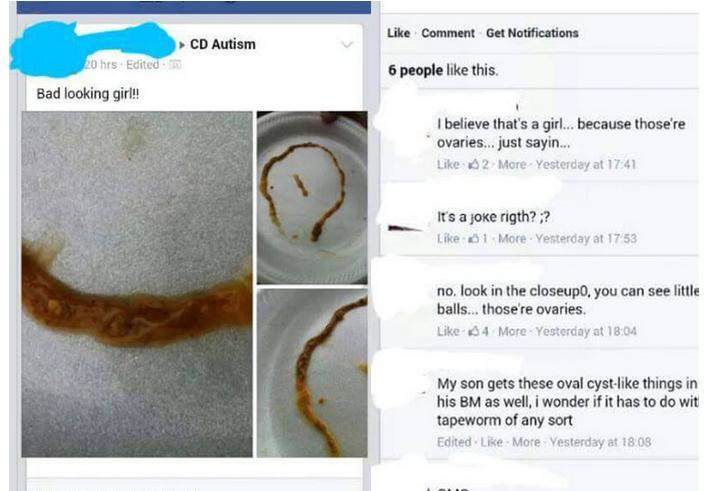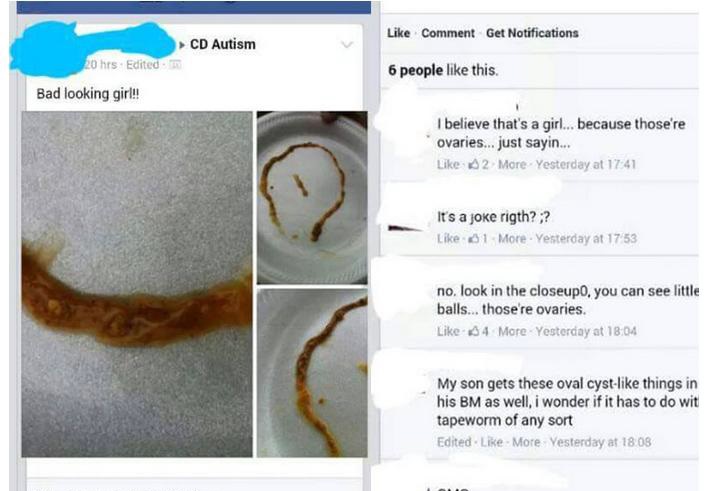 15. Moon phases evidently play a part…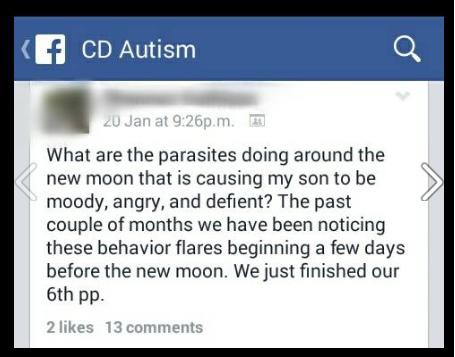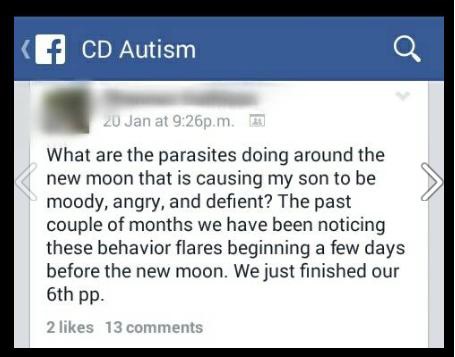 16. …as demonstrated by multiple postings: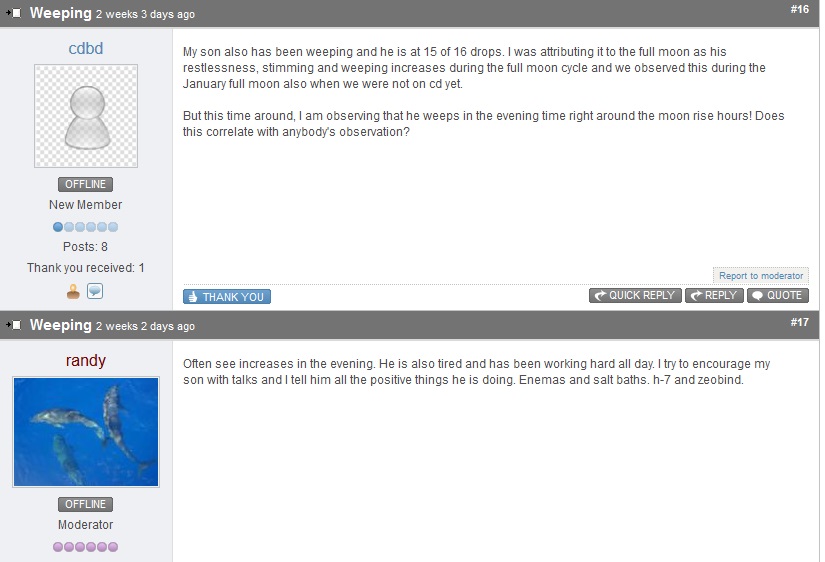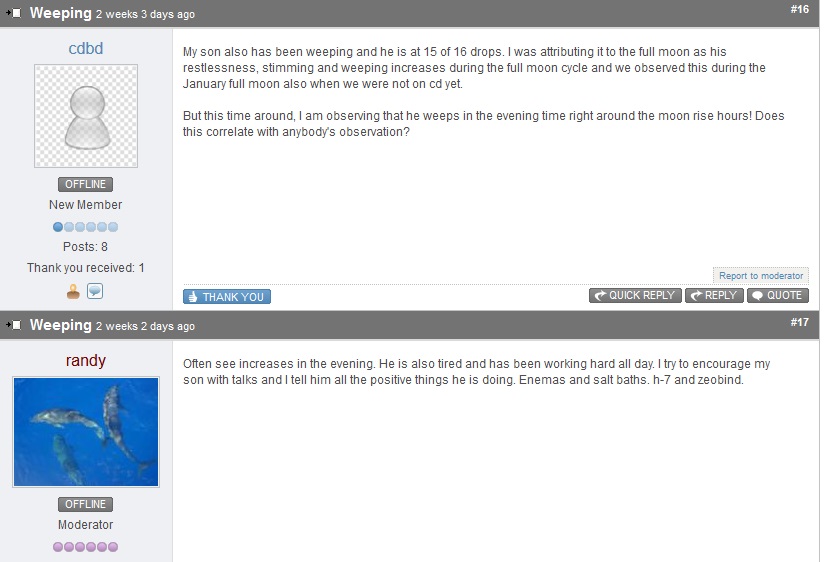 17. And finally, what I find to be the most disturbing photograph, depicting intestinal damage: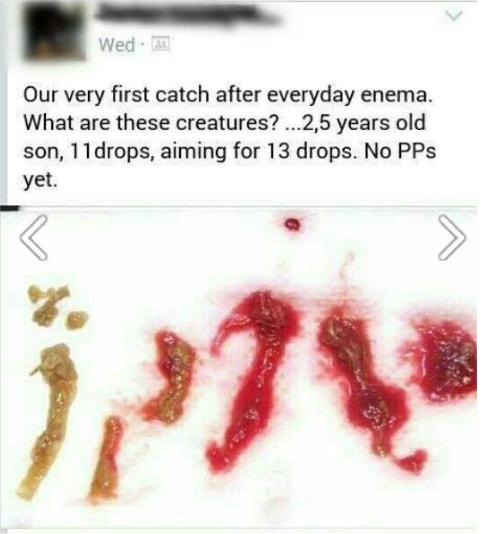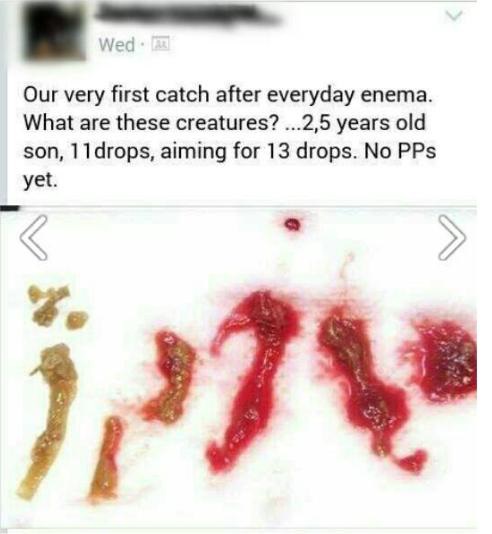 Image – This victim is barely more than a baby.
The creators and followers of this toxic protocol are aware that anti-CD MMS advocacy groups are forming for the protection of autistic children and other disabled individuals. For this reason, they are beginning to move from such visible venues, as Facebook, to what they believe to be private forums. In fact, many of us have gleaned information like that submitted here from simple requests to join those forums. Many advocates have been 'watchdogging' the CD MMS-promoting websites under assumed names. We have been able to read their advice for evading Child Protective Services: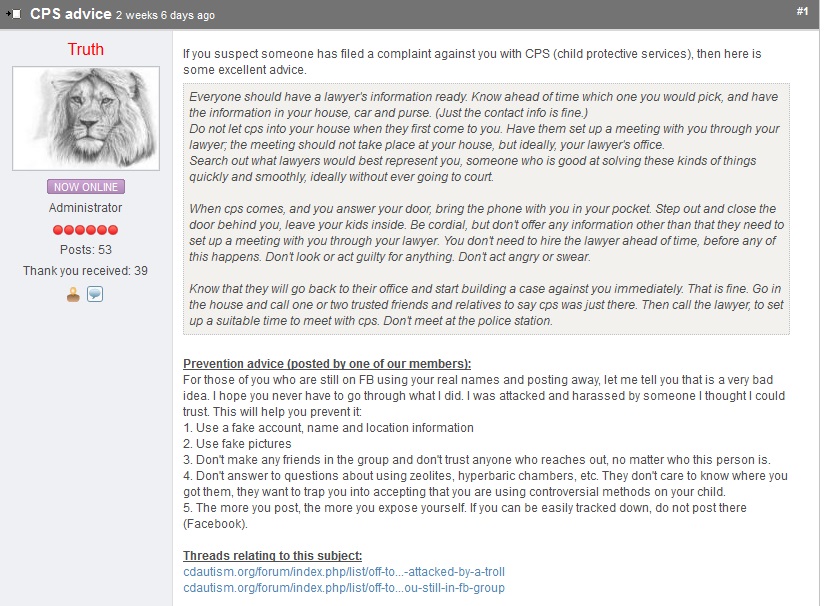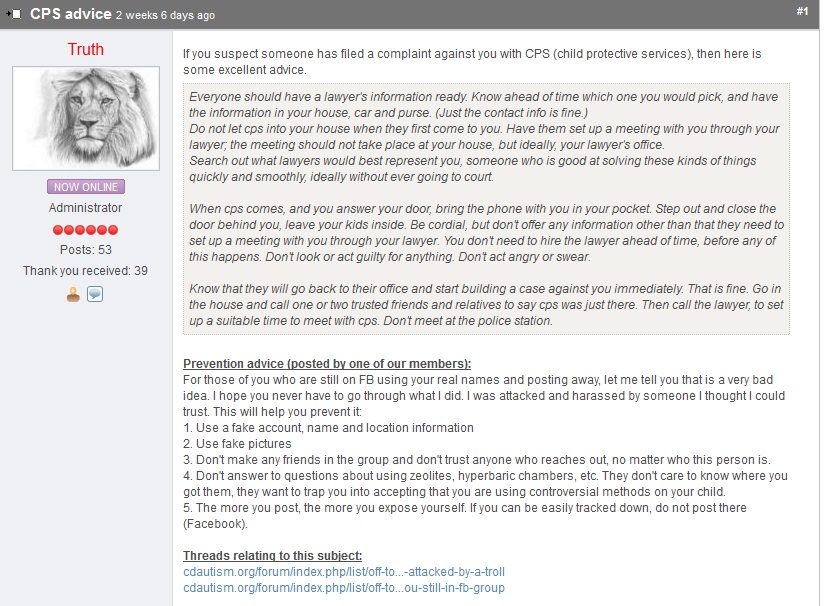 Their rules for remaining under the radar on social media and with the medical community: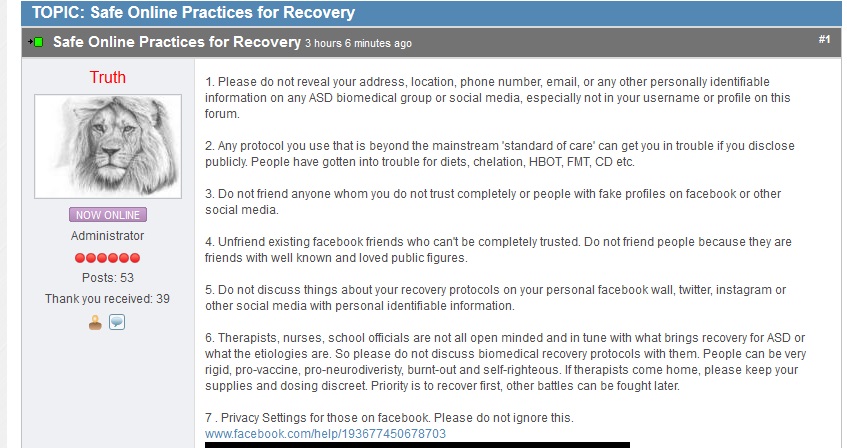 Their attempts to convince their followers that those disagreeing with the protocol are paid shills of 'Big Pharma':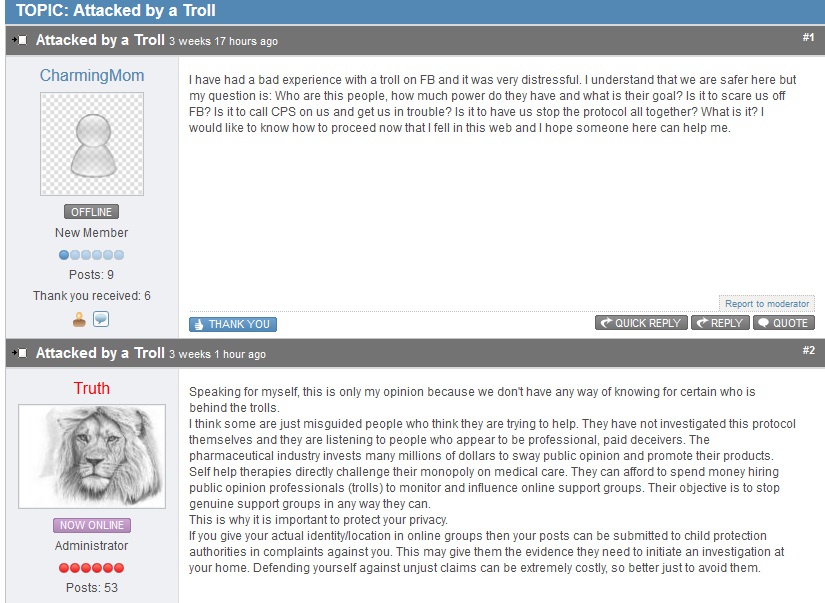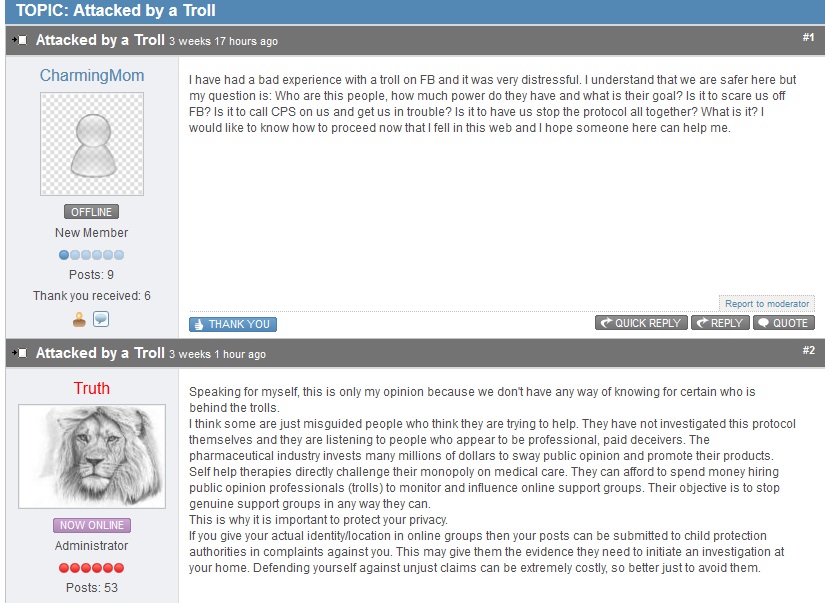 And fortunately, their ignorance of the workings of the internet:




I reiterate that I am not a member of the medical or scientific community, simply a human being horrified by this, so-far legal, child abuse. Absolutely no protection should be afforded to the abusive parents of helpless children, and especially not to the purveyors of dangerous and potentially deadly quackery. Again, my research is by no means exhaustive and I'm certain that the information I've provided barely scratches the surface of this bizarre alternative-medicine subculture.
I implore you, on behalf of Autism Spectrum children, their parents, the chronically ill grasping for hope, my advocacy group, and legitimate healthcare workers, to investigate Kerri Rivera, Jim Humble, any marketers of Chlorine Dioxide Miracle Mineral Solution and any adult caregivers who have caused damage to disabled children and adults through use of this snake-oil protocol. My colleagues and I have faith that, through extensive exposure and the help of compassionate citizens, we can shut down all MMS-related operations and criminalize this medieval behavior.
Nothing screams as loudly as outrage!
---
SOURCES:
Blogs and News:
http://www.rawstory.com/rs/2015/02/parents-trying-to-reverse-kids-autism-by-flushing-out-vaccines-with-bogus-miracle-bleach-enemas/
http://scienceblogs.com/insolence/2012/06/21/mms-a-k-a-bleach-for-autism-just-when-i-think-im-out/
http://scienceblogs.com/insolence/2012/05/25/selling-bleach-as-a-cure-for-autism/
http://www.theguardian.com/science/2010/sep/15/miracle-mineral-solutions-mms-bleach
Governmental Health, US and Canada:
http://www.fda.gov/Safety/MedWatch/SafetyInformation/SafetyAlertsforHumanMedicalProducts/ucm220756.htm
http://www.healthycanadians.gc.ca/recall-alert-rappel-avis/hc-sc/2010/13510a-eng.php
MMS Practitioner Sites: