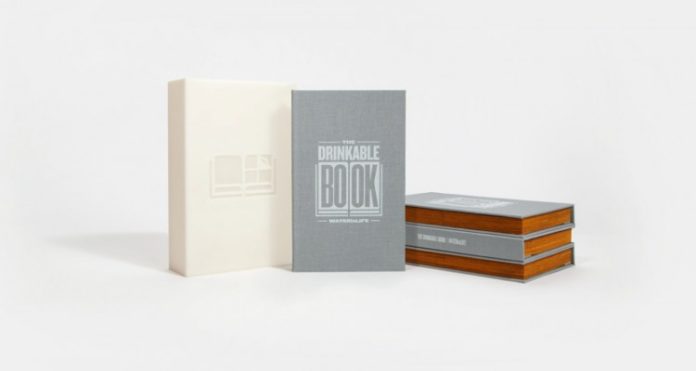 When technology meets imagination, the result is the Drinkable Book – a guide to safe drinking water that also allows the reader to tear out the pages and use them as water filters!
Brainchild of Dr. Theresa Dankovich, the book's pages don't just explain the problem of water contamination, but actually solve it by killing 99.9999% of harmful bacteria, including those that cause diseases like cholera, E. coli, hepatitis, and typhoid.
The silver nanoparticle filter paper technology in the Drinkable Book was invented by Dankovich in 2008, for her Ph.D. research at McGill University.
Printed on each page of the 100-page book is a message, written in either English or Swahili – "The water in your village may contain deadly diseases. But each page of this book is a paper water filter that will make it safe to drink." The water safety tips, printed in non-toxic ink, include washing your hands before eating and keeping trash away from your water source.
To use the Drinkable Book, all a person has to do is rip one of the pages in half, slide it into the filter box (which doubles as a cover for the book) and pour contaminated water through. After a few minutes, the bacteria is reduced by 99.9999%; the murky water becomes clean drinking water which is on par with tap water in the US.
After testing the paper in the lab using artificially contaminated water, Dankovich conducted field trials with the charities Water is Life and iDE. In trials conduced at 25 contaminated water sources in Haiti, Kenya, Ghana, South Africa and Bangladesh, the paper successfully removed nearly 100% of bacteria.
The filter has even proven to be successful in some of the harshest conditions. "There was one site where there was literally raw sewage being dumped into the stream, which had very high levels of bacteria. But we were really impressed with the performance of the paper; it was able to kill the bacteria almost completely in those samples," she told the BBC.
The book costs $10 to make; each piece of filter paper costs about 10 cents. According to her tests, one page can clean up to 100 liters of water. One book can purify roughly 10,000 liters of water, or four years worth of water for one person.
Currently, all the filter papers are made by hand in a local church kitchen by either Dankovich herself or a student. The next step in the project is scaling up production and field testing to distribute filter papers to thousands of people.
Though the book is not yet for sale, Dankovich has started a crowd funding campaign to raise $30,000 through September 18th to fund the necessary equipment, paper production, travel expenses, and personnel time to test the papers in two villages for about a month.
According to the World Health Organization and UNICEF Joint Monitoring Programme, 750 million people around the world do not have access to safe drinking water. Dankovich's ultimate goal is to have these filter papers in the hands of these people.
---
This Article (This Book Kills 99.9999% Bacteria, Makes Murky Water Drinkable) is free and open source. You have permission to republish this article under a Creative Commons license with attribution to the author and AnonHQ.com.