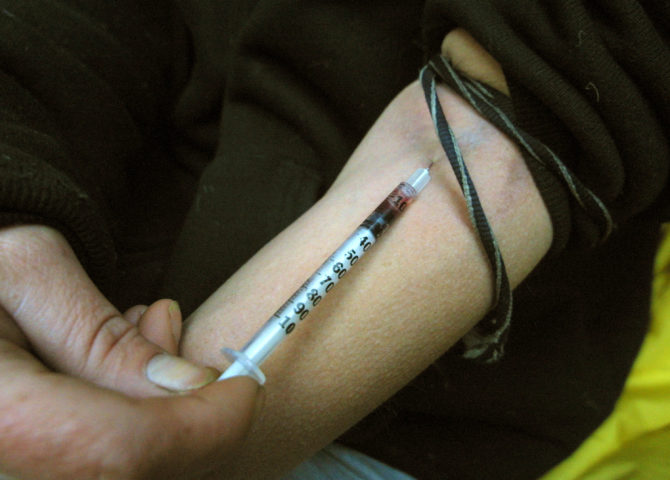 Canada has quietly legalized one of the most dangerous, addictive, expensive, and death-causing drugs in the market — heroin — to treat patients who are severely addicted to opioids. Under Health Canada's Special Access Program, doctors in Canada can prescribe pharmaceutical-grade heroin or prescription heroin — otherwise known as diacetylmorphine — to treat treatment-resistant addicts "in cases where traditional treatment has failed, is unsuitable, or is unavailable."
To reduce the number of opioid overdose deaths, the amended drug regulations allow severe addicts to receive free heroin injections at any clinic or healthcare facility that offers the provocative drug treatment.
A New Dope. Canada Just Legalized #Heroin to Control Drug Addiction.https://t.co/YIQjNGdBWw pic.twitter.com/wguLDqLDLd

— HIGH TIMES (@HIGH_TIMES_Mag) September 14, 2016
Health Canada officials explained the motive behind reversing the former Conservative government's 2013 regulation, which banned addicts access to prescription heroin even in life-threatening situations, in a statement:
"Canada is currently facing an opioid overdose crisis, and we need to assist our healthcare providers in treating their patients, including those who are suffering from chronic relapsing opioid dependency. Scientific evidence supports the medical use of diacetylmorphine for the treatment of chronic relapsing opioid dependence in certain individual cases. Health Canada recognizes the importance of providing physicians with the power to make evidence-based treatment proposals in these exceptional cases."
Legalizing heroin means physicians, who wish to operate a special clinic to fight the opioid overdose crisis, can now apply to Health Canada for access to diacetylmorphine, in order to provide heroin-assisted treatment for "chronic relapsing opioid dependence."  Terry Lake, British Columbia's health minister, says with the government's decision, heroin addicts will henceforth be able to regain control of their lives.
"It indicates a willingness on behalf of the federal government to look at a health-based kind of an issue rather than a criminal-based issue and that they're not limiting the range of treatment options that are available because there isn't one size that fits all in these situations. Given the opioid epidemic that we're facing, we need every tool that is available."
Dr Scott MacDonald — the lead physician at Vancouver's Crosstown Clinic (which already offers free heroin injections to over 50 addicts as many as three times a day, under a special court order) and the man behind a pilot program that studied the effects of providing prescription heroin on opioid addicts in Vancouver — believes heroin-assisted treatment is a game changer.
"This is a kind of last resort to get them into care to get them off the streets. People who used to be in and out of jail or the hospital have been able to reconnect with families, go back to school and retain employment. That's a major success. We see them come to us every day rather than stay on the streets… that engagement and retention in care is a significant benefit."
Researchers in Canada have been using pilot programs to understand how providing prescription heroin or supervised injections could affect the health of long term intravenous opioid users (who hav tried at least twice to stop using drugs).
One of the Canadian studies, the North American Opiate Medication Initiative (NAOMI), found that injectable diacetylmorphine was more effective than standard methadone treatment; because of the risks involved, though, it must only be administered in a clinical setting where the overdose antidote naloxone is available to cater to an emergency situation.
"There is scientific evidence supporting the use of diacetylmorphine-assisted therapy. A 2015 meta-analysis of six randomized control trials in six countries, including Canada, found that supervised diacetylmorphine therapy can significantly improve treatment outcomes compared to controls."
Legalizing heroin has got to do a lot with the money. In April, Canada's Prime Minister Justin Trudeau announced plans to legalize recreational marijuana by 2017 to "keep marijuana out of the hands of children and profits out of the hands of criminals."
#Canada will allow MDs greater discretion to prescribe #heroin to addicts for whom nothing else works. Progress!! https://t.co/681Cxwk2lH

— Ethan Nadelmann (@ethannadelmann) September 14, 2016
By legalizing heroin, Trudeau aims to better the Canadian economy by at least 10%. Currently, the government spends roughly $35,000 a year per addict if he/she gets jailed, hospitalized or left on their own. With heroin-assisted therapy, the cost is expected to come down to $21,000 per addict.
Nonetheless, Colin Carrie, Conservative Party's health policy spokesperson, says his party remains opposed to the idea of prescription heroin: "Our policy is to take heroin out of the hands of addicts and not put it in their arms."
---
This article (Canada Legalizes Heroin to Help Addicts Take Better Control of Their Lives) is a free and open source. You have permission to republish this article under a Creative Commons license with attribution to the author and AnonHQ.com.