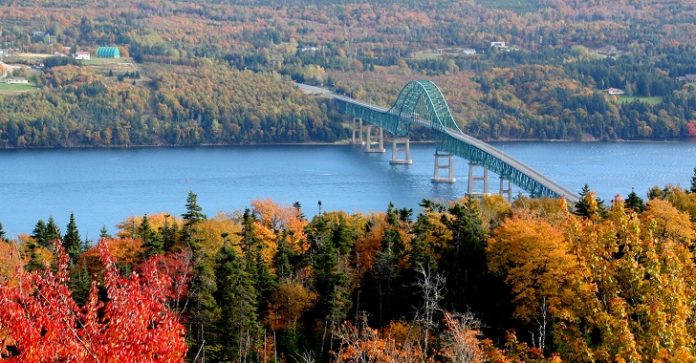 By Claire Bernish at theantimedia.org
Canada's Cape Breton Island has become the unofficial escape option for their neighbors to the south should Donald Trump manage to be elected the next president of the United States. A website promoting the plan greets visitors with the following:
"Hi Americans! Donald Trump may become the President of your country! If that happens, and you decide to get the hell out of there, might I suggest moving to Cape Breton Island!"
What began as a bit of a tongue-in-cheek jab at the surprising support for the brash, xenophobic, and oddly anti-Iraq war billionaire candidate, the website Cape Breton If Donald Trump Wins quickly garnered over 10,00 hits — and a number of serious inquiries.
Local radio DJ Rob Calabrese, who created the site, told CTV Atlantic, "There are millions of people on this continent who, if they knew about the lifestyle here on Cape Breton, they would think, 'This is for me.'"
According to the website, Cape Breton is experiencing a population decline and would therefore welcome newcomers with open arms. Prominently mentioned among reasons to consider this move to the island on Canada's eastern coast are state-sponsored healthcare, diversity, weather comparable to New York City, "the most affordable housing market in North America," and — though unmentioned — no Donald Trump.
A link on Calabrese's site directs visitors to the site for Cape Breton Island tourism; and Destination Cape Breton CEO Mary Tulle said the link had resulted in more than 2,000 hits on Tuesday, alone — originating from Delaware, Oregon, Texas, and other states around the U.S.
Though Calabrese didn't necessarily intend to create a flurry of interest in Cape Breton, he explained he will do his best to help those with serious questions about the move — including several concerning the process for legal immigration he's already received. And he understands why people in the U.S. might be making escape arrangements at the prospect of Trump taking over 1600 Pennsylvania Avenue. As he explained:
"It's scary. I know I wouldn't want to live in a country where he's leader."
---
This article (Canadian Island Offering Refuge for Americans Fleeing a Trump Presidency) is free and open source. You have permission to republish this article under a Creative Commons license with attribution to Claire Bernishand theAntiMedia.org. Anti-Media Radio airs weeknights at 11pm Eastern/8pm Pacific. If you spot a typo, email [email protected].