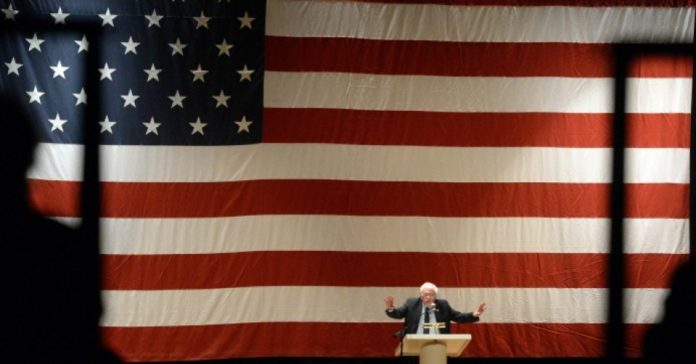 As the former presidential candidate continues to draw thousands in red states, officials pulled the plug on Monday speech in impoverished McDowell County, West Virginia.
Sen. Bernie Sanders (I-Vt.) said he will not be "intimidated" from speaking in West Virginia's McDowell County, "one of the poorest areas in one of our poorest states," after officials pulled the plug on a Monday town hall event.
"If anyone in West Virginia government thinks that I will be intimidated from going to McDowell County, West Virginia, to hold a town meeting, they are dead wrong," declared Sanders in a Facebook post on Sunday after the state's National Guard announced the meeting, which was slated to be aired on MSNBC's "All In with Chris Hayes," would not be able to take place at the Welch National Guard Armory two days before it was scheduled to occur.
"If they don't allow us to use the local armory, we'll find another building. If we can't find another building, we'll hold the meeting out in the streets," vowed the Vermont independent. "That town meeting will be held. Poverty in America will be discussed. Solutions will be found."
Hundreds of people had already signed up to attend the event, Sanders said.
On a speaking tour to promote his new book and highlight some of the most economically distressed areas of the country, the progressive champion and former presidential candidate continues to draw massive crowds in some of the most conservative corners.
An upcoming speech in Topeka, Kansas on Feb. 25th had to be moved to a larger venue after more than 1,500 tickets were sold in one week.
In the West Virginia state capital of Charleston, where U.S. President Donald Trump won 57 percent of the vote, Sanders addressed a crowd of over 2,000 people on Sunday evening.
According to the Charleston Gazette-Mail, "Sanders challenged the people of West Virginia to resist any efforts by President Donald Trump to become an authoritarian and undermine the country's court system."
"What he is doing is what demagogues have always done, and that is to pick on minorities and try to divide this country up," Sanders said. "What a real statesman attempts to do—what good government is about—is bringing people together to improve life for all."
Sanders also reiterated his vow to hold Trump accountable for his campaign pledges not to slash Social Security or government healthcare programs and said he would continue to draw attention to the plight of poverty in the United States.
In McDowell County, where more than half the population lives beneath the poverty line, residents have the lowest life expectancy in the nation and drug addiction is at an epidemic rate. During his Sunday speech, Sanders said he was "enormously impressed by the dignity and courage of the people there who stood up and talked about the issues and talked about a new future" when he visited during his presidential primary campaign.
During the presidential election, Trump won 74.1 percent in McDowell County, six months after Sanders won the Democratic primary there with 55.2 percent of the vote.
Both Trump's faux-populism and Sanders plan for a dramatic economic overhaul, which included infrastructure investments, healthcare-for-all, and free college tuition, resonated with residents of the impoverished and largely forgotten community.
"If you think we are not going back to McDowell County, you are very mistaken," Sanders again promised Sunday evening.
According to a statement provided to the Gazette-Mail from the state's Department of Military Affairs and Public Safety, the approval for Monday's event was revoked by officials on Friday after "it became apparent that it would run afoul of [Department of Defense] and State Armory Board policy" which forbids "the use of military facilities for political and election events and specifically includes town hall meetings as an example of such activities."
That decision prompted protesters to descend on the governor's mansion on Sunday afternoon. According to the Gazette-Mail, "the group of approximately 25 people chanted and held signs more than an hour."
This work is licensed under a Creative Commons Attribution-Share Alike 3.0 License