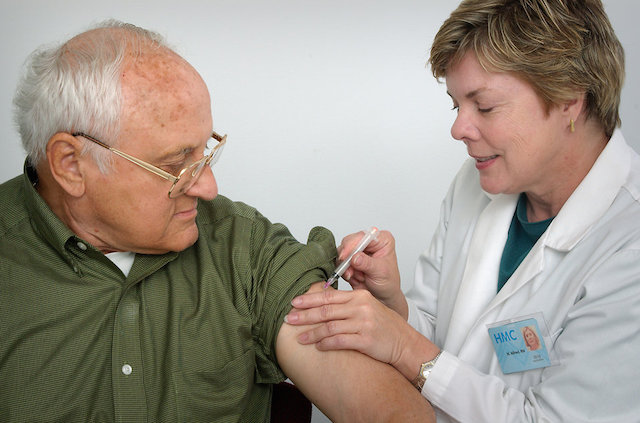 A groundbreaking individually customized cancer treatment that involves a simple injection has just been approved by the FDA. Developed by doctors and researchers from Baylor's Mary Crowley Cancer Center, Dallas, the new anti-cancer therapy is said to be far less excruciating than chemotherapy.
According to Dr. Maurizio Ghisoli, a pediatric hematologist/oncologist, the "cancer vaccine" changes an acute deadly disease to a chronic disease, allowing cancer to be treated like hypertension or diabetes. It does not cure the cancer; it controls it.
This immunotherapy is a shot typically given once a month. It's a personalized vaccine developed from cells taken from the patient's tumor. The therapy injects customized genes back into the body so the cancer can no longer resist the patient's immune system.
When CBS 11 asked him if the day will come where a cancer shot will be just like a flu shot, Dr. John Neumunaitis said, "You know that's our dream. It recognizes the cancer where before it couldn't and that's really what a flu shot does. It changes the immune system."
Immunotherapy is showing us a new, less toxic way, to fight cancer. #immunotherapy #cancer #treatment… https://t.co/auVCjJNTw0

— Christina Parrish (@ChrisInRealTime) January 10, 2016
Carly Rutledge, who was diagnosed with Ewings Sarcoma (a type of bone cancer) when she was 15, is one of the reasons why the treatment has advanced in the FDA approval process. She came to the Mary Crowley Cancer Center for the clinical trial of the new treatment.
"When I was in chemo therapy, it's five days in the hospital of intense…it's very intense. Immune therapy could not be more the opposite. I would fly in and out in one day and get a shot."
Rutledge is now a college student, in remission, with no side effects. FDA has allowed Baylor to treat Rutledge's cancer with immunotherapy. While the FDA's latest action will help expedite the program and increase clinical testing at Baylor, full government approval of the therapy could be five years away.
---
This Article (Cancer Treatment As Simple As Flu Shot On Its Way To Replace Chemotherapy) is free and open source. You have permission to republish this article under a Creative Commons license with attribution to the author and AnonHQ.com.