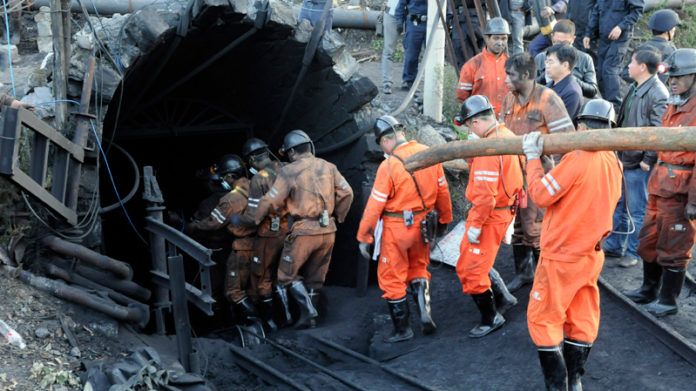 A hundred thousand Chinese have lost their livelihoods; in the latest sign that the world's second (and according to some measures, first) largest economy is about the step on the economic brakes (whether they want a hard landing or not, though it's debatable if the plane will even be able to land at this point), Heilongjiang Longmay Mining is trying to staunch its financial bleeding.
This single company is the largest met coal-miner in Northeast China. It hires about 240,000 employees, and it is about to cut off  about 40% of them. The company is an early symptom of the wider flailing commodities industry, which  accounts for the employment of tens of millions of Chinese. Commodities prices have fallen severely in recent years, thanks to first an over-investment in mining (creating over-supply) and second weakened global consumer sentiment, particularly in China's largest trading partner, the US.
The company has already closed eight coking coal mines in the first half of this year. It has already lost about 1.1 billion yuan so far this year, or 17.2 million US dollars.
Being a state-run company, this massive reduction must truly have been done as a last-ditch attempt at staying afloat; a hundred thousand Chinese coal miners will certainly have to find another use for their strength and well-honed downward-striking technique…
180,000 pensioners also depend on the company for their daily bread, via a pension that is supposed to sustain them throughout the remainder of their lives.
China Daily, "Personnel is probably its largest cost," said Deng Shun, an analyst at Shanghai-based energy consultancy ICIS C1 Energy.
"Actually many traditional State-owned coal enterprises are facing the same kind of problem. It has become more severe as the industry remains on a downward trend."
The company has seen better days; in 2011, the company had claimed to have made an 800 million yuan profit.
This news came at a particularly embarrassing time for President Xi Jinping, who was on tour in the US at the time, assuring  politicians and businessmen that China's economy was still on track for 7% GDP growth.
What foreigners think of China might be the least of Xi's problems though; China's met coal industry accounts for millions of jobs for its rural migrants… especially when China is already being hit by a bursting stock market bubble and  the consequences of a credit and housing bubble.
The WSJ reported on the consequences for China's leaedership: "for decades, an army of migrant workers drove China's boom times, flocking to its cities to sew T-shirts, assemble iPhones, or build apartment blocks and Olympic stadiums. The arrangement helped millions of poor, rural Chinese join a new consumer class, though many also paid a heavy price. 
Now, many migrant workers struggle to find their footing in a downshifting economy. As factories run out of money and construction projects turn idle across China, there has been a rise in the last thing Beijing wants to see: unrest."
The three so-called super-powers of the world now stare uneasily at one another; with economies that have ground to a halt, one by sanctions and cheap oil/commodities, another from record-low participation rates, an eroding middle class and massive debt… and the last from cheap coal/commodities, low demand and over-investment in construction… despite… no, because they are so intertwined, when one falls the others will naturally be dragged down too; demand from the US drives supply from China/ Russia.
Each hopes that the other will blink first,  they know that the People will rise first against the one who is to "blame".
And what do you do in a staring contest which doesn't seem to be going in your favor? You force your opponent to blink via a swift punch to the face… and hope nobody was watching.
Sources: Zero Hedge
---
This Article (China In Crisis: A Single State-run Company Fires A Hundred Thousand Miners) is free and open source. You have permission to republish this article under a Creative Commons license with attribution to the author(CoNN) and AnonHQ.com.