By Amanda Froelich at trueactivist.com
Between 2008 and 2013, Colorado's teen abortion rate declined by 42%, thanks to a progressive program that offers free birth control to low-income women.

Abortion is one of those issues everyone has an opinion on. Is it the woman's right to abort her unborn child? Should the dad have a say? Or is it the baby's life that matters most?
While none of these questions have an easy answer, it might be agreed that the best route to take on this issue is to prevent unwanted pregnancies in the first place. And, according to recently obtained data, making free birth control available is likely the way to go.
Reportedly, Colorado's Department of Public Health and Environment is seeking more funding to continue a privately-funded birth control program that, in the past, was wildly successful. Known as the Colorado Family Planning Initiative, the program provides intrauterine devices (IUDs) or implants at little to no cost for low-income women at family planning clinics in Colorado.
Between 2009 and 2013, reports the New York Times, the program contributed to a 40% drop in Colorado's teen birth rate and a 42% drop in the state's teen abortion rate.
VOX relays that young women served by the family planning clinics also accounted for about three-fourths of the overall decline in Colorado's teen birth rate. As a result, the infant caseload for Colorado WIC, a nutrition program for low-income women and their babies, fell by 23% between 2008 and 2013.
Governor John Hickenlooper said in a statement:
"This initiative has saved Colorado millions of dollars. But more importantly, it has helped thousands of young Colorado women continue their education, pursue their professional goals and postpone pregnancy until they are ready to start a family."
Criticism, of course, has been received from social conservatives who argue that it could encourage promiscuity. Because teens don't need to be accompanied by an adult to obtain contraceptives at the facilities, opposers also say the initiative undermines parental rights.
The fact of the matter is that teenagers have sex, and mainstream media is doing little to discourage otherwise. As a result, it has become increasingly necessary to equip young men and women with contraceptives so that unwanted pregnancies might be avoided.
Earlier this year, lawmakers in Colorado's Republican-controlled Senate blocked public funding for the program. But because the Colorado Family Planning Initiative was largely responsible for the reduction in teen pregnancies and abortion, the move is largely debatable.
Regardless of the action, Colorado's teen birth rate seems to be declining much more quickly than its peers' states, as the chart below from the University of Maryland conveys.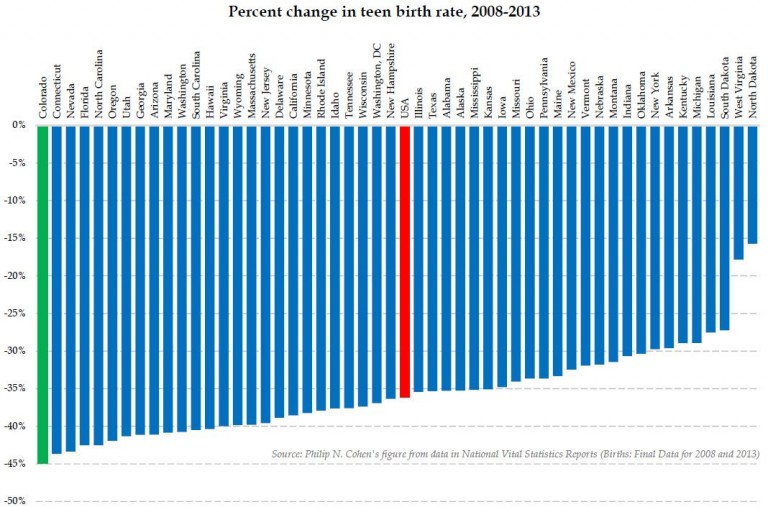 Between 2008 and 2012, the state went from the 29th-lowest teen birth rate in the nation to the 19th-lowest. Some suspect the decline is a result of education and improved access to contraceptives.
The private grant that has sustained the program is starting to run out and state lawmakers don't seem interested in filling the gap with public funds. This means the program's future is uncertain.
If the facts speak to you and you're of the belief that such a program is necessary, spread this news so that individuals might be educated and progressive change can take place.
What are your thoughts?  Please comment your thoughts and share this news!
---
This article (When Colorado Offered Free Birth Control, Teen Abortion Fell By 42%) is free and open source. You have permission to republish this article under a Creative Commons license with attribution to the author and TrueActivist.com