TEGUCIGALPA, Honduras – After weeks of thousands of people marching against the corruption in Honduras arrest warrant has been issued for vice-president of Congress, Lena Gutierrez, by the supreme court of Honduras. Gutierrez, along with 16 others, including her father and two brothers, have been charged with fraud, crimes against public health, and falsification of documents.
Lena Gutierrez (photo courtesy of Reuters)
According to UPI:
"Gutierrez and her family are linked to the AstroPharma Company that allegedly embezzled and defrauded the government out of about $120 million by selling poor-quality medicine at inflated prices."
Gutierrez, who is a member of the governing National Party, has of course claimed innocence. She had previously made the statement that she will prove her and her family are not guilty of the accusations, however now that proceedings are underway, she has been advised to remain silent.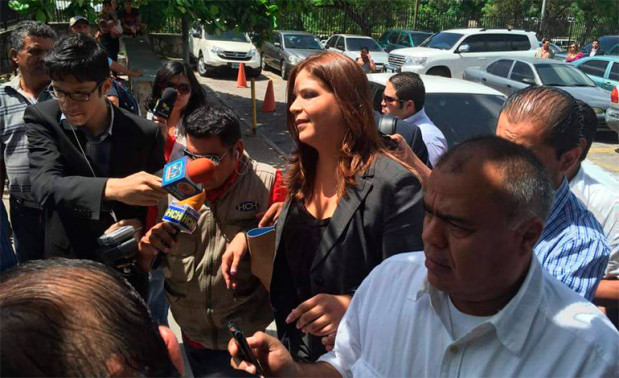 Rough translation:
"My lawyers have forbidden me to speak, I will however be in the national territory," Gutierrez said on July 3rd as she arrived at the headquarters of the Judicial Branch in the capital of Honduras, Tegucigalpa.
The decision to arrest Gutierrez comes after a series of mass protests that have taken place over the past few months, with hundreds of thousands of angry citizens demanding the resignation of President Juan Hernandez.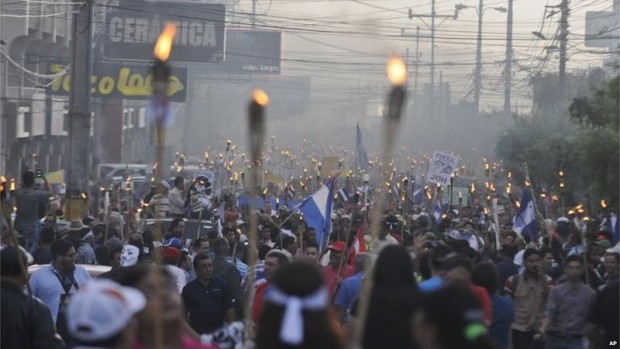 Hernandez has also been accused in a corruption scandal dealing with social security. During his 2013 election campaign, he allegedly received about $90 million out $300 million that was skimmed from Honduras's public health system. It is not yet known if President Hernandez will resign despite the protests.
President of Honduras, Juan Orlando Hernandez (far right) with U.S. President, Barack Obama, and President of Guatemeala, Otto Perez Molina. 2014. File Photo by UPI/Alex Wong/Pool.
Honduras is yet another country the United States has helped to unbalance. According to TeleSUR, the political instability in Honduras began to worsen after the 2009 U.S.-backed coup that ousted former Honduran President, Manuel Zelaya. Zelaya, who was a member of the Liberal Party, "showed a progressive turn during his presidency by raising the minimum wage, negotiating land deals with campesino movements, and joining the Venezuelan-led regional energy alternative ALBA, in addition to opening the conversation on a constituent assembly."
Those who backed the coup accused Zelaya of attempting to manipulate the Honduran constitution to extend his presidency, however the changes Zelaya would have made would not have changed the fact that he could not run for re-election in the November 2013 elections.
"The coup against Zelaya was widely condemned by governments across Latin America, the European Union, the Organization of American States and other regional blocs."
Supporters of ousted President, Manuel Zelaya, who were confronted by riot squads during a protest against the military coup near Toncontin international airport in Tegucigalpa, (Photo: Xinhua).
With civilian unrest, the security situation in Honduras has spiraled out of control. The Central American nation now has the world's highest homicide rate at 90.4 per 100,000 inhabitants, according to official figures.
As for Lena Gutierrez, the trial is expected to start later this year. We will continue to follow the story as events unfold.
---
Sources:
BBC News. Jul 1, 2015. (http://www.bbc.com/news/world-latin-america-33343365)
Gies, Heather. TeleSUR. Jun 27, 2015. (http://www.telesurtv.net/english/analysis/Honduran-Democracy-Still-in-Crisis-6-Years-After-Coup-20150520-0052.html)
La Tribuna. Jul 3, 2015. (http://www.latribuna.hn/2015/07/03/lena-gutierrez-se-presenta-voluntariamente-ante-la-corte-suprema-de-justicia/)
Pestano, Andrew V. UPI. July 2, 2015. (http://www.upi.com/Top_News/World-News/2015/07/02/Honduras-court-orders-corruption-arrest-of-Congress-vice-president/9321435848094/)
Servera, Kenny. Latin Post. Jul 2, 2015. (http://www.latinpost.com/articles/63470/20150702/honduras-corruption-widens-vice-president-congress-arrested.htm)
TeleSUR/la-CM-PV. TeleSUR. Jun 30, 2015. (http://www.telesurtv.net/english/news/UN-and-OAS-to-Assist-Honduras-in-Political-Crisis-20150630-0001.html)