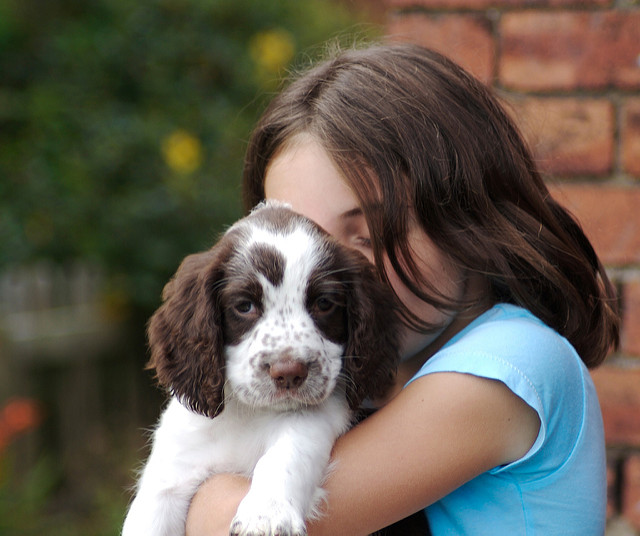 For centuries, dogs have been considered man's best friend – and it is not hard to see why. They make loyal companions, they assist those with disabilities, they work with our public services (fire departments, police departments and care homes), and they can even be used for medical purposes, such as detecting cancer, predicting seizures and warning about low blood sugar.
Now canine companions are being used to help crime victims – especially young children – cope with the aftermath of violence and abuse.
In San Bernardino, California, two black Labradors, three-year-old Dozer and 2.5-year-old Lupe are helping young crime victims testify in court. The two labradors are the newest staff members of District Attorney Michael Ramos' special victims canine unit.
The dogs were officially sworn in, paws on a California criminal law book, last August and have been working to calm victims and help them testify in court.
Thurston County's new Courthouse Dog comforts crime victims https://t.co/SMTQkhpmtz #courthousedogs #thurstoncounty pic.twitter.com/VeBsEn6X8F

— Seattle DogSpot (@SeattleDogSpot) April 4, 2016
Pearl Curiel, a mother of two abuse victims, explained how Dozer helped her daughters through the court procces:
"I couldn't be right there, where the mom is supposed to be. I couldn't hold my daughter and rub her back while she talked, you know? But he was. He was able to say, you know what, I'm not going to leave you. And I'm going to sit right next to you, and you can pet me, and you can talk to me, you know?"
"I don't know if they would have made it through without him. It's so silly, because it's like it's just a dog, you know, it's just — but he is a superhero. Like, for my girls, I know he is."
When in court, children abuse victims are required to sit in front of a judge a jury to testify against the individual who abused them. As a result, the children are often required to relive years of physical or sexual abuse, which can be an overwhelming ordeal for many young victims.
"I felt nervous, because the judge is like right there, and you just look up at the judge and you think, I'm going to freak out," explains Curiel's two daughters, who were victims of abuse. "I felt kind of scared, but once I saw Dozer with me, I wasn't scared anymore."
It cost about $80,000 to start up the facility dog program in San Bernardino. The dogs work 9-hours a day before returning home with their handler, and are expected to remain on the job for about 9-years.
Before the dog can appear in court, the judge must approve its presence. In addition, jury members are also informed that the dog will be sitting in the witness box with the victim. Although the witness box obstructs the dog from view, defense attorneys have the chance to object to the appearing in court.
Concerns surround the possibility of the dog's presence creating some sort of sympathy has arised, however, Ramos does not believe it will be a problem.
"Once everybody gets comfortable with this whole new process, I don't think you're going to have that issue, because even the defense bar, all they want is the truth as well, and so do the courts," he said.
The courtroom dogs are bred and trained at Assistance Dogs of the West in Santa Fe, New Mexico. A total of 15 dogs have so far been placed in judicial districts; at least 8 more dogs are already in the pipeline, according to Assistance Dogs.
Most courthouse dogs are labs and golden retrievers, which are bred for good health and an even temperament, are trained for around two years before being sent to their courtroom jobs. The dogs are trained with children of different ages, allowing the dogs to experience the different ways children handle and pet them.
According to Dozer's handler, child advocate Yesica Cioli, the dog's support in court will likely have a long-term effect and will help the children recover from the ordeal. "Whenever a victim gives their testimony, they feel empowered," Cioli told PBS NewsHour. "Getting up there, and telling their story, and telling what happened is the first step in them being able to overcome the situation and become survivors."
Image: Flickr, smlp.co.uk
---
You want to support Anonymous Independent & Investigative News? Please, follow us on Twitter: Follow @AnonymousNewsHQ
---
This Article (Courtrooms Dogs: Canines Trained To Comfort Young Abuse Victims As The Testify In Court) is free and open source. You have permission to republish this article under a Creative Commons license with attribution to the author and AnonHQ.com.