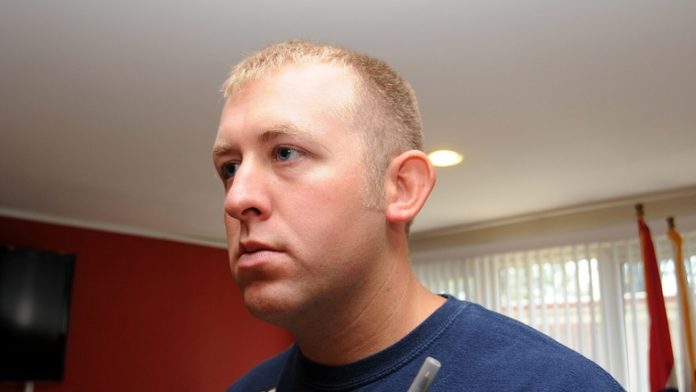 Written by: Tiobe
Not only did a Missouri grand jury fail to indict Darren Wilson, the 28 year-old Ferguson police officer who shot and killed unarmed teenager Michael Brown, he may be retiring from law enforcement as a millionaire.
Wilson announced his resignation from the police force Nov. 29, citing credible threats to himself and his fellow officers.
"I have been told that my continued employment may put the residents and police officers of the City of Ferguson at risk, which is a circumstance that I cannot allow," said Wilson in his resignation letter. "For obvious reasons, I wanted to wait until the grand jury made their decision before I officially made my decision to resign. It was my hope to continue in police work, but the safety of other police officers and the community are of paramount importance to me."
Wilson accosted 18 year-old Brown Aug. 9 while responding to a reported robbery. Brown and his friend Dorian Johnson were walking down the middle of Florissant Street and Wilson allegedly yelled at the two to get out of the street. Johnson and Brown replied they were nearly at their destination. Wilson started to drive away, but then threw his car into reverse to follow Brown and Johnson.
Depending on whose story you believe, Wilson either threw his door open so close to the young men it hit them and bounced back on him, or he opened his door and Brown slammed it shut. Wilson claims Brown began punching him, while Johnson claims Wilson drew his gun on the young men at this point. In his testimony, Wilson said using his other weaponry, such as his baton or pepper spray, was not feasible. A shot was fired in the police car through Brown's hand.
At this point, Brown ran away from Wilson and the vehicle. He then stopped, turned around, and according to Wilson, began running toward him to "rush" him, although multiple witnesses saw Brown turn around with his hands up in the air, a gesture of surrender.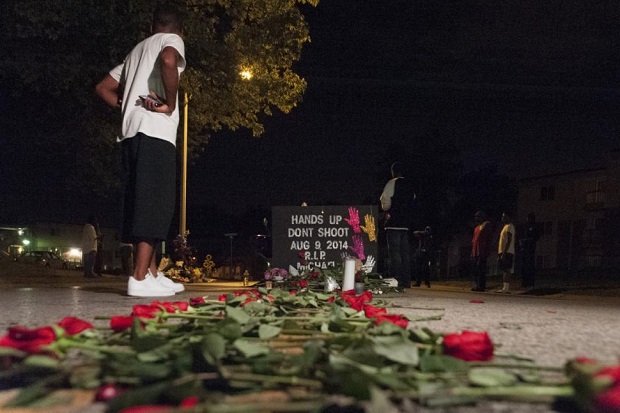 A path of roses line the scene where Ferguson, Mo., teen Michael Brown was shot by Police Officer Darren Wilson
Wilson shot Brown at least six times, according to an autopsy, with one fatal shot to the head.
Brown's corpse lay where it fell for four hours before officials removed it.
Wilson was placed on paid leave after the incident, to the tune of approximately $66,000 per year. Various GoFundMe accounts and police organization fundraisers accrued between $500,000 to $1 million for Wilson's legal and living expenses. There are also reports Wilson has been paid for interviews, although Wilson denies this.
After nearly three months of hearing testimony and evidence, a grand jury decided Nov. 24 not to indict Wilson. St. Louis County Prosecutor Robert McCulloch waited until 9 p.m. CT to make this announcement before police in riot gear surrounded Ferguson police headquarters in anticipation of protests. Multiple buildings were set on fire in Ferguson during protests that night, and around 200 people were arrested.
Hundreds also protested in Los Angeles, Oakland and around the country after McCulloch's announcement. It is presumably from this public outcry and outrage over perceived miscarriage of justice Wilson cites as the "obvious reasons" his continued presence on the force would expose his fellow officers to "risk."
Wilson claims his shooting Brown was the first time he fired his gun on the job, and he did so only because he feared for his life. Brown was unarmed, and approximately the same height as Wilson.
Wilson previously served on a Jennings, Missouri police team that was disbanded by the Jennings City Council for racial tensions, culminating in white officers shooting at an African-American woman. Wilson was not involved in the incident, and was not investigated for any disciplinary reasons during his time there.
United States Attorney General Eric Holder is still conducting his own investigation into the Aug. 9 shooting of Brown and racial profiling within the Ferguson police department.
_____________________________________________________________________________________________________________
Sources:
http://www.nytimes.com/2014/11/30/us/ferguson.html?_r=0
http://www.huffingtonpost.com/2014/11/29/darren-wilson-resigns_n_6241834.html
http://www.theroot.com/articles/culture/2014/11/darren_wilson_resigns_with_alleged_war_chest.html
http://www.bustle.com/articles/51447-how-much-money-has-darren-wilson-made-despite-his-resignation-the-ex-officers-finances-are-probably-in
http://www.cnn.com/interactive/2014/08/us/ferguson-brown-timeline/
http://www.nydailynews.com/news/national/darren-wilson-part-force-disbanded-racial-tension-report-article-1.1914982