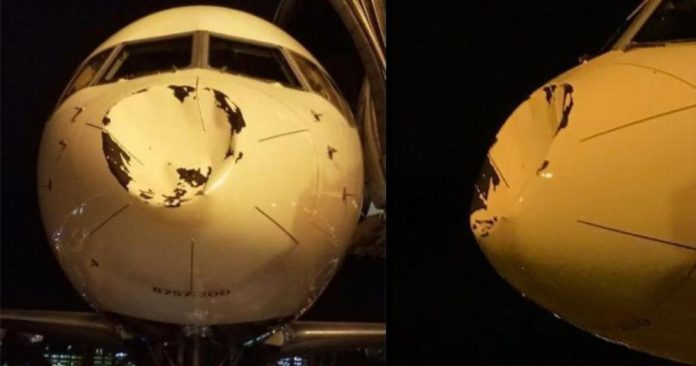 As freaky as it may sound, a flight carrying NBA (National Basketball Association) team Oklahoma City Thunder from Minneapolis to Chicago was hit by an unidentified flying object (Yes, UFO) while landing. The impact was so intense that it damaged the nose cone of the Delta Airlines Boeing 757-200.
After disembarking, NBA stars Carmelo Anthony and Josh Huestis posted pictures of the plane's badly dented and scratched nose on social media.
I guess we hit something? 30,000 feet up… pic.twitter.com/Rem9GmwRKq

— Josh Huestis (@jhuestis) October 28, 2017

Baffled center Steven Adams took to Twitter to ask NASA, television personality and engineer Bill Nye, and renowned astrophysicist Neil deGrasse Tyson what actually went wrong.
Hey @NASA @neiltyson @BillNye
We had a rough flight to say the least.

30000 feet in the air.
Flying to chicago.

What caused this? pic.twitter.com/uEVrEm7noi

— Steven Adams (@RealStevenAdams) October 28, 2017
In a statement to the Oklahoman, Delta Airlines claimed the plane likely came in contact with "a bird":
"Delta flight #DL8935, operating from Minneapolis to Chicago-Midway as a charter flight for the Oklahoma City Thunder, likely encountered a bird while on descent into Chicago. The aircraft, a Boeing 757-200, landed safely without incident; customers have since deplaned and maintenance teams are evaluating. Safety is Delta's top priority."
Statement from a Delta spokesperson on the Thunder's plane damage: pic.twitter.com/5fTBajA5Xi

— Erik Horne (@ErikHorneOK) October 28, 2017
Billy Donovan, the Oklahoma City Thunder coach, believed there was "some turbulence" that caused the plane to "drop a little bit":
"It wasn't like we were free falling out of the sky. I think they were probably concerned at the altitude and making sure the cabin pressure was good for everybody, so I think they kind of flew at a lower altitude."
The bone-chilling mid-air incident occurred in October, when the Oklahoma City Thunder flew to Chicago to play a game against the Chicago Bulls. So far, neither NASA nor the cops have been able to provide a convincing answer to what caused the bizarre out of the world accident: an accident so severe it could have taken innocent lives, caused life-altering injuries, and ended careers prematurely.