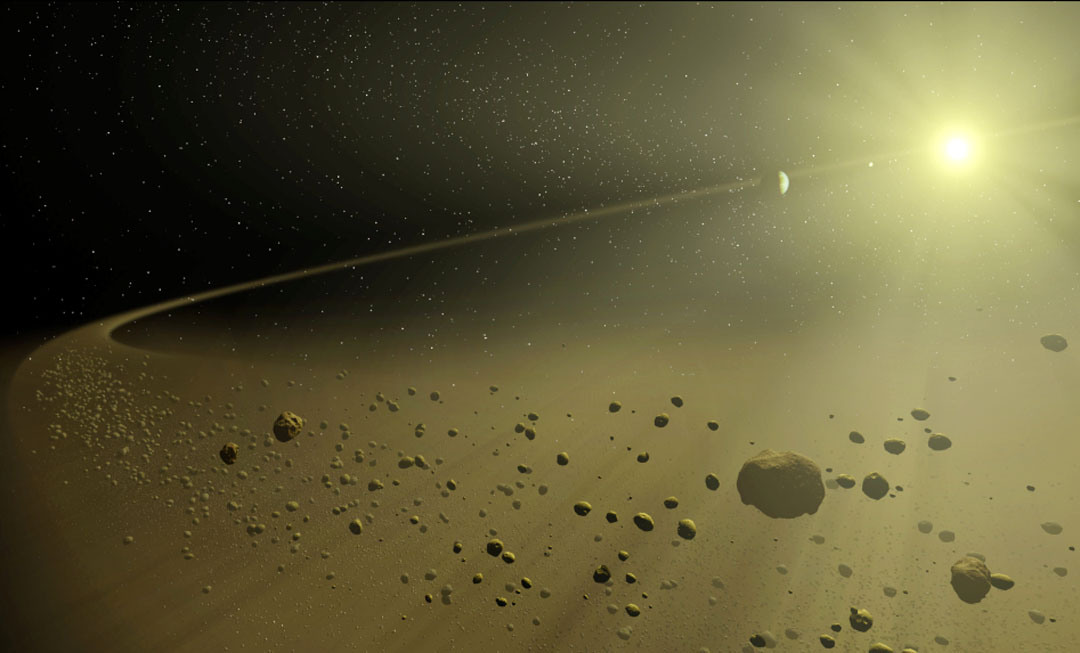 NASA's Kepler Space Telescope has found evidence of a technologically advanced civilization around a distant star in the Milky Way galaxy.
The star, known as KIC 8462852, is located approximately 1,500 light years from Earth. Spotted by NASA's Kepler Space Telescope in 2009, the star has a strange and bizarre light profile, experiencing large changes and dips in brightness. Scientists say such unusual dimming pattern could be an indicator of intelligent alien life or the presence of alien "megastructures".
Tabetha Boyajian, a postdoctoral researcher at Yale University, told The Atlantic, "We'd never seen anything like this star. It was really weird. We thought it might be bad data or movement on the spacecraft, but everything checked out."
In September, Boyajian published a research paper titled Planet Hunters X. KIC 8462852 – Where's the flux?, describing the star's bizarre light pattern and the surrounding megastructures. According to Boyajian's observations, the "dipping activity" of the star can last for between five and 80 days; two major dips take place nearly every 750 days.
The unusual celestial body lies between the constellations Cygnus and Lyra, invisible to the naked eye. Several years ago, the star was flagged as "bizarre", "interesting", and a "giant transit" by members of Planet Hunters, a group of 'citizen scientists' tasked with analysing the data from the 150,000 stars Kepler was watching. The pattern of light suggests a large mass of matter is circling the star. KIC 8462852 is a mature star that seemed to have a large mess of objects orbiting it. The star is a mature F-type star, approximately 1.5 times the size of Sun. Circumstellar disks are usually found around young stars.
Jason Wright, an astronomer from Pennsylvania State University, is set to publish an alternative interpretation of the light pattern. Wright and his co-authors say the unusual star's light pattern is consistent with a "swarm of megastructures", perhaps stellar-light collectors, technology designed to catch energy from the star.
"When [Boyajian] showed me the data, I was fascinated by how crazy it looked. Aliens should always be the very last hypothesis you consider, but this looked like something you would expect an alien civilization to build," he told The Atlantic.
KIC8462852: from a mysterious light pattern to an alien megastructure is a short step http://t.co/UzTQ0fd8Cs pic.twitter.com/DsfCtI4dmm

— Massimo (@Rainmaker1973) October 14, 2015
Boyajian and Wright have teamed up with Andrew Siemion, the Director of the SETI Research Center at the University of California, Berkeley; they want to point a radio dish at the star to look for wavelengths associated with technological civilizations, and to see whether the system is generating any artificial radio signals that could indicate the presence of "intelligent creatures". The first observations could be ready to take place as early as January, with follow-up observations potentially coming even quicker.
"Whether there are aliens constructing huge megastructures to meet their power needs at KIC 8462852, or — overwhelmingly more likely — it's a more natural scenario, this is a pretty weird and interesting star. And it's definitely worth investigating further," Phil Plait, an astronomer, wrote in Slate.
---
This Article (Did NASA Just Discover Intelligent Alien Civilization 1,500 Light Years From Earth?) is free and open source. You have permission to republish this article under a Creative Commons license with attribution to the author and AnonHQ.com.