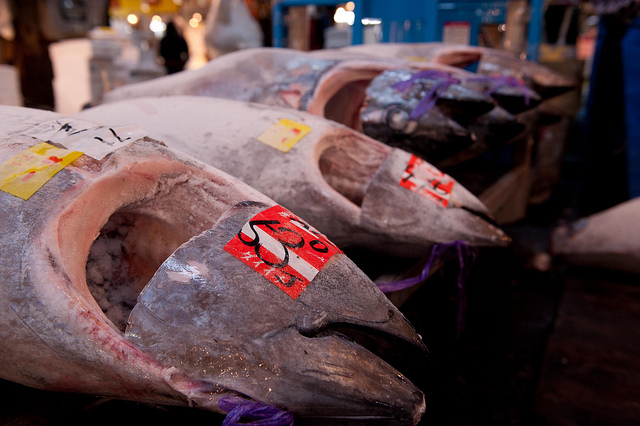 Exploitation of our ocean resources continue, yet fish stocks are at an all-time low. The most sought after species, the Pacific bluefin tuna, although dwindled in numbers, remain vulnerable on the IUCN (International Union for Conservation of Nature) list.
A coalition of individuals and environmentalists recently petitioned the National Fisheries Service to protect the species under the Endangered Species Act, mandating the highest levels of protection from harm and further population decline. The Pacific bluefin tuna's populations have declined more than 97% since fishing began, due to the insatiable global sushi market and our failure in reducing fishing pressures enough to protect the vital and iconic species.
"Without help, we may see the last Pacific bluefin tuna sold off and lost to extinction," said Catherine Kilduff of the Centre for Biological Diversity. "New tagging research has shed light on the mysteries of where majestic bluefin tuna reproduce and migrate, so we can help save this important species. Protecting this incredible fish under the Endangered Species Act is the last hope, because fisheries management has failed to keep them off the path toward extinction."
A major problem, highlighted by Kilduff, explains that current fishing patterns involve approximately 98% of the Pacific bluefin that are caught and processed, are immature juveniles that aren't capable of reproducing, leaving few to mature and propagate the species. "So the baby fish never grow up to be moms and dads, and the adult fish eventually die," Kilduff says. "We feel this is a recipe for extinction."
International fisheries essentially manages itself, setting its own quotas each year, but too many tuna are taken. Fishery managers have set recovery goals that are modest to say the least: By 2024, the current management measures are aiming to rebuild stocks to approximately 6% of what it would be if the Bluefin was not fished. Alas, almost all the conservation measures put in place to meet this target are voluntary, deeming the reasonable probability that this target will not be met.
Unfortunately for the Pacific bluefin tuna, the process for considering the petition could take about 2 years, says Kilduff. She states that an endangered status would make it illegal to catch, kill and sell Pacific bluefin in American waters. For instance, the majority of the Pacific bluefin found in our food comes from aquaculture farms in Mexico, whereby half of what is caught is sent to Tokyo via United States ports. Only 3% is kept in the U.S. for consumption. An endangered listing of Tuna would ban this from happening.
The United States' small role in the Bluefin industry is why some conservationists feel that by listing the Bluefin as endangered, it would be largely symbolic.
"It would affect fishing for Pacific bluefin in U.S. waters and would also stop imports of Pacific bluefin into the States, and that would send a major signal to the global market" that current fishing trends are not sustainable, says restaurateur and seafood sustainability consultant Casson Trenor, whose San Francisco sushi restaurant group Tataki has stated never to serve bluefin tuna.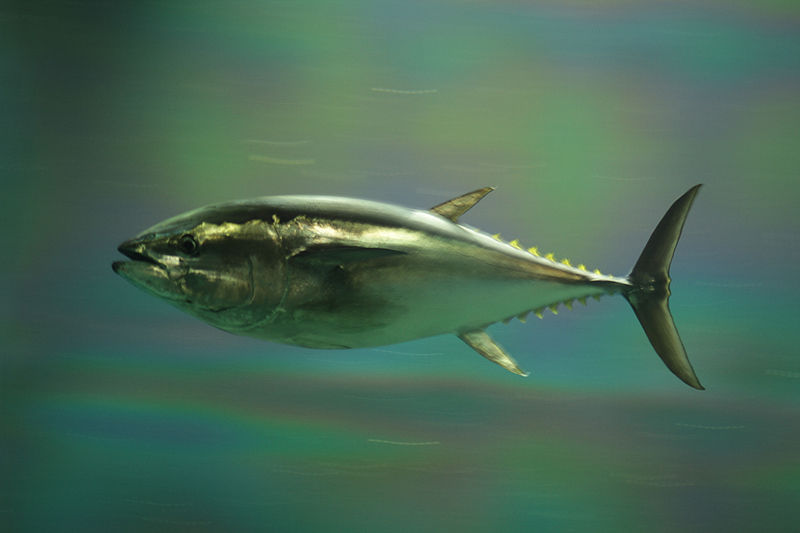 The IATTC (Inter-American Tropical Tuna Commission), which is convening in the next few days in southern California to consider next year's fishing regulations, said no one was available to comment on the story. Multiple attempts were made in order to contact the WCPFC (Western and Central Pacific Fisheries Commission) based in Micronesia, but to no avail.
Although evidence is showing the decline in Bluefin populations is clear, putting them on the endangered list is not so easy. Fishermen have already been issued with a quota reduction from 10 to 2 fish, having a negative effect on the socioeconomic structure of the fisheries industry.
Buzz Brizendine, a member of the Pacific Management Council has made recommendations to the U.S. government on how to manage the species. He says that efforts to reduce mortality of the Pacific bluefin must be concentrated on the western Pacific near Asia, where more than three-fourths of the catch is taken.
The likelihood of getting the bluefin on the endangered list are slim says Killduff. "They denied that petition [two weeks ago]," she says. "So, we've tried to get them to take action before, and they haven't."
Creating awareness of situations and events like these are empirical to their success. The more on-board, the higher the chance we can save this magnificent species from extinction.
---
You want to support Anonymous Independent & Investigative News? Please, follow us on Twitter: Follow @AnonymousNewsHQ
---
This article (Endangered Species Act for Bluefin Tuna? Environmentalists Petition to Save the Species as Population Dwindles to Historic Lows) is a free and open source. You have permission to republish this article under a Creative Commons license with attribution to the author and AnonHQ.com.