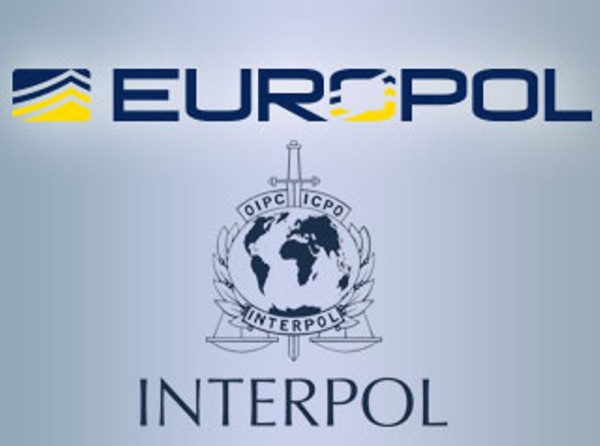 The European Police Agency (Europol) has announced that it has seized a record fake hazardous food and drink in 57 countries across the world, in a special operation.
Europol said the seizure was done in close collaboration with the International Police Agency (Interpol). In a press statement published on Europol's website, the agency said more than 10,000 tonnes and one million litres of hazardous fake food and drink were seized.
The operation was to identify and disrupt the organized crime networks behind the trafficking in fake goods, enhancing cooperation between the involved law enforcement and regulatory authorities.
The agency also said the operation was done in order to protect public health.  Code named Operation Opson V, Europol officials said it was supported by almost every country in the world. Operation Opson V was launched in 2011 to impound fake and substandard food and drink.
The operation involved the police, customs, national food regulatory bodies and partners from the private sector. Checks were reportedly carried out in shops, markets, airports, seaports and industrial estates between November 2015 and February 2016, resulting in the seizure.
In the United Kingdom, officials uncovered enough fake alcohol to fill 12,000 baths, including 10,000 litres of adulterated liquor. Italian officers found 85 tonnes of olives painted with copper sulphate to enhance their green color. In Belgium, police seized large quantity of imported Monkey meat.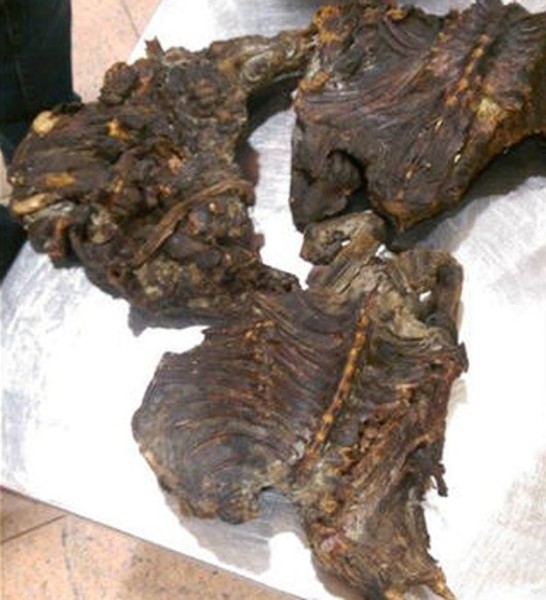 Other notable fake products discovered include:
Nearly nine tonnes of sugar contaminated with fertilizer were seized in Khartoum, Sudan.
70kg of chicken intestines preserved in formaldehyde, which is prohibited as a food additive, were found in Indonesia.
Police in Greece discovered three illicit factories producing counterfeit alcohol.
French officers destroyed 11kg of locusts and 20kg of caterpillars seized at airports.
450kg of honey tested in Australia was found to have been blended or adulterated.
Bolivian police found a warehouse with thousands of cans of sardines and fake labels of a famous Peruvian brand ready to be stuck on.
Hungarian officials discovered more than two tonnes of duck meat, not liver, destined to be sold as the delicacy foie gras.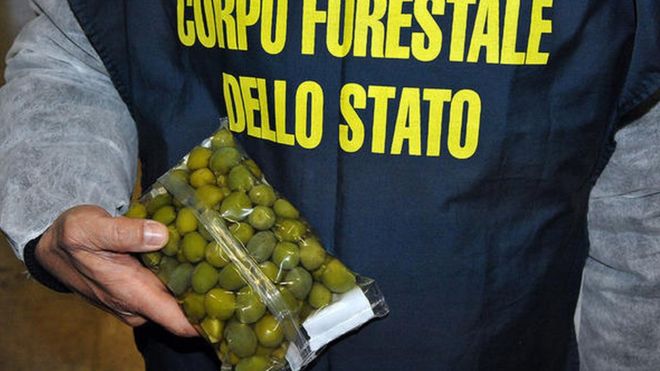 Police in Thailand uncovered an illicit network importing illegal meat from India. Police destroyed more than 30 tonnes which unfit for human consumption destined for supermarkets.
South Korean police arrested a man suspected of smuggling diet supplements that were being sold online as a natural product but containing harmful ingredients.
In Hungary, Italy, Lithuania, and Romania, customs and police authorities discovered counterfeit chocolates, sweets and non-alcoholic sparkling wine aimed at children and destined for export to West Africa.
Officials in Togo destroyed 24 tonnes of imported tilapia which was found to be unfit for human consumption.
In Zambia, police discovered 1,300 bottles of fake whisky in original packaging which had previously been stolen from a warehouse. Police also seized more than expired 3,200 cartons of diet powder drinks.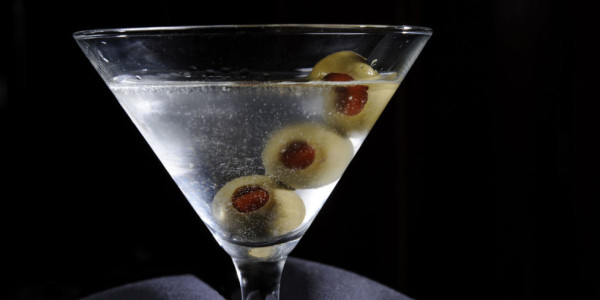 Europol officials said a number of arrests were made worldwide throughout the operation, and that investigations are continuing.
Head of Interpol's Trafficking in Illicit Goods, Michael Ellis said "Fake and dangerous food and drink threaten the health and safety of people around the world who are often unsuspectingly buying these potentially very dangerous goods. With Operation Opson V resulting in more seizures than ever before, we must continue to build on these efforts to identify the criminal networks behind this activity whose only concern is making a profit, no matter what the cost to the public."
Europol said the counterfeit goods market is a multi-billion dollar criminal industry. The agency said the rise in the market is partly driven by rising food prices.
Cluster Manager of the Intellectual Property Crime Team at Europol, Chris Vansteenkiste was quoted as saying "Today's rising food prices and the global nature of the food chain offer the opportunity for criminals to sell counterfeit and substandard food in a multi-billion criminal industry which can pose serious potential health risks to unsuspecting customers. The complexity and scale of this fraud means cooperation needs to happen across borders with a multi-agency approach."
---
You want to support Anonymous Independent & Investigative News? Please, follow us on Twitter: Follow @AnonymousNewsHQ
---
This article (Europol and Interpol Seize Record Fake Hazardous Food and Drink in 57 Countries [Video]) is a free and open source. You have permission to republish this article under a Creative Commons license with attribution to the author and AnonHQ.com.