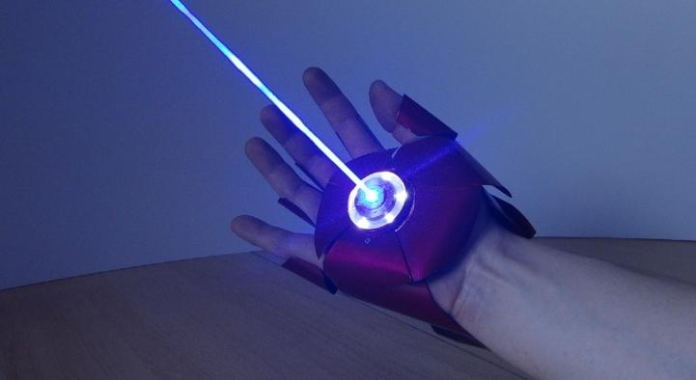 Patrick Priebe, owner of Laser Gadgets, put together his very own, fan made, working Iron Man gauntlet!
This very impressive invention includes sound and light effects as well as 2 lasers and an aluminium blade that can be fired from the top of the glove.
The 'main' laser, which is located in the palm of the glove, is an amazing 700mW and can burn into things such as wood and fruit, also being capable of popping balloons, to put this into perspective, a standard 1mW green laser can travel for over a mile, so just think of what this 700mW laser could do! The 300mW secondary laser, is located at the top of the glove and also makes a nasty mess out of balloons. Lastly, we have the aluminium blade, that again fires from the top of the glove, Priebe notes that this is probably the best feature of the device.
The main laser is fired when the user flexes their hand, the other weapons are activated via an attached controller.
The outer layer of the glove is again made from aluminium, shaped and spray painted with primer, metallic red and candy red on top. The moving parts inside are made up of brass. "When you make a slide with moving parts, you want it to be as smooth as possible and brass is awesome for that." – Priebe
According to CNET, this invention only took around three weeks to make, which is very impressive with the results he got.
This is not the only Marvel themed item that Priebe has created, he was also put together working copy's of Iron man's arm missle, Spider-Man's webshooter, and many more. You can find more of Priebes work at his website, or on his Youtube channel.
Get Your Anonymous T-Shirt / Sweatshirt / Hoodie / Tanktop, Smartphone or Tablet Cover or Mug In Our Spreadshirt Shop! Click Here
---
This Article (Fan Creates Working Iron Man Gauntlet!) is free and open source. You have permission to republish this article under a Creative Commons license with attribution to the author and AnonHQ.com.