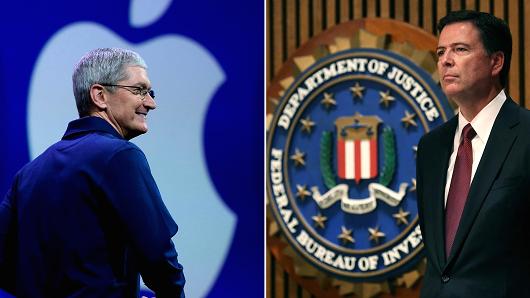 It would seem that the FBI really didn't need Apple's help to access information on San Bernardino terrorist Syed Rizwan Farook's iPhone after-all. It has since dropped the legal battle, and Apple won't have to create a compromised version of its operating system that would have given the FBI a backdoor into every iOS device.
An FBI victory would have set a precedent, as admitted by FBI director James Comey, that would be used to "guide how other courts handle similar requests."
"The government has now successfully accessed the data stored on Farook's iPhone and therefore no longer requires the assistance from Apple," wrote Department of Justice  attorneys on Monday.
"The FBI is currently reviewing the information on the phone, consistent with standard investigatory procedures," said spokesperson for the Department of Justice Melanie Newman.
"Broadly, digital security wins,"UN Special Rapporteur on freedom of opinion and expression, David Kaye, tweeted.
A dozen other federal cases are still ongoing, though, according to Apple attorneys' court documents, with this victory marking the beginning of the war, rather than the end.
Top federal prosecutor in California Eileen Decker noted on Monday that investigators had "a solemn commitment to the victims of the San Bernardino shooting."
Also, "it remains a priority for the government to ensure that law enforcement can obtain crucial digital information to protect national security and public safety, either with co-operation from relevant parties, or through the court system when co-operation fails."
Apple responded that "from the beginning, we objected to the FBI's demand that Apple build a backdoor into the iPhone because we believed it was wrong and would set a dangerous precedent. As a result of the government's dismissal, neither of these occurred. This case should never have been brought."
Apple would "continue to increase the security of our products as the threats and attacks on our data become more frequent and more sophisticated."
An Israeli cybersecurity firm, Cellebrite, might have been roped in to break into the phone, according to an Israeli newspaper. The firm claims that it has tools that can extract and decode data from the model of iPhone used by the terrorist, the iPhone 5C.
According to Cellebrite's website, "file system extractions, decoding and analysis can be performed on locked iOS devices with a simple or complex passcode. Simple passcodes will be recovered during the physical extraction process and enable access to emails and keychain passwords. If a complex password is set on the device, physical extraction can be performed without access to emails and keychain."
Sources: The Intercept, BBC, The Guardian
---
This article (FBI Hacks into San Bernardino iPhone without Apple Assistance) is a free and open source. You have permission to republish this article under a Creative Commons license with attribution to the author(CoNN) and AnonHQ.com.