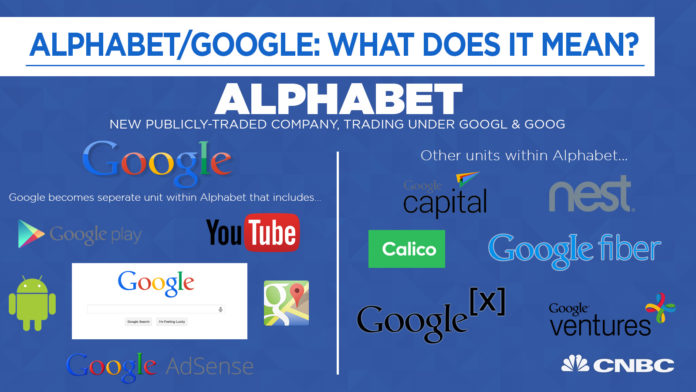 Google announced its plans to form a conglomerate of companies called Alphabet back in August. The announcement has finally been converted into reality and a new parent company with the name Alphabet is formed. Google will now split into various companies on the basis of the functions they provide with Google itself retaining its identity.
Google will be led by its current CEO Sunder Pichai as the CEO of the company. Google will report into Alphabet which will be led by Google founder Larry Page as its CEO. The various companies are listed according to the alphabets with which their names begin. Hence the name for the parent company is Alphabet.
The rationale for the split into various little companies is to continue unrelated businesses under different companies while the parent company Alphabet retaining the control over all the other companies. This is because Google does not want to lose out the opportunity the various sectors and domains offer and at the same time do not want unrelated businesses to interfere with the functioning with each other.
For example, Google Car is unrelated to Google Adwords and hence these two would continue to exist as important business functions of Alphabet but under two different companies. Google has been working on several technological breakthroughs for the last several years and these include Google's Car, Glass, Search algorithms, Adwords, Translate, Maps and several other technologies.
With Alphabet coming into the picture, the individual functions will now become full-fledged companies and have their own management. This will allow Alphabet to have a better control and governance over these companies and generate superior results. The shares for Google will be swapped with the shares of Alphabet. Type 1 and Type 3 shareholders will get an equal number of Alphabet shares in exchange of their Google shares.