Glyphosate is a broad-spectrum systemic herbicide and crop drying agent used to kill weeds. Glyphosate was discovered by Monsanto chemist John E. Franz in 1970. By 1974, Monsanto had introduced it into the market under the trade name Roundup.
Since Roundup became available, there have been a series of controversies.  There are numerous studies suggesting that the amount of glyphosate detected in people's bodies has gone up exponentially. It has been found in human blood, urine, body tissue, and almost everywhere else in the body.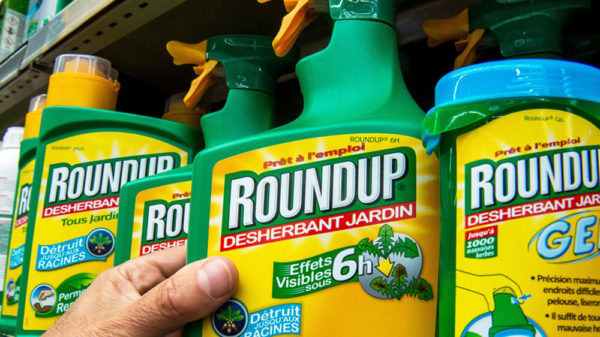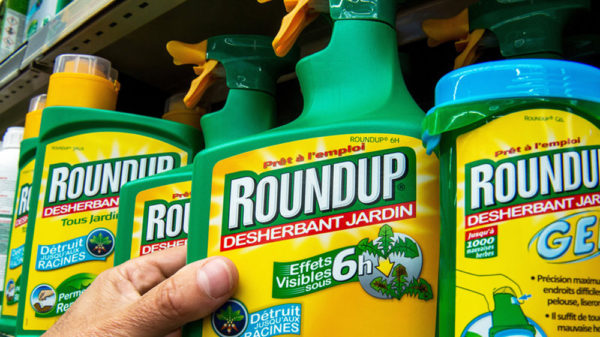 In 2014, a study sponsored by Moms Across America (MAA) found the presence of glyphosate in breast milk of American mothers. High levels of the deadly compound were found in 3 out of 10 samples.
Then in 2016, another study carried out by MAA showed that five childhood vaccines contain the deadly herbicide, glyphosate. The following five vaccines were said to contain the deadly glyphosate compound:
MMR II (Merk) vaccine had 2.671 parts per billion (ppb) of glyphosate.
DTap Adacel (Sanofi Pasteur) vaccine had 0.123 ppb of glyphosate.
Influenza Fluvirin (Novaris) 0.331 ppb of glyphosate.
HepB Energix-B (Glaxo Smith Kline) 0.325 ppb of glyphosate.
Pneumonoccal Vax Polyvalent Pneumovax 23 (Merk) had 0.107 ppb of glyphosate.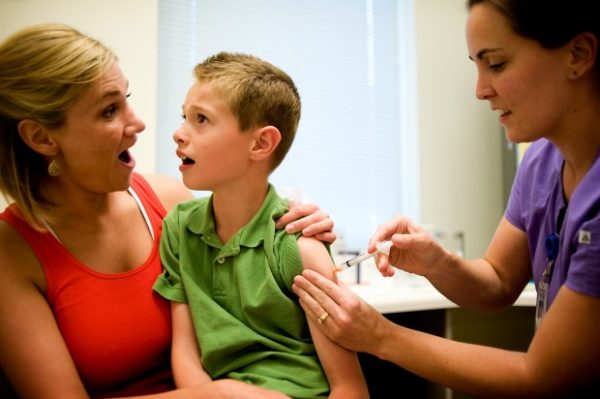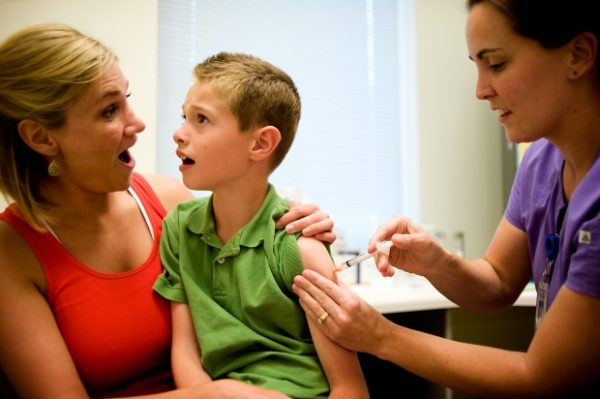 Apart from the vaccines, cow milk, canola oil, Ensure Drinks and soda were all found to contain the deadly compound. In early 2016, the United States' Food and Drug Administration (FDA) was forced by public pressure to agree to the testing for the presence of glyphosate in food.
In fact, many foods are now made with Roundup-ready soy, corn, and canola. And it is not only humans who consume these foods; some are fed to factory farmed animals for meat and dairy products, for further consumption by people.
In the United States, for example, statistics show that farmland in the country has been drenched with more than 2.6 billion pounds of glyphosate, since 1992. Many grain and seed crops receive a dose of Roundup just before harvest, in a process known as desiccation. This process forces the grains and crops to dry quickly, rather than waiting for their natural period to dry.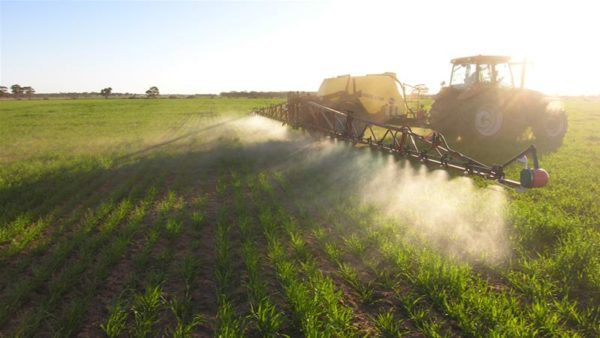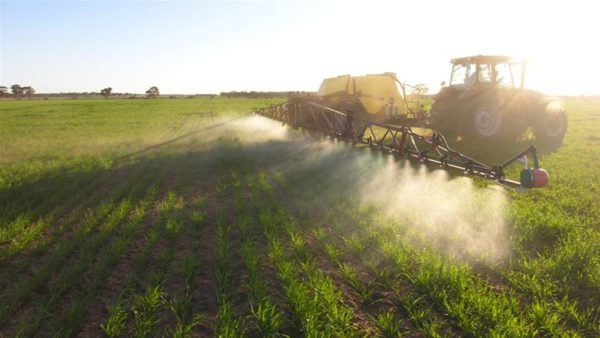 With studies providing overwhelming evidence that Roundup has found its way into the human body, independent researchers have devoted their time into trying to fully understand the effects of the deadly compound on the human body. The World Health Organization has already labeled glyphosate among the "probable carcinogen" compounds.
In the latest on the compound, researchers from King's College London have announced they have conducted an unprecedented, long-term study showing a link between Roundup and severe liver damage in test rats. Since the compound causes severe liver damage in rats, it also causes similar severe damage in humans. This is because health researchers worldwide accept toxicity studies in rats as indicators of human health risks. The study has been accepted in the peer-reviewed journal Nature.
According to the researchers, they used a cutting-edge technology to demonstrate that "extremely low doses" of the Roundup administered to rats through their drinking water had caused "non-alcoholic fatty liver disease (NAFLD)" over a two-year period. Health experts say NAFLD can lead to more serious liver disease such as cirrhosis, and increases the risk of other illnesses including diabetes, heart attacks and strokes.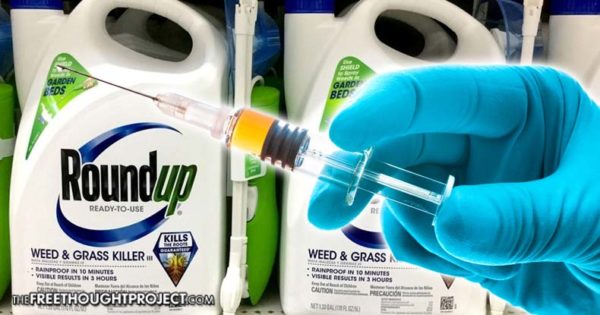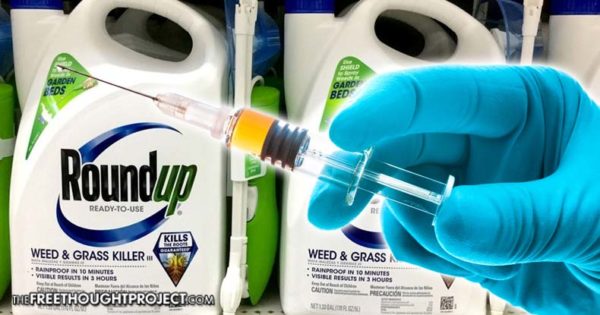 "The study is unique in that it is the first to show a causative link between consumption of Roundup at a real-world environmental dose and a serious disease condition," the authors wrote in the study.
In the study, the researchers highlighted that glyphosate was administered in "ultra-low doses" – well below the exposure level permitted for humans. In fact, the dose of glyphosate from the Roundup administered to the rats was thousands of times below what is permitted by regulators worldwide. But this still caused damage to the rats' livers.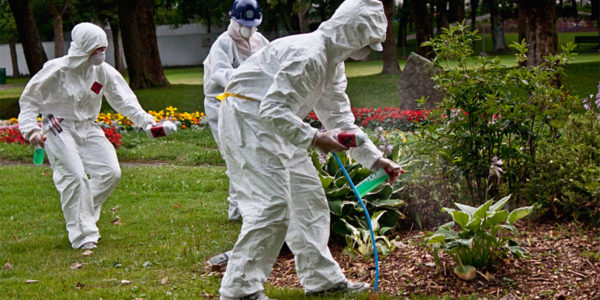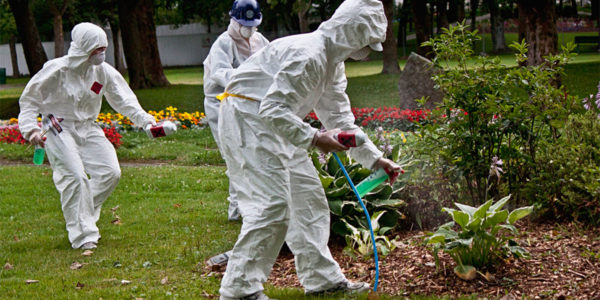 The authors said: "Regulators worldwide accept toxicity studies in rats as indicators of human health risks. Therefore, the results of this latest study may have serious consequences for human health, and thus warrant careful consideration by regulatory agencies and further investigation by toxicologists."
The authors urged regulators worldwide to reconsider the current safety limits for glyphosate because evidence from their study is glaring.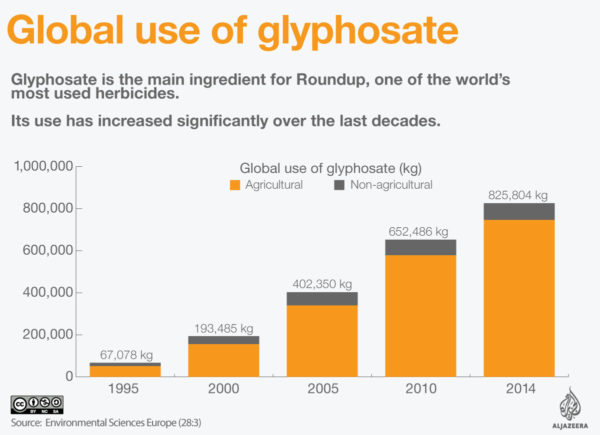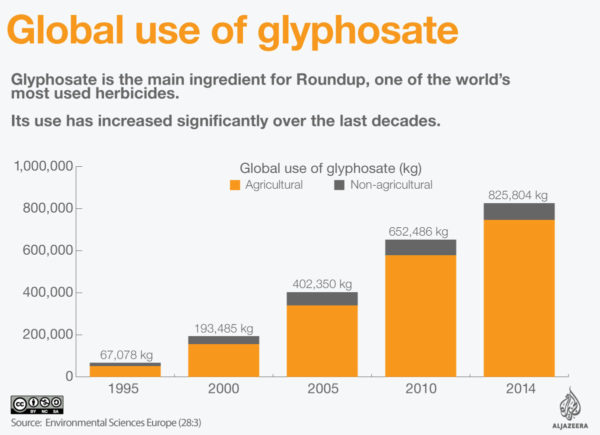 Robin Mesnage, a research associate at King's College London, Department of Medical and Molecular Genetics, who took part in the study, told Al Jazeera in an interview how highly advanced methods helped analyze the effects of the herbicide on rats' health.
"Metabolomics and proteomics allows detection of hundreds or even thousands of molecules at the same time, which is much greater than other techniques. So we could clearly see what is happening in the organs," Mesnage said.
Immediately after the study was made public, Monsanto, as usual, issued a statement denouncing the study, accusing the researchers of using flawed data. Of course, Monsanto would never admit to its producing dangerous products to the public, especially on a global scale.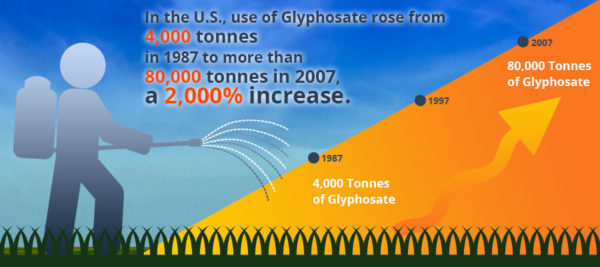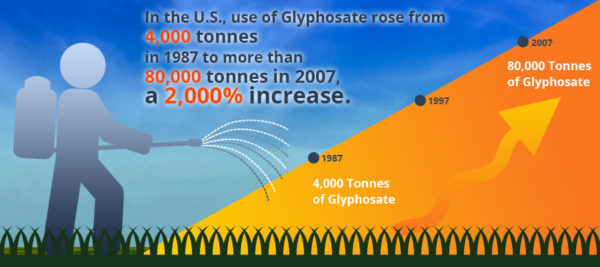 Meanwhile, a press officer for the United States Environmental Protection Agency (EPA),Cathy Milbourn told Al Jazeera that the study by the King's College London team is currently "under review" by the government agency to okay scientific research – now a normal process under the new Trump administration. Cathy also said the agency is still investigating whether glyphosate-based herbicides are safe for human exposure.
Many observers have criticized regulators in the United States for having a soft-spot for Monsanto. There is much evidence proving that genetically engineered crops and other products of Monsanto cause harm to the public, but regulators have blatantly refused to act, putting the health of people around the world in danger in the name of profits.
---
This article (First-ever Long-Term Study Reveals Monsanto's Roundup Causes Severe Liver Damage) is a free and open source. You have permission to republish this article under a Creative Commons license with attribution to the author and AnonHQ.com.
---
Supporting Anonymous' Independent & Investigative News is important to us. Please, follow us on Twitter: Follow @AnonymousNewsHQ