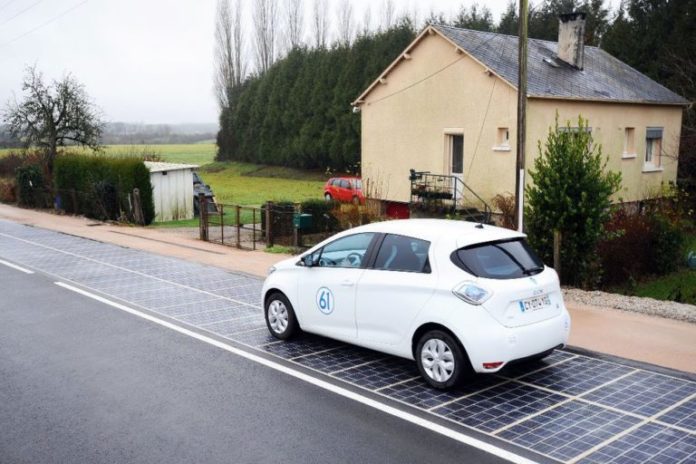 By Amanda Froelich at trueactivist.com
Roughly 30,000 square feet of solar panels have been installed on a road in a small Normandy town.
There's a lot to appreciate about France, specifically its law prohibiting supermarkets from purposefully wasting food, the ban it passed on plastic cutlery, cups, and plates, and the 24-hour car-free day which is held annually in Paris. In the small village of Tourouvre-au-Perche, however, one will also find a route which is the first solar road in the world.
On Thursday, France's Minister of Environment, Ségolène Royal, officially inaugurated the Normandy town for covering a road with approximately 30,000 square feet of solar panels. Though the panels are most effective when they are titled rather than laid flat, they will provide enough energy to power street lighting in the town of 3,400 residents over the next two years, according to The Guardian.
Now, the country is waiting to see if project Wattway, which was spearheaded by energy company Colas, will live up to the hype surrounding the experiment. If the two-year trial proves successful, the energy company is ambitious to install solar panels in one out of every 1,000 kilometers (621 miles) of road in France. The country presently has 1 million kilometers or 621,000 miles of road.
Construction for the project cost about 5 million Euros, or about $5.2 million (a price not everyone is pleased with). To ensure the panels will resist vehicles' weight and remain durable, a resin including five layers of silicon covers the units.
The solar panel road is expected to produce 28- megawatt hours of power each year; daily production will vary depending on the weather. If Wattway is successful, the company also anticipates generating approximately 767 kilowatt-hours (kWh) each day, with electrical output even 1,500 kWh a day during the summertime.
Says Jean-Charles Broizat, the Wattway Director:
"We are still on an experimental phase. Building a trial site of this scale is a real opportunity for our innovation. This trial site has enabled us to improve our photovoltaic panel installing process as well as their manufacturing, in order to keep on optimizing our innovation."
Whereas a route in the Netherlands installed solar panels on a cycle path, Tourouvre-au-Perche can boast that it has the first solar road for cars in the world. Please share this monumental news and comment your thoughts below!
---
This article (First Solar Road In The World Officially Opens In France [Watch]) is free and open source. You have permission to republish this article under a Creative Commons license with attribution to the author and TrueActivist.com