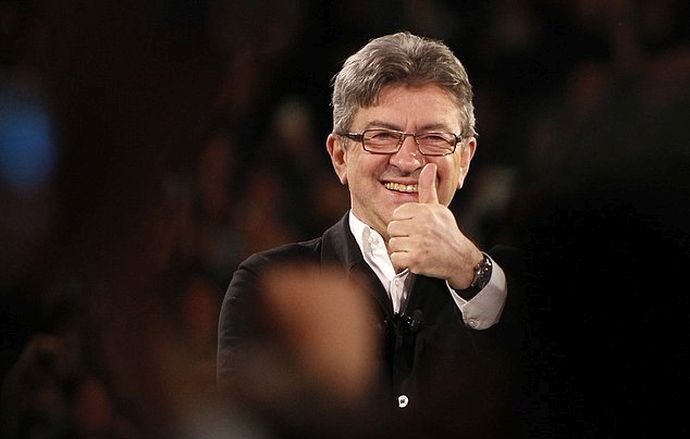 Unless you've been living under a rock, you would know that France is terrified by the prospect of a run-off between Marine Le Pen, president of the National Front, and Communist Party-backed Jean-Luc Mélenchon, the far-left populist dark horse in France's presidential elections. Jean-Luc Mélenchon is being compared to former U.S. presidential candidate Bernie Sanders.
While Donald Trump has implicitly endorsed Marine Le Pen, describing the far-right leader as the "strongest candidate on what's been going on in France" and saying, "whoever is the toughest on radical Islamic terrorism, and whoever is the toughest at the borders, will do well in the election," Jean-Luc has still surged ahead. His rallying against France's participation in foreign wars, growing economic inequality, high levels of unemployment, and political corruption have appealed to the French masses.
Jean-Luc vows to establish a 100% tax on incomes above €400,000, which is 20 times higher than France's average wage. He also said he would limit the pays of CEOs to 20 times the salary of their worst-paid employee; cut France's working week from 35 to 32 hours; raise the minimum wage by 16%; and boost public spending by €175 billion over five years.
Furthermore, he wants to abandon nuclear power; ensure 100% renewable energy by 2050; leave NATO, the IMF and the WTO; institute warmer ties with Russia; and drop the Euro if demands – including a devaluation of the currency – are not met. He also wants to radically reform the French constitution by abolishing the presidential regime of the Fifth Republic. The Guardian observes:
"Mélenchon, 65, who resigned from Hollande's centre-left party in 2008 and heads a grass-roots movement, La France Insoumise or Untamed France, has mainly picked up votes from the plummeting official Socialist candidate, Benoît Hamon.
"Helped by his caustic rhetoric, strong performances in televised debates, and a slick campaign that includes addressing rallies by hologram and Fiscal Combat – a "hit-the-rich" video game – his personal approval rating has leapt 22 points in a month to 68 points, making him France's most popular politician."
Jean-Luc — who became the youngest member of the French Senate, aged 35 in 1986, and served as an Education Minister from 2000 to 2002 — has called for a nonviolent citizens' revolution. He has also proposed a minimum monthly wage of $1,790; and has plans to renegotiate European Union treaties to put an end to economic liberalism. He says he is simply appealing to voters who feel abandoned by the mainstream parties:
"If things were going well in society, nobody would need me. Now, we have to have a citizens' revolution and change things bit by bit. It has to start somewhere in Europe and I hope France will lead the way. The thing about revolution is that there is no instruction book, people just act because they can no longer tolerate a society in which people have nothing to eat, cannot afford healthcare or look after themselves."
France's eternal revolutionary — who asks supporters not to chant his name because it is all about "the program" and not the person — is drawing support from French millennials with pop-star-like hologram appearances that, on April 18, allowed him to address rallies in seven different cities simultaneously.
It is for such reasons that Jean-Luc — who is a fan of the late socialist Venezuelan President Hugo Chavez — is being compared to Bernie Sanders. Sophia Chikirou, Jean-Luc's communications director, told Europe 1 in January: "Mélenchon shares many points in common with Sanders. Sanders relied on having the people campaign for him and mobilizing them through social media. That's mainly what we took from him."
But there is a major difference between Sanders and Jean-Luc, reports The Intercept:
"The American chose to run within an existing political party, while the Frenchman seeks to compete against them. That's why, unlike Sanders, Mélenchon is still in the running at this late stage, as the voters are souring on the candidates of the far-right and co-opted center.
"Bernie Sanders spoke of a "political revolution", but made his project moving the Democratic Party in a more populist direction. Mélenchon, on the other hand, believes that the big changes necessary in French society can only come by displacing the current political parties."
On April 23, French voters will go to the polls for the first part of a two-part process to elect a new president. The two candidates with the most votes are expected to face off in the second part of the election on May 7.
An opinion poll published on April 19 suggests independent candidate Emmanuel Macron is favored to win the presidential race (23%), with Marine Le Pen just behind (22.5%), followed by former prime minister François Fillon (19.5%) and Jean-Luc (19%).
---
This article (France's Bernie Sanders, Who Wants a 100% Tax on the Rich, Shakes Up Presidential Polls) is a free and open source. You have permission to republish this article under a Creative Commons license with attribution to the author and AnonHQ.com.
---
Supporting Anonymous' Independent & Investigative News is important to us. Please, follow us on Twitter: Follow @AnonymousNewsHQ