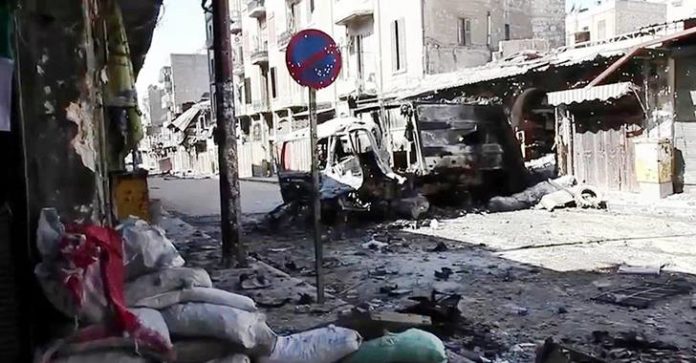 (MEE) Syrian government forces pressed their assault on eastern Aleppo on Friday, amid reports of more than 300 people killed in the besieged city, attacks on vital services and Russian plans to boost its forces based in Syria.
Hezbollah's al-Manar television said that its forces and government allies took full control of the Handarat camp and the nearby Kindi hospital area in northern Aleppo, opening the road to the opposition-held Heluk and Haydariyeh areas in the northeast of the city.
The fighting came as the World Health Organization said that 338 civilians, including 106 children, had been killed and 846 injured in the past few weeks in the city, which has suffered intense bombardment by the Syrian and Russian air forces since the collapse of a ceasefire.
The Doctors Without Borders NGO described the city as "a giant kill box" and accused the government ally Russia of orchestrating a "bloodbath".
Reports from inside Aleppo on Friday also said that artillery had targeted the Suliman Alhlabi water plant in the early hours of this morning, cutting supplies for the hundreds of thousands of people trapped in the city.
WHO's humanitarian chief Rick Brennan: "We are asking for four things: stop the killing, stop attacks on health care, let the sick and wounded out and let the aid in."
Russia, meanwhile, was reported to be sending more attack aircraft to Syria, including fighter bombers – a day after the US said it was considering stopping all coordination with Moscow in the war.
Doctors Without Borders (MSF) on Friday also appealed to the Syrian government and its Russian ally to stop bombing rebel-held eastern Aleppo, warning they were provoking a "bloodbath" among civilians in the city.
"Bombs are raining from Syria-led coalition planes and the whole of east Aleppo has become a giant kill box," MSF director of operations Xisco Villalonga said in a statement.
"The Syrian government must stop the indiscriminate bombing, and Russia as an indispensable political and military ally of Syria has the responsibility to exert the pressure to stop this," he said.
The United Nations has warned that a humanitarian catastrophe is unfolding in Aleppo unlike any witnessed so far in Syria's brutal five-year war, which has claimed more than 300,000 lives.
According to the UN, only around 35 doctors remain in eastern Aleppo, where an estimated 250,000 people have been under siege by government forces since early September.
Aid organizations operating in Aleppo however earlier this week told Middle East Eye said that only 23 doctors were left in Syria.
The MSF statement cited numbers from the east Aleppo health directorate, showing that from 21 to 26 September, the few hospitals still functioning in the rebel-held part of the city received some 278 dead bodies, including at least 96 children.
More than 822 wounded were also taken in, including at least 221 children, it said.
"All intensive care units are full. Patients have to wait for others to die so they can be moved to an available bed in intensive care," Abu Waseem, manager of an MSF-supported trauma hospital in east Aleppo, warned in the statement.
"We only have three operating theatres and yesterday alone we had to do more than 20 major abdominal surgeries," he said, pointing out that "hospital staff is working up to 20 hours a day. They cannot just go home and let people die."
MSF said it had last been able to deliver medical supplies to east Aleppo in August, and warned that the huge number of wounded was rapidly depleting the stocks in the remaining hospitals.
"Now, with a complete siege on the city, attacks on humanitarian convoys and intensive bombing, we are powerless," Villalonga said, warning that "if this intensity of bombing continues, there may not be a single hospital standing in a few days."
He demanded that the bombing stop, and that the sick and wounded be evacuated from the city.
"Anything short of this is confirmation of what many are dreading, that the world has abandoned the people of Aleppo to a violent, agonizing death," he said.
Aleppo residents also told MEE earlier this week that the government imposed siege has led to fuel shortages and price hikes in the rebel controlled city.
Fighting is also expected to intensify in the coming few weeks as government backed militias amass outside East Aleppo in preparation for a ground offensive to take control of rebel-held east Aleppo.
Foreign fighters are expected to play a decisive role in the battle for Aleppo, as The Guardian on Thursday reported that 6000 pro-government foreign fighters from Iraq, Iran, Lebanon and Afghanistan, had amassed outside the besieged city, for what they plan will be an imminent and decisive advance.
A senior rebel source denied to Reuters that the government had captured the Kindi hospital area, saying the battles were ongoing.
---
This article ('A Giant Kill Box': Death Toll in the Hundreds as Syrian Army Storms Aleppo) by MEE and agencies originally appeared on MiddleEastEye.net and was used with permission. Anti-Media Radio airs weeknights at 11pm Eastern/8pm Pacific. Image credit: Facebook. If you spot a typo, email [email protected].