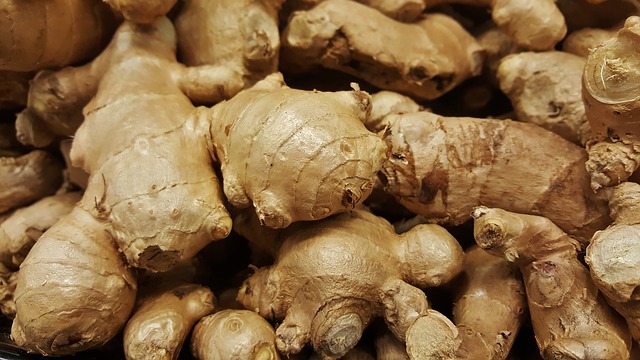 The rhizome of the ginger plant (Zingiber officinale) is one of the most commonly used spices worldwide. Ginger is valued for both its flavor and its medicinal properties – traditionally it has been used for ailments such as nausea and arthritis pain. More recently, ginger's potential as a means of treating cancer has been studied, and the results are promising.
Ginger is known to have anti-inflammatory and anti-oxidative effects, which may help prevent cancer development. Ginger extract and bioactive components of ginger have also been shown to affect cancer cells directly.
A study, published in the British Journal of Nutrition in 2012, demonstrated that whole ginger extract can shrink prostate cancer tumors. Mice, which were implanted with tumors made up of human prostate cancer cells, were fed whole ginger extract for eight weeks and their tumors were compared with those of control animals.
The tumor burden of the ginger extract treated mice was reduced by approximately 56%, while tumors in the control group showed unrestricted progression.
Importantly, this study showed that the ginger extract selectively targeted the prostate cancer cells and did not appear to adversely affect healthy tissue in the tumor-bearing mice.
Another study, published on PLoS One in September last year, showed [6]-shogaol, a bioactive ginger-derived compound, induced cell death and interfered with self-renewal in cultured breast cancer stem cells.
Cancer stem cells (CSCs), which make up a tiny proportion of a tumor (0.2-1%) in a wide range of cancers, are thought to play a very important role in cancer development and progression. The following video provides an animation to illustrate "cancer stem cell theory":
CSCs are innately resistant to conventional chemotherapy treatment, and it was found that [6]-shogaol suppressed breast cancer stem cells where taxol (a chemotherapy drug used to treat breast cancer) was completely ineffective. This finding is particularly exciting given the fact that the shogaols and their metabolites have low toxicity in normal, healthy cells.
While more research on ginger's anti-cancer properties needs to be done, the results so far are encouraging and may see relatively safe, non-toxic ginger-derivatives replacing some of the harsh treatments currently being used, which bring with them a raft of problematic and sometimes permanent side effects.
---
This article (Could Ginger Replace Harsh Chemotherapy Cancer Treatments?) is a free and open source. You have permission to republish this article under a Creative Commons license with attribution to the author Bullseye and AnonHQ.