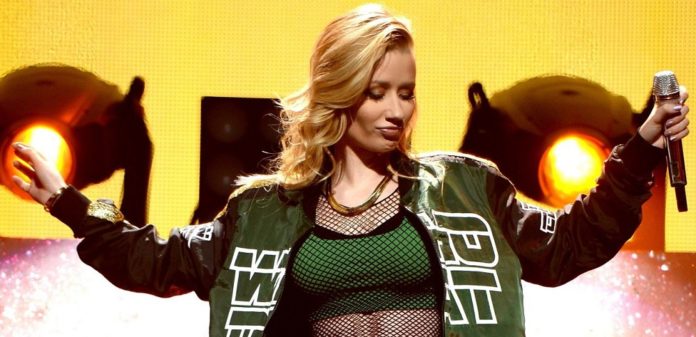 Written by: Vandita
Forbes in May had declared that "Hip-Hop Is Run by a White, Blonde, Australian Woman" referring to Iggy Azalea. That appeared to be a mistake then, but now it seems Forbes had made a sick forecast inadvertently. Azalea does run the rap game today – she has shattered records, released a platinum single and is nominated for multiple Grammy Awards, including Best Rap Album.  Howbeit, she is accused of stealing black musical sounds and styles and using her whiteness to sell them to the masses. The hip-hop community believes Azalea has done little to actually give back to the community except be blatantly racist. And black hip-hop artists aren't standing for it any longer.
Early December, rapper Azealia Banks dubbed Azalea 'Igloo Australia' and lashed out at her for ignoring black issues and for showing no empathy about the Eric Garner and Ferguson indictments.
its funny to see people Like Igloo Australia silent when these things happen… Black Culture is cool, but black issues sure aren't huh?

— AZEALIA BANKS (@AZEALIABANKS) 4. Dezember 2014
Suddenly, she wasn't alone anymore criticising Azalea publically. The reason perhaps could be that Azalea fired back at her with comments that outraged many in the hip-hop community.
Now! rant, Make it racial! make it political! Make it whatever but I guarantee it won't make you likable & THATS why ur crying on the radio. — IGGY AZALEA (@IGGYAZALEA) 19. Dezember 2014
Azalea added further fuel to the controversy by arrogantly declaring that her feud with Banks was the only means fans were discovering Banks.
Enjoy continuing to bang your head against that metaphoric brick wall & Savor this attention. I'm the only way you get ANY.

— IGGY AZALEA (@IGGYAZALEA) 19. Dezember 2014
Many in the hip-hop community feel that Azalea is actively working against black interests because she appropriates traditionally black styles and totally divorces them from their political content. That's why rapper Q-Tip, Tyler, The Creator, and Solange Knowles all came to Banks' defense, thanking her for speaking passionately about the issue of cultural appropriation in an interview with Hot 97 wherein Banks got emotional discussing the "scrubbing" of concepts by white artists originally created by black artists.
Thank you @AZEALIABANKS — solange knowles (@solangeknowles) 19. Dezember 2014
Nah. Black girl was "perfect" too. Thx. "@Ozmic_: Leaving it at fan would've been perfect. "@solange: Signed,a music fan, a black girl."

— solange knowles (@solangeknowles) 20. Dezember 2014
I LOVE PASSIONATE PEOPLE SPEAK YOUR FUCKING MIND BE A FREE BIRD FUCK EVERYONE YES — Tyler, The Creator (@fucktyler) 19. Dezember 2014
@AZEALIABANKS is a very smart, talented and blessed BLk WOMAN…

— QTip (@QtipTheAbstract) 19. Dezember 2014
  Rapper Kreayshawn also accused Azalea of ignoring racism in her home country as well as in America.
IF IGGY FEELS SHE SHOULDNT HAVE A "SAY" IN AMERICAS RACSIM SHE SHOULD ATLEAST TALK ABOUT THE OBSCENE AMOUNT OF RACISM IN AUSTRALIA — FURSHAWN (@KREAYSHAWN) 22. Dezember 2014
Hip-hop legend Q-Tip went on to give Azalea a full hip-hop history lesson in 40 tweets. Hip-hop is always political; he intended to feed into Azalea's brain. So, he started since the beginning – why and how hip-hop was born. He described the conditions black people were living under in 1970s New York, which hip-hop sought to address. He cited Vietnam, the rampant drug trade in New York's ghettos and their crumbling school systems that not only crippled children's support structures, but also weakened their parents forcing children to turn to the streets and gangs for support.  As a result, hip-hop was born giving youth a direction, and a way to channel their energies in a positive direction.
"Hip-hop is fun," he said, "but one thing it can never detach itself from is being a socio-political movement." He described how the music industry encouraged black rappers to rap about "being criminals or uneducated" to sell records. That's the reason why Azalea, a white rapper making traditionally black-sounding music, enjoys extreme success when numerous talented black rappers go unnoticed.
However, not everyone was against Azalea. After Q-Tip finished, T.I. — Azalea's label boss and biggest supporter — took to Twitter for his own rant, defending and pacifying her.
(just so happen to be) white people who were inspired by our culture allowed ME TO SEE, that not all white people out to steal our culture..

— T.I. (@Tip) 22. Dezember 2014
So in a nutshell, absorb da info…apply it where most useful,and above all KEEP SHINING,FOLLOW YOUR HEART,& STAY TRUE TO WHO U ARE!!! — T.I. (@Tip) 22. Dezember 2014
That, in turn, provoked a viral hash tag on Twitter, #WhenTipTweets, piercing T.I. and Azalea.
I'm REALLY starting to realize how indoctrinated and conditioned T.I is. And I don't think I should tease him about it anymore.

— AZEALIA BANKS (@AZEALIABANKS) 22. Dezember 2014
#WhenTipTweets he protects his cashcow from interaction with the savages even in the twitter verse. pic.twitter.com/knzDEumcOA — THE CREW (@THEAlleyeceeing) 22. Dezember 2014
#WhenTipTweets T.I. and Iggy in the golden days pic.twitter.com/nUQdRGtWh7

— Viktor T Kerney (@wondermann5) 22. Dezember 2014
Does Azalea deserve this loathing? Perhaps, yes. While she continues to manipulate hip-hop culture for her selfish interests, she gives a damn about the hip-hop community. She's taken hip-hop's sounds, but hasn't given back to the culture significantly when several white rappers have done the opposite. Rapper Macklemore marched in protest after the decision not to indict the Darren Wilson, Ferguson police officer who shot and killed Michael Brown. Rapper Action Bronson took to Twitter to vent his anger soon after the news broke that police officer Daniel Pantaleo would not be indicted after murdering Eric Garner.
Disgusting news, again.

— #BRON2ON (@ActionBronson) 3. Dezember 2014
This ugly Twitter war involving Iggy Azalea has brought attention to a key issue in the genre, one that stretches beyond race. Hip-hop cannot lose its revolutionary origins even if many believe it has become more mainstream and commodified. Hip-hop artists must use social platforms to speak out on social and political issues important to underprivileged communities. Or else it will soon be reduced to empty dance music than an art form.
___________________________________________________________________
Source:
http://mic.com/articles/107012/hip-hop-s-huge-problem-with-iggy-azalea-just-blew-up-and-she-completely-deserves-it