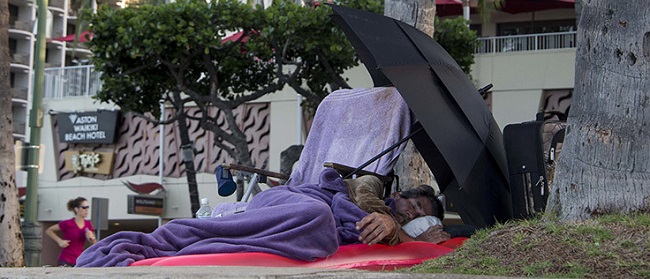 Forget grass skirts, coconuts and the fact that Obama was born here (appropriately); Hawaii's latest bit of trivia is that it has the highest per capita rate of homelessness!
Hawaii has declared a state of emergency over the issue, hoping that this would somehow encourage the construction of homes for these poor people.
"We are making sure that we have options for those who are homeless to move into an emergency shelter, and the biggest deficit in the system is shelter space for families," said Democrat Governor David Ige at a press conference. "So the emergency proclamation would allow us to stand up shelters for families in an expeditious manner."
7260 homeless people are officially registered (one wonders how large this number would balloon to if one started counting those who were not registered) there, out of a total population of 1.4 million people. The rate of homelessness in Hawaii has been on an upward swing over the last few years; it has risen 23% in just the last year.
1.3 million bucks has been set aside for the construction of a homeless shelter which will be able to house a whopping… 15 families of the 7260 people.
Housing First is a program designed to give landlords incentives to house homeless people, even those who have addictions or mental disorders. It is an initiative geared towards having the private sector deal with the problem in the long run.
Similar programs in Seattle and Salt Lake City have shown that housing homeless people allows them to deal with their mental and addiction problems. Probably easier to turn down drugs and not believe that The Man is out to get him  if one doesn't have to freeze one's a** off in winter and get beaten up by punks and police officers 24/7.  Homeless people do face an unnaturally high risk of death, and live to an average of 47 years old for men and 43 for women in the UK. That alone should be reason to find them accommodation ASAP.
Ige's statement was made a few days after a homeless encampment known as Kakaako was cleared up. It was home to 300 people, far more than the 15 families that their 1.3 million dollar hut would provide for. A UN agency has criticized the state for forcing these people back onto the streets, while Ige has claimed that half of the number had found better accommodations with the help of the state. The other half doesn't seem to matter as much for some reason.
The encampment was apparently a problem for tourists, a major income stream for the state, and neighbors felt that it was responsible for increased crime, and a cause of health problems. Apparently forcing these men women and children onto the streets would somehow cause a reduction in crime and an improvement in health… nope.
To be fair, Hawaii seems to be treating its homeless better than other states; A large number of Hawaii's homeless are in fact from the rest of America; vagabond tourists who came, fell in love with the sunshine, the handouts and provision of healthcare, and simply never left.
---
This Article (Homeless In Hawaii: State of Emergency Declared Over Sheer Scale of Homlessness) is free and open source. You have permission to republish this article under a Creative Commons license with attribution to the author(CoNN) and AnonHQ.com.