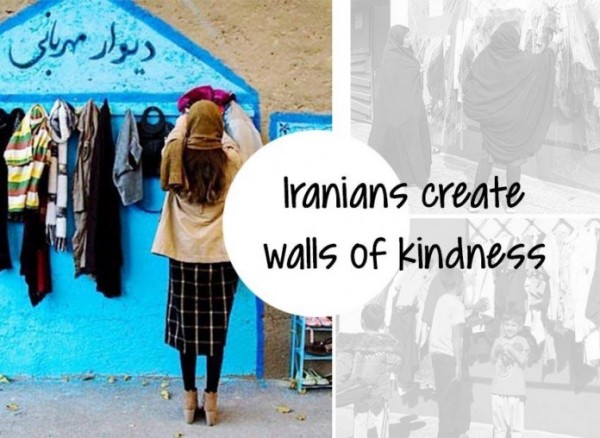 The people of the Islamic Republic of Iran have launched an outdoor charity initiative in which people are encouraged to donate goods they longer want to be given to the poor in the country to alleviate them from poverty.
The initiative is titled 'Walls of Kindness'. Pictures posted on Twitter showed walls with inscriptions urging people to leave their donation by hanging them on the walls. Hooks have been installed on the walls so that people can hang their donations.
The message above the row of hooks reads "Wall of Kindness. Leave what you do not need or take it if you need". The poor who need the items being donated can pick them instant without waiting for somebody to come and distribute it for them.
"Wall of kindness" set up by #Iran. And they ask me why do I love Iran ! Iran ???? pic.twitter.com/10xFQgsmyj

— Mirza Arsalan Rafiq (@Arsalanrafiq22) January 16, 2016
The Guardian reports that similar messages have turned up throughout the country, and people are actively donating to help the poor.
In the southern city of Shiraz, in the street of Ghadamgah, coats, jackets, jeans, dresses and pair of shoes can be seen on the hooks of a wall of kindness painted blue. In Kermanshah, western part of the country, a wall full of women's clothes has been covered with plastic to protect them from rain, and beneath the clothes is a shelf of shoes. In the eastern town of Birjand, similar items were reported by local media outlets.
Local reporters say they are still investigating who started the Walls of Kindness initiative. Meanwhile, the Walls of Kindness initiative has gone viral on Social Media, especially on Twitter.
#photooftheday Iranians walk past Wall of Kindness, encouraging people to donate clothes to those in need, #Tehran pic.twitter.com/xWa7UIDpC0

— Iran Pulse (@TheIranPulse) January 14, 2016
In the capital Tehran, it is reported that local municipalities have welcomed the initiative, and have promised to set up more walls of Kindness in the city.
Residents of Tehran have reportedly put out refrigerators in front of their shops, inviting people to leave food they do not want for homeless people to take. Staff of a one bakery shop even put out a box of bread for those who cannot afford it. A sign on the box reads "Bread is free for those who can't pay".  
دیوار مهربانی به نانوایی مهربانیم رسید…. pic.twitter.com/WEvHOQqeEv

— عمه ِالام (@3LiDry) January 3, 2016
A municipality official in Tehran, Reza Jahangiri was quoted by the Guardian as saying that the city has some 15,000 homeless people, and that 15% of them are women while 80% are drug addicts. He said the homeless sleep in cardboard boxes.
Charity organizations in Iran are said to be strong. They actively participate in social intervention programs to solve social problems confronting the needy in the country. An example of some of these organizations is the Mahak society, a Tehran-based organization founded by the philanthropist, Saeedeh Ghods that supports children with cancer.
From the 'wall of kindness' to the 'fridge of kindness' – Iranians looking out for the needy this winter. #Iran pic.twitter.com/QrWKHSma8D

— Zermina (@TheMinastic) December 26, 2015
However, it is said Western sanctions imposed on the country over its Nuclear Weapons Program are said to have hampered the smooth operations of some of these charity organizations. And one unintended consequence of the sanctions was that imports of life-saving medicine were made difficult as international banks refused to handle any money associated with the country.
Good News Network reports that now that the sanctions have been lifted, it will create a resurgence of the country's charitable organizations, and those below the Poverty Line will have a great relief.
---
You want to support Anonymous Independent & Investigative News? Please, follow us on Twitter: Follow @AnonymousNewsHQ
---
This Article (Iran Launches 'Operation Walls Of Kindness' To Feed The Poor [Video]) is free and open source. You have permission to republish this article under a Creative Commons license with attribution to the author and AnonHQ.com