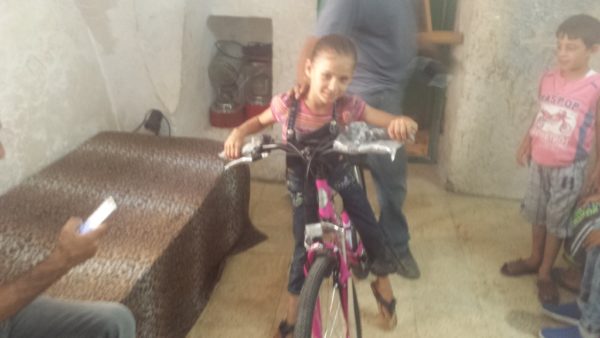 In August 2016, a video released by an Israeli human rights group, B'Tselem showed an armed Israeli policeman abusing an 8-year-old Palestinian girl while she played with her siblings in Hebron.
The girl, identified as Anwar Burqan, was riding her bicycle while playing with her 11-year-old sister, and brothers, aged seven and four. She mistakenly rode towards the road leading to the Tomb of the Patriarchs/Ibrahimi Mosque holy site, which is restricted for use by Jewish settlers and Israelis, while Palestinian citizens are ordered to use an un-surfaced pathway on the other side of a fence.
Two armed officers approached Anwar, blocking her bicycle. One of the officers stepped on the bicycle, then ordered her to leave the area. He then took the poor girl's bicycle, throwing it into the bushes in the West Bank.
The incident, said to have happened on July 25, left Anwar crying as the officer drove her away. The footage was filmed by nearby resident, Raed Abu Ramileh, who witnessed the incident. Ramileh forwarded the footage to B'Tselem, who then published it online.
When the video reached the public, Ranya Burqan, the girl's mother told the Haaretz newspaper that since the incident took place, her daughter has been too frightened to leave the house. It is said Anwar's family live in a nearby flat that has no garden. Anwar and her siblings frequently play out in the divided Palestinian/Israeli street.
"It was a trauma that will stay with her for her whole life. Even if she entered a place she wasn't allowed to enter, what danger or threat did she pose? She's only an eight-year-old girl," Ranya said about the incident.
The incident sparked further outrage over the treatment of Palestinians by Israelis in Hebron, which is divided between Palestinian authority and Israeli control. Other human rights activists added their voices, calling on the Israeli authorities to take action against the officers involved in the incident.
B'Tselem said the confiscation of the innocent girl's bicycle was an example of daily life in the city, for Palestinians living under Israeli military occupation.
When the story of Anwar went viral, it touched the heart of an Israeli peace activist, Sami Jolles. Jolles bought a new bicycle, presenting it to young Anwar.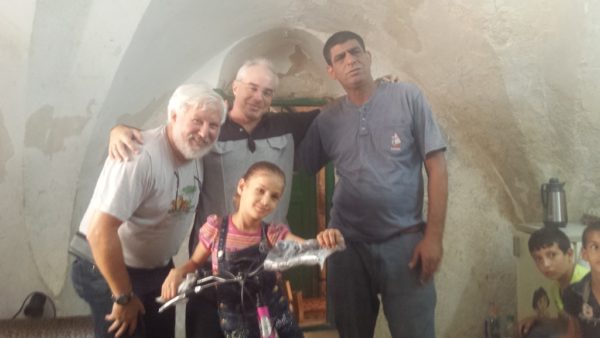 Jolles is said to be a diamond merchant who splits his time between Israel and the United States. He said when he read the story, it reminded him of his late father's experience in the 1920s in Europe, when a group of anti-Semites attacked him and threw his bicycle into a river, just like what the officers did to Anwar.
Jolles said his father's story is strikingly similar to Anwar. He described the Israeli treatment of Palestinians as shameful, urging the two groups to live in harmony, instead of confrontation.
Tensions frequently boil over into violent protests around Hebron's contested Old City, where there is a heavily guarded Israeli settlement.
In 2015, Hebron was the site of massacres for both Palestinian and Israeli citizens.  The Palestinians attacked Israeli citizens who were encroaching on their lands, with knives and stones. Heavily armed Israeli forces responded, shooting dead the poorly-armed Palestinians.
In March 2015, the conduct of Israeli forces came under close scrutiny after a soldier was filmed shooting a disarmed Palestinian man laying injured on the ground, in the head, following an attempted stabbing.
Since September 2015, statistics show that 34 Israeli citizens and two American citizens have been killed in Palestinian attacks. At the same time, more than 200 Palestinians have been killed by Israeli security forces.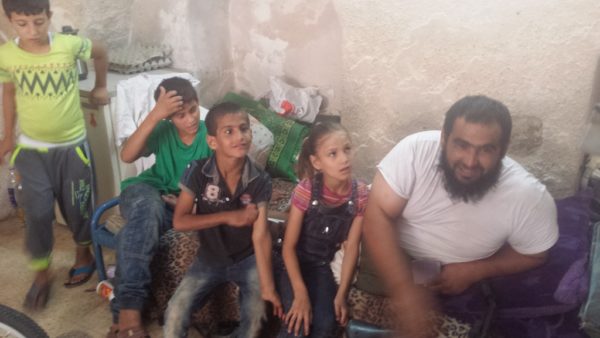 Officials said the majority of the 200 dead Palestinians were carrying out or attempting attacks, while the rest were killed in clashes with Israeli forces. Jolles' heartfelt gift, by buying Anwar a new bicycle, has been praised by many peace activists. Jolles has proved that irrespective of our differences, we can still live together peacefully as one people.
---
You want to support Anonymous Independent & Investigative News? Please, follow us on Twitter: Follow @AnonymousNewsHQ
---
This article (Israeli Man Donates New Bicycle to a Palestinian Girl after Armed Israeli Policeman Tormented Her [Video]) is a free and open source. You have permission to republish this article under a Creative Commons license with attribution to the author and AnonHQ.com.