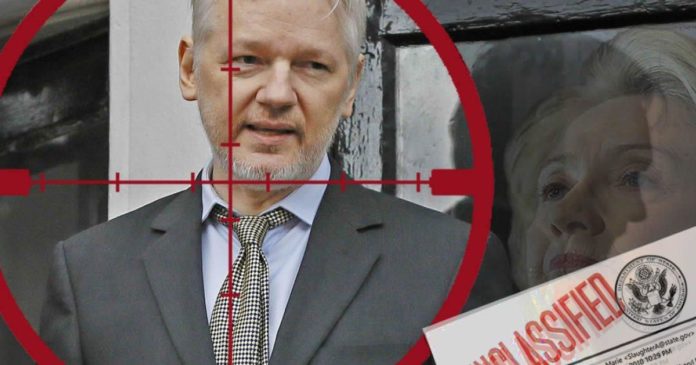 Julian Assange's lawyer claimed this week in court at his extradition hearing that the U.S. wanted to murder the WikiLeaks founder and make it look like an accident.
US wanted to kill WikiLeaks founder and make it look like accident:https://t.co/HsR7DebDxx

— WikiLeaks (@wikileaks) February 25, 2020
American spies teamed up with UC Global, a Spanish company contracted by Ecuador to provide security at the embassy, to help plant "intrusive and sophisticated" secret surveillance of Assange, his attorney stated during the court hearing. Assange was even filmed meeting with his legal team and was so paranoid about constant surveillance that he started sleeping in a tent inside his bedroom, the Telegraph reported.
"There were conversations about whether there should be more extreme measures contemplated, such as kidnapping or poisoning Julian Assange in the embassy," Assange's attorney, Edward Fitzgerald, told the court, according to the Daily Mail.
UC Global's owner David Morales, was exposed by a mysterious whistleblower known only as "Witness Two," the report stated.
Witness Two revealed that Morales "said the Americans were desperate and had even suggested more extreme measures could be applied against the guest to put an end to the situation," Fitzgerald told the court according to the Mail.
Morales was actively working with "the dark side—in other words, US intelligence agencies," Fitzgerald claimed, according to the report. Assange was spied on in the Ecuadorian Embassy and the suspects at the time had tried to extort 3,000,000 million euro from the journalism organization for the destruction of the videos and pictures, which included videos of private situations such as doctors visits and lawyers meetings while he was in the embassy, Reuters reported.
Since then, police have made at least one arrest. Ring leader Jose Martin Santos, previously convicted for fraud, was arrested in Alicante for trying to bribe WikiLeaks with millions in exchange for private videos of Assange.
That plot was later tied to the CIA, who hired UC Global S. L. and its founder David Morales to spy on Assange according to court documents that were presented to Spain's High Court, El Pais reported.
Spanish Judge José de la Mata requested to interview the WikiLeaks founder by video conference as a witness. However, the British judicial system stepped in denying the request, which could affect Assange's extradition trial, El Pais reported.
Assange's lawyer told the court that it was suggested that the embassy door be left open to make a kidnapping look like it could have been "an accident."
Ironically, in 2016 WikiLeaks tweeted that it took UK police two hours to respond to a call after an unidentified man attempted to scale the wall of the Ecuadorian Embassy at 2:47 am. The would-be intruder escaped security and managed to flee to safety while embassy security waited two hours for U.K. police to take the two minute walk from the police station to the embassy. There is no evidence that this attempt was in any way related to UC Global.
UK police took 2h to respond to Assange Embassy intruder despite 24h covert op & police station 2 mins walk away. pic.twitter.com/omaGWDwwuW

— WikiLeaks (@wikileaks) August 23, 2016
Before Assange was arrested in April of last year, he stated in a leaked transcript:
"I am an assassination risk. It's not a joke. It is a serious business. There have been attempts by people to get into this embassy through the windows at night."
U.S. lawyers have falsely claimed that Assange's publishing of the Iraq and Afghanistan war diaries endangered lives, a claim that is debunked by the Pentagon's own admission that there is no evidence that any of WikiLeaks' actions have caused even a single death,as Glenn Greenwald previously reported for Salon during the court trial of whistleblower Chelsea Manning.
In fact, it was Assange who went to "extreme measures" redacting names and information. According to multi-award winning Australian journalist Mark Davis, it was the Guardian journalists who appeared to care little about redacting names, as a Consortium News video explains. Davis had documented the entire process of the release of the Iraq and Afghanistan war logs in a film called Inside Wikileaks, which showed the former Wikileaks editor-in-chief working alongside journalists from the New York Times, the Guardian, and Der Spiegel.
Assange even attempted to contact the U.S. State Department and then Secretary of State Hillary Clinton warning about the leak of unredacted documents on other websites, Assange's lawyers have said.
In January 2011, Guardian journalists David Leigh and Luke Harding published a book entitled Julian Assange's War on Secrecy, which contained the password to the entire database of un-redacted material.
Assange's lawyers have argued in court that their client would be a "suicide risk" if extradited to the United States. Other court statements that were heard according to 9News, include the fact that Assange was stripped naked and searched twice, handcuffed 11 times, had his case files confiscated, and was placed in 5 different holding cells just this week.
The hearing will be adjourned at the end of this week and continue with three weeks of evidence scheduled in May. A decision on the extradition case is not expected for months. Assange faces 175 years in jail if extradited to the U.S. where he has been charged under 17 accounts of the Espionage Act, with a total of 18 charges.
If extradited, UN Special Rapporteur on Torture Nils Melzer has continuously said Assange could be exposed to "a real risk of serious violations of his human rights, including his freedom of expression, his right to a fair trial, and the prohibition of cruel, inhuman or degrading treatment or punishment."
Melzer has also stated that Assange has deliberately been exposed "for a period of several years, to progressively severe forms of cruel, inhuman or degrading treatment or punishment, the cumulative effects of which can only be described as psychological torture."
By Aaron Kesel | Creative Commons | TheMindUnleashed.com