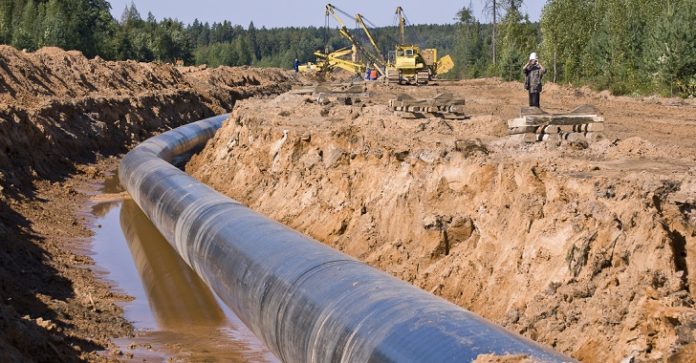 By Nick Bernabe at theantimedia.org
Sandusky, IA — The media blackout of opposition to the Dakota Access Pipeline continues as widening protests, which have now blocked pipeline construction in Iowa, go unreported by the national corporate media.
The "Mississippi Stand" water protector encampment in Sandusky, Iowa, successfully blocked Dakota Access Pipeline construction as of Saturday, September 24th. The protests are taking place where the pipeline is planned to cross the Mississippi River.
Water protectors attached themselves to construction equipment in acts of civil disobedience until they were eventually arrested — but police failed to corral them before they halted the pipeline's construction. Law enforcement arrested a total of 12 people on Saturday at the Mississippi Stand site, according to independent media outlet Unicorn Riot. At least 44 people have been arrested at the Iowa protest site in previous weeks.

At issue is the $3.8 billion Dakota Access oil pipeline that Native American tribes, led by the Lakota Sioux, say will endanger tribal and public fresh water across an area that spans several states. In a statement to Unicorn Riot, the Mississippi Stand confirmed their opposition to the Dakota Access Pipeline:
"Mississippi Stand comes together in solidarity with Standing Rock, because we acknowledge the importance of the protection and preservation of Native Land. It's crucial that all water protectors rise up together to fight for our Mother Earth, and all who inhabit this beautiful planet. This begins with defending our most valuable life source, water."
Meanwhile, protests continue near the Standing Rock camp at the Dakota Access Pipeline construction site in North Dakota despite the Justice Department's order to stop construction on Army Corps of Engineer land. Twenty-one water protectors were arrested on Wednesday alone as militarized police with armored vehicles and shotguns descended upon peaceful protesters. The protesters were arrested for trespassing and resisting arrest, among other charges, Rob Keller of the Morton County Sheriff's Department confirmed to Anti-Media.
But local Native Americans are not alone in this fight. Tribes from all over the country have joined together in one of the largest shows of indigenous solidarity in history — and they are joined by climate activists, farmers, and landowners who have had their land confiscated through the force of eminent domain in order make room for the pipeline.
Since the corporate media has repeatedly shown it is unwilling to cover the Dakota Access Pipeline protests, stay up to date by checking out Anti-Media's coverage here.
---
This article (Media Silent as Dakota Access Pipeline Protests Spread, Construction Blocked in Iowa) is free and open source. You have permission to republish this article under a Creative Commons license with attribution to Nick Bernabeand theAntiMedia.org. Anti-Media Radio airs weeknights at 11pm Eastern/8pm Pacific. Image credit: NPCA Online. If you spot a typo, email [email protected].